Music News Bites – 23 Dec
iqko, 12 years ago
6
3 min

read
985
1. John Frusciante is leaving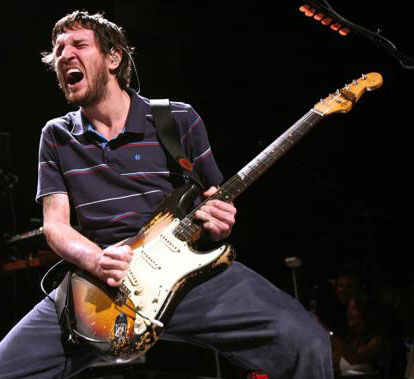 Well, berita ini mungkin saja sedikit mengejutkan. Setelah kebersamaan selama 12 tahun, John Frusciante akhirnya memutuskan untuk keluar dari band Red Hot Chili Peppers. Melalui blog pribadinya, Frusciante mengatakan bahwa tidak ada masalah yang menyebabkan dia harus keluar, hanya masalah perspektif saja, dan semua personel lain RHCP mendukung keputusan ini.
Alas an sebenarnya yang dikemukakan Frusciante tertuang dalam statementnya, "Over the last 12 years, I have changed, as a person and artist, to such a degree that to do further work along the lines I did with the band would be to go against my own nature".
Kabar terakhir adalah posisi John Frusciante akan digantikan oleh Josh Klinghoffer, additional guitarist RHCP.

2. More climbing, Joe McElderry is on the line
Hahaha. Tampaknya akan ada banyak hal menarik yang terjadi untuk jawara X-Factor ini. Pekan lalu tampaknya Joe McElderry masih menjadi favorit masyarakat di Inggris sana. Buktinya? Single "The Climb" miliknya mampu menghalau single "Killing In The Name" milik Rage Against The Machine. Dua single ini saling menyalip terus menerus di chart-chart lagu di Inggris. Khususnya yang mana yang akan menjadi Christmas Number One single.
Sementara itu, frontman band Zach De La Rocha menyanyikan single "The Climb" di salah satu radio di UK, lengkap dengan "sumpah serapah" yang ditujukan kepada Joe McElderry dan sang penggagas acara, Simon Cowell. Katanya ada tiga kata yang sanggup menjelaskan acara The X Factor, yaitu "stupid", "cynical" dan "very scrooge". Ouch!
3. Hear AC/DC in 2010!
Silahkan bersiap untuk menikmati pertunjukan band senior ini, karena kalau jadi, mereka akan bereuni dan bermain dalam festival Download tahun depan. Salah satu admin dari situs Acdc.com sudah mengkonfirmasi bahwa band ini kemungkinan besar menjadi pengisi acara dalam event tersebut.
Andy Copping, sang organizer festivel, masih terus berupaya untuk mendapat lampu hijau untuk penampilan band ini. Dari tweetnya, "Not sure what to say about the AC/DC slip up tonight, it appears to have been taken off their site now. I think they may just want to play."
Kalau hal ini benar, silahkan menunggu sampai tanggal 11 Juni 2010 untuk menyaksikan reuni band AC/DC di Download Festival!
4. Weezer call it accident, it's time to break.
Saat ini Weezer sedang bersinar kembali. Dalam waktu dekat kita akan menyimak  Weezer sedang melakukan tur "Ratitude" dimana-mana. Tapi sayangnya, kabar buruk menghantui jalannya konser tersebut. Sang vokalis Rivers Cuomo, mengalami cedera yang cukup parah setelah bus tur yang dinaikinya mengalami kecelakaan awal bulan ini.
Daerah yang tidak beruntung itu California dan Arizona. Konser "Ratitude" mestinya dilaksanakan pada bulan Januari tahun depan. Menyusul kejadian ini, keseluruhan jadwal tur harus disusun ulang menunggu kesembuhan sang vokalis.
Yang uniknya, Cuomo, harus menempuh 2800 melintasi benua Amerika dengan menggunakan bus untuk mendepat perawatan intensif di rumahnya, di Los Angeles. Keputusan ini diberikan oleh dokter yang mengatakan bahwa gravitasi udara akan memperparah cederanya apabila ia ke LA dengan pesawat.
(iQko / CreativeDisc Contributor)
Related posts