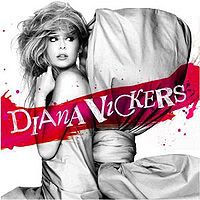 Kalau kamu sudah mendengar penampilan Diana Vickers di lagu 'Once' dan ternyata suka, maka kamu akan sangat menikmati sealbum penuh "Songs from the Tainted Cherrytree" yang sejak awal Mei lalu sudah dirilis oleh cewek cantik yang berusia 18 tahun ini. Keunikannya tidak hanya terpancar dari penampilan dengan rambut acak-acakannya, tapi juga jenis suaranya yang jarang dimiliki penyanyi lain. Serak tapi tidak kasar. Jenis musik yang ditawarkannya juga pop dengan sedikit rock, sedikit dance, sedikit elektronika, dan mengemasnya dalam paket yang girly. 'Once' bisa jadi contoh utama kondisi keseluruhan materi album ini.
Yang cukup mengesankan juga adalah Diana ikut menulis 9 dari 13 lagu dalam album debutnya ini. Termasuk 'The Boy Who Murdered Love' yang dijadikan single kedua. Diana dengan tegas menyatakan bahwa lagu ini memiliki lirik tentang tainted cherrytree dan merasa bahwa ini lagu sangat puitis. Ada 2 lagu lain yang dikerjakannya bersama Chris Bride selain lagu ini, yaitu 'Four Leaf Clover' sebuah akustik ramah dengar dan 'N.U.M.B.', lagu dengan iringan piano yang bersungguh-sungguh mengusung tema mati rasanya. Tapi kalau pilihanmu justru lebih ke arah keceriaan, maka dance elektronika 'Hit' disuguhkan. Ini lagu karya Bjork lho yang aslinya dibawakan sama The Sugarcubes. Interpretasi Diana di lagunya ini secara ajaib merubahnya menjadi seorang ratu pesta.
Untuk lagu-lagu yang punya pengaruh jadul, pilih track #2 dan #8. Dua lagu ini memiliki beat yang mengingatkan pada pop era 80'an. Awalnya aku meragukan kecocokan warna vokal Diana untuk beragam jenis lagu yang dinyanyikannya untuk album ini. Tapi ternyata semua bisa ditampilkan dengan optimal. Seperti akustik 'Notice' atau ballad 'Put It Back Together'. Ini juga agaknya dasar pemilihan dirinya dalam pementasan 'The Rise and Fall of The Little Voice' yang berbuah penghargaan Theatregoers' Choice Award untuk The London Newcomer of the Year. Semakin lama semakin membanggakan. Smeuanya Diana capai bukan dengan jalan yang mudah, lho. Karena dalam perjalannya di X Factor aja dia sempat tidak tampil di satu pekan karena mengidap radang tenggorokan.
Sahabat baik Diana, Ellie Goulding juga banyak berkontribusi di album ini. Jadi jangan kaget kalau-kalau kamu merasa ada kemiripan di mereka berdua. Aku suka lagu 'Jumping Into Rivers'. Lagu yang sebelumnya sudah dibagi-bagiin gratis di situs resminya Diana ini memiliki musik yang dinamis dan lirik yang catchy. Kesimpulannya, album "Songs from the Tainted Cherrytree" adalah serunya beragam jenis musik yang dibungkus dalam kemasan yang girly. And I like it!
(Ai Hasibuan / CreativeDisc Contributors)
Tracklist:
1. "Once" Cathy Dennis, Eg White 3:11
2. "Remake Me + You" Vickers, Ellie Goulding, Guy Sigsworth 3:35
3. "The Boy Who Murdered Love" Vickers, Chris Braide 3:21
4. "Four Leaf Clover" Vickers, Braide 4:11
5. "Put It Back Together" Nerina Pallot 4:04
6. "You'll Never Get to Heaven" Vickers, Starsmith, Cass Lowe 4:02
7. "Me & You" Vickers, Devonté Hynes, Braide 3:05
8. "My Hip" Harmony Boucher, Tobias Karlsson 3:24
9. "N.U.M.B" Vickers, Braide 3:59
10. "Hit" Björk, The Sugarcubes 3:09
11. "Notice" Vickers, Goulding, Sigsworth 3:34
12. "Jumping Into Rivers" Vickers, Goulding, Sigsworth 3:37
13. "Chasing You" Vickers, Boucher, Sigsworth 4:07
Related posts