Album of The Day: Various Artists – Despicable Me Soundtrack
welly, 11 years ago
12
2 min

read
1256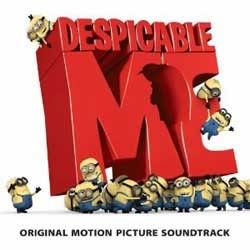 Pharell memimpin penampilan lagu dalam album ini. Dia dipercayakan untuk membawakan 4 lagu yang semuanya emang khusus dibuat untuk film "Despicable Me"-nya. Pertama, 'Despicable Me' yang dipakai jadi intro di filmnya yang memang benar-benar mengantarkan kita pada pengalaman fun dalam sebuah animasi. Seperti yang tertuang dalam liriknya, "Watch, this is so fun to see, despicable me!". Kedua, 'Fun, Fun, Fun' yang merupakan iring-iringan kemeriahan di amusement park! Selanjutnya 'Prettiest Girls' yang merupakan dedikasi untuk ketiga karakter anak kecil Margo, Edith, dan Agnes dan terakhir 'Rocket's Theme' yang adalah misi utama karakter Gru dalam film ini. Nah, dari 4 lagu itu, Pharell seolah berperan sebagai Gru dalam album soundtracknya.
Destinee & Paris yang dulunya member Clique Girlz juga ikutan di album ini. Lagu 'I'm On A Roll' mereka bawakan dengan musik pop R&B yang teen banget. Robin Thicke juga merekam sebuah lagu baru untuk album ini. 'My Life' adalah judulnya, dan asli, ini salah satu lagu terasik se-album! Karakter minions (antek-antek warna kuning yang sangat menggemaskan) membawakan satu lagu 'Minion Mambo' yang lucu banget. Chipmunk mendapat saingan! Trus ada juga karakter Agnes (bungsu dari 3 anak adopsi Gru) membawakan 'The Unicorn Song' yang memang dia hobi banget dengan unicorn itu. Albumnya jadi tambah seru dengan kehadiran lagu disko 70'an 'Boogie Fever' dari The Sylvers dan 'You Should Be Dancing' dari Bee Gees. It's time to really have fun with a real fun album!
Official Website
(Ai Hasibuan / CreativeDisc Contributors)
Track List:
01. Pharell – Despicable Me 4.12
02. Pharell – Fun, Fun, Fun 3.27
03. Destinee & Paris – I'm On A Roll 3.12
04. The Minions – Minion Mambo 3.05
05. The Sylvers – Boogie Fever 3.28
06. Robin Thicke – My Life 3.55
07. Pharell – Prettiest Girls 3.20
08. Pharell – Rocket's Theme 4.03
09. Bee Gees – You Should Be Dancing 4.18
10. Agnes – The Unicorn Song 2.08
ps. CD ini sudah direlease di Indonesia oleh Universal Music!
Related posts