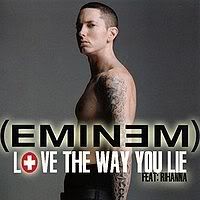 Tidak ada yang bisa menyangkal bahwa track "Stan" adalah salah satu kolaborasi terbaik yang pernah ada. Vokal Dido yang begitu khas bisa menjadi pemanis dan mengimbangi karakter vokal milik Eminem. Tetapi di track 'Love The Way You Lie', vokal Rihanna justru semakin menegaskan apa yang ingin disampaikan oleh Eminem mengenai sebuah hubungan yang begitu complicated.
Maybe our relationship/Isn't as crazy as it seems/Maybe that's what happens/When a tornado meets a volcano. Apakah memang sebuah hubungan memang seperti rollercoaster? Seketika dia bisa mengangkatmu dengan perasaan bahagia, tetapi sejenak kemudian menghempaskanmu dengan semua kepedihannya. Tapi justru disitulah seninya, ketika kau menjadi kecanduan akan cinta tersebut. Ketika berusaha menyatukan 2 karakter yang berbeda.
Pertama kali mendengar track ini mungkin kita akan tertipu. Vokal Rihanna yang terdengar begitu pedih pelan-pelan mengalun dengan ditemani oleh suara piano. Apakah track ini menjadi track yang begitu mellow? Eminem memang pandai membuat kejutan. Setelah detik ke 25 barulah kita akan mengetahui bahwa memang ini adalah track miliknya. Dengan beat-beat yang sangat Eminem!
Satu yang khas dari track ini adalah saya mengenali kembali sosok emosional Eminem. Sama seperti ketika dia bernyanyi lewat track "Like Toy Soldiers" ataupun "Mocking Bird". Dia bukan hanya seorang bad ass yang bisa mencela siapa saja, dia pun juga (ternyata) memiliki sisi manusiawi.
Saya lebih menyenangi karakter vokalnya seperti ini, ketika dia bisa menjadi sosok yang berbeda, agak psycho, demi memiliki seseorang. Apakah ada yang pernah berkata seperti ini kepadamu? If she ever tries to f**king leave again/I'mma tie her to the bed/And set this house on fire. Keadaan ini dipertegas lagi oleh Rihanna yang berperan sebagai sang pacar. Yang menikmati semua kebohongan demi mempertahankan sebuah hubungan.
Siapa yang bertanggung jawab akan skenario track ini? Ada 4 orang yang harus di perhatikan. M. Mathers, A. Grant, H. Hafferman, dan juga M. Riddick. Sedangkan yang bertindak sebagai produser adalah Alex da Kid dan Makeba Riddick. Satu bocoran yang diberikan oleh Alex da Kid, lagu ini direkam Eminem hanya dalam waktu 2 hari dan dia sudah memiliki bayangan siapa yang cocok diajaknya berduet di lagu ini. Jawabannya hanya ada satu orang, dialah Rihanna!
Berbicara tentang angka, track ini mengawali debutnya di posisi 2 di US Billboard Hot 100. Sekarang sudah peak dalam posisi jawara. Dalam chart Billboard Digital Songs, track ini debut di posisi pertama dengan menjual 338 ribu download pada minggu pertama dirilis.
Masih kurang? Track ini menjadi track yang menjuarai chart yang "belum dibantu" oleh sebuah video klip. Masih banyak yang penasaran bagaimanakah video klip yang dibintangi oleh Megan Fox dan Dominic Monaghan serta disutradarai oleh Joseph Khan. Pastilah efeknya akan lebih massive lagi.
Bagaimanapun juga anda sebagai penggemar Eminem bisa berlega hati. Album Recovery bisa menjadi bukti bahwa didalam kepala Eminem masih banyak kejeniusan bermusik yang belum tergali. Buat penggemar Rihanna, anda juga patut berlega hati. Bahwa dia hadir sebagai team-mate di track ini dan bukan sebagai korban ejekan Eminem seperti yang terjadi di track-track terdahulu. Dan sepertinya track ini tanpa Rihanna akan terasa hambar. Cheers!
(iQko / CreativeDisc Contributors)
Lihat Videonya disini
Lyrics:
Just gonna stand there
And watch me burn
But that's alright
Because I like
The way it hurts
Just gonna stand there
And hear me cry
But that's alright
Because I love
The way you lie
I love the way you lie
I love the way you lie
I can't tell you what it really is
I can only tell you what it feels like
And right now there's a steel knife
In my windpipe
I can't breathe
But I still fight
While I can fight
As long as the wrong feels right
It's like I'm in flight
High of a love
Drunk from the hate
It's like I'm huffing paint
And I love it the more that I suffer
I sufficate
And right before im about to drown
She resuscitates me
She f***ing hates me
And I love it
Wait
Where you going
I'm leaving you
No you ain't
Come back
We're running right back
Here we go again
It's so insane
Cause when it's going good
It's going great
I'm Superman
With the wind in his bag
She's Lois Lane
But when it's bad
It's awful
I feel so ashamed
I snap
Who's that dude
I don't even know his name
I laid hands on her
I'll never stoop so low again
I guess I don't know my own strength
Just gonna stand there
And watch me burn
But that's alright
Because I like
The way it hurts
Just gonna stand there
And hear me cry
But that's alright
Because I love
The way you lie
I love the way you lie
I love the way you lie
You ever love somebody so much
You can barely breathe
When you're with them
You meet
And neither one of you
Even know what hit 'em
Got that warm fuzzy feeling
Yeah them chills
Used to get 'em
Now you're getting fucking sick
Of looking at 'em
You swore you've never hit 'em
Never do nothing to hurt 'em
Now you're in each other's face
Spewing venom
And these words
When you spit 'em
You push
Pull each other's hair
Scratch, claw, bit 'em
Throw 'em down
Pin 'em
So lost in the moments
When you're in 'em
It's the rage that took over
It controls you both
So they say it's best
To go your separate ways
Guess that they don't know ya
Cause today
That was yesterday
Yesterday is over
It's a different day
Sound like broken records
Playin' over
But you promised her
Next time you'll show restraint
You don't get another chance
Life is no Nintendo game
But you lied again
Now you get to watch her leave
Out the window
Guess that's why they call it window pane
Just gonna stand there
And watch me burn
But that's alright
Because I like
The way it hurts
Just gonna stand there
And hear me cry
But that's alright
Because I love
The way you lie
I love the way you lie
I love the way you lie
Now I know we said things
Did things
That we didn't mean
And we fall back
Into the same patterns
Same routine
But your temper's just as bad
As mine is
You're the same as me
But when it comes to love
You're just as blinded
Baby please come back
It wasn't you
Baby it was me
Maybe our relationship
Isn't as crazy as it seems
Maybe that's what happens
When a tornado meets a volcano
All I know is
I love you too much
To walk away though
Come inside
Pick up your bags off the sidewalk
Don't you hear sincerity
In my voice when I talk
Told you this is my fault
Look me in the eyeball
Next time I'm pissed
I'll aim my fist
At the dry wall
Next time
There will be no next time
I apologize
Even though I know it's lies
I'm tired of the games
I just want her back
I know I'm a liar
If she ever tries to fucking leave again
I'mma tie her to the bed
And set the house on fire
Just gonna stand there
And watch me burn
But that's alright
Because I like
The way it hurts
Just gonna stand there
And hear me cry
But that's alright
Because I love
The way you lie
I love the way you lie
I love the way you lie
Related posts