Single of The Day: The Saturdays – Missing You
welly, 11 years ago
9
3 min

read
976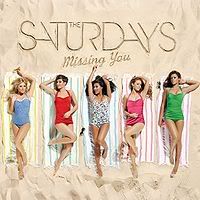 Salah satu single kesukaanku di paruh kedua 2010 ini adalah 'Missing You' dari The Saturdays. Girlband yang terdiri dari Mollie King, Una Healy, Rochelle Wiseman, Frankie Sandford, dan Vanessa White ini juga akan melemparkan sebuah album mini pertengahan bulan Agustus yang berjudul "Headlines". Kalau sebelum-sebelumnya mereka sudah terlalu identik dengan musik yang robotik seperti 'Up' atau 'Ego', dan mencoba memadukannya dengan melodi dinamis seperti 'Issues'. Maka jadilah single ini yang The Saturdays sendiri menyebutnya sebagai sebuah fun experiment!
Dalam 'Missing You', kamu akan mendapatkan mid-tempo electropop, dimana musik yang dasarnya adalah sebuah balada dipadupadankan dengan synth. Dan vokal kelima cewek ini dibantu teknik auto tune di beberapa bagian supaya terdengar lebih menarik. Liriknya menjabarkan tentang sebuah hubungan yang sudah kehilangan 'rasa'. Terkadang masih ada keinginan untuk merindu, sekaligus ada kemauan untuk menelantarkan. Hingga di bagian akhir chorus si cewek menyatakan "don't freak out if I leave".
Video klipnya sudah ada lho. Mereka syutingnya di Malaga, Spanyol. Awalnya masing-masing berada di tempat terpisah yang enggak jauh-jauh dari daerah pantai hingga akhirnya bersatu membawakan koreografi di pinggiran pantai untuk bagian chorus. Sedangkan di bagian bridge nya, mereka tampil dalam suasana pesta di club. Kurang representatif sih, tapi aku selalu suka tampilan cewek-cewek ini dalam setiap video klip mereka.
Album "Headlines" yang rencananya akan rilis 16 Agustus nanti juga akan menampilkan kolaborasi The Saturdays bareng Ne-Yo dan Jason DeRulo. Single kedua untuk album ini juga sudah dipersiapkan, sebuah lagu berjudul 'Higher'. Tapi klo untuk sekarang, 'Missing You' adalah sajian utamanya!
Official Website
Official Twitter
Lihat Videonya disini
(Ai Hasibuan / CreativeDisc Contributors)
Lyrics:
I miss missing you
I miss missing you
Where's the pain when you walk out the door?
It doesn't hurt like it use to before
Where's the love that we couldn't ignore?
It doesn't kick like a pill anymore
Where's the thrill at the end of our fights?
Where's the heat when we turn out the lights?
I just miss all the mess that we made
When we still have the passion to hate
I miss missing you sometimes
I miss hurting you 'til you cry
I miss watching you as you try
Try not to end up in tear's
Begging to get back together
I just want you to be
To be stuck in this second forever
So don't freak out if I leave
Sometimes I'm just missing, missing you
I miss missing you
There's a dark cloud pulling me in
That's the girl I was breathing in sin
There's a blind force letting it win
And it's longing to tear us apart
I get high when you're making me weak
Let me down 'til I crawl on my knee's
I just miss all the mess that we made
When we still have the passion to hate
I miss missing you sometimes
I miss hurting you 'til you cry
I miss watching you as you try
Try not to end up in tear's
Begging to get back together
I just want you to be
To be stuck in this second forever
So don't freak out if I leave
Sometimes I'm just missing, missing you
I miss missing you
Miss missing, miss missing, miss missing
I wanna crush in your arms at the other side of the world
Miss missing, miss missing, miss missing
I wanna die for you 'cause love is only true if it hurts
I miss missing you sometimes
I miss hurting you 'til you cry
I miss watching you as you try
Try not to end up in tear's (ooh)
Begging to get back together (together)
I just want you to be (want you to be, yeah)
To be stuck in this second forever
So don't freak out if I leave
Sometimes I'm just missing (I'm missing)
Missing you (no, missing you)
I miss missing you
Related posts