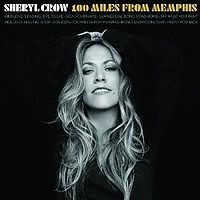 Sudah membaca gelagat beda dari Sheryl Crow dalam kemunculannya lewat 'Summer Day'? Bagaimana lagu itu memunculkan sound yang nge-soul banget, lepas dari ciri rock Sheryl selama ini. Itu memang yang ingin dibuat oleh peraih Grammy ini, tidak hanya dalam satu single itu, tapi keseluruhan album. Maka terciptalah "100 Miles From Memphis" yang jauh dari kesan today's pop music, sehingga memberi bahan dengar yang beda dari rekaman di era yang sama. Kita akan akrab dengan sound soul bass dan juga terompet. Membuat album ini terdengar sangat klasik. Dengarkan 'Stop' dan 'Roses And Moonlight', dirimu akan terhipnotis dengan sound-nya yang vintage.
Orang-orang menjadi excited salah mengetahui Justin Timberlake berkontribusi untuk album ini. Adalah di sebuah lagu berjudul 'Sign Your Name' dimana Justin menyediakan vokal latar. Ini lagu aslinya adalah milik Terence Trent D'Arby. Selain lagu tersebut, ada juga lagunya Citizen Cope 'Sideways' yang dibawakan di album ini. Aku suka strings section yang ada, membuat lagunya terkesan mewah. Rekomendasi terbaikku ada 2 lagu, pertama 'Say What You Want'. Disini gaya bermusik pop rock Sheryl muncul dengan adanya permainan gitar di awal lagu, meskipun akhirnya lagunya menjelma menjadi soul session. Liriknya juga menginspirasi. Lagu kedua adalah 'Peaceful Feeling'. Dengan lagu ini, kita bisa have fun and sing along!
I praise Sheryl for her genius record. Album ini benar-benar eksperimental. Sheryl Crow yang kita tau dengan karyanya yang country ataupun pop rock, dengan fearless-nya mengeluarkan sebuah rekaman Memphis style. Tapi tetap enggak kehilangan Sheryl seutuhnya, kamu bisa menikmati 'Long Road Home', musik rock dipadupadankan dengan soul vibe yang catchy. Dan sebagai penutupnya, dia menyanyikan ulang lagu legenda pop Michael Jackson, 'I Want You Back'. Dua jempol untuk album ini!
Official Website Sheryl Crow
Track List:
1. "Our Love Is Fading" 6:23
2. "Eye to Eye" (featuring Keith Richards) 5:35
3. "Sign Your Name" (featuring Justin Timberlake) 5:38
4. "Summer Day" 4:29
5. "Long Road Home" 4:14
6. "Say What You Want" 4:50
7. "Peaceful Feeling" 4:03
8. "Stop" 4:40
9. "Sideways" (featuring Citizen Cope) 5:11
10. "100 Miles from Memphis" 5:01
11. "Roses and Moonlight" 6:41
12. "I Want You Back" (For Michael With Love) (Bonus Track) 3:05
ps: Album ini sudah direlease oleh Universal Music Indonesia!
Related posts