Album of The Day: Travie McCoy – Lazarus
welly, 11 years ago
8
3 min

read
820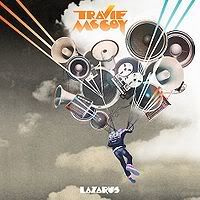 Sulitkah bagi seorang vokalis band sekaligus frontman dalam band tersebut untuk tampil solo? Di luar pencitraannya sebagai bagian dari sebuah grup, bukanlah hal yang sulit untuk bagi vokalis/frontman tersebut untuk tampil sendiri. Apalagi udah banyak yang berlaku demikian. Rob Thomas, Dolores O'Riordan, dan baru-baru ini Brandon Flowers. Makanya, gelagat vokalis band Gym Class Heroes ini dalam proyek solo-nya terkesan tidak begitu sulit dilakukan, apalagi didukung oleh label yang sama dengan bandnya, yaitu Atlantic Records. Maka hadirlah 'Lazarus' sebagai album pertama Travie McCoy.
Penawaran yang smart dilakukan Travie lewat single perdana 'Billionaire'. Single yang menampilkan Bruno Mars menyanyikan hook ini membentuk antuasiasme pendengar akan Travie. Lagu ini sangat memikat, dimana campuran antara hi-hop dan reggae-nya adalah candu. Makanya enggak heran lagu ini bisa nembus ke 4 besar di Billboard Hit 100 Singles! Sebagai promotional singles, dikeluarkanlah 'Superbad (11:34)' dan 'We'll Be Alright'. Keduanya punya warna yang berbeda dengan 'Billionaire'. Di 'Superbad', penyuguhan musik alternative yang garang dan 'We'll Be Alright', synthpop yang catchy dan radio friendly, mengambil sample lagunya Supergrass 'Alright'. Brilliant way to promote the album.
Dalam pengerjaan album ini, Travie dibantu oleh The Smeezingtones (Flo Rida, Sugababes, Justin Bieber), The Stereotypes (Natasha Bedingfield, Ne-Yo, Melanie Fiona), DJ Frank E (Ludacris, Madonna, B.o.B), hingga pentolan Limp Bizkit Wes Borland, juga pentolan Blink 182 Travis Baker. Lebih ramai lagi dengan kehadiran featured artists. Seperti Cee-Lo Green di track pembuka 'Dr. Feel Good'. Berdampak pada keinginan untuk feel good mendengarkan album ini. Ada Tim William di 'Critical', T-Pain di 'Ms. Tatoo Girl', juga Collin Munroe dan Travis Baker di 'Don't Pretend'. Semuanya membantu membangun performance Travie baik sebagai vokalis maupun rapper.
Yang paling wajib didengarkan dalam album ini adalah 'Need You' yang direncanakan sebagai single berikutnya. Lagu rock ini punya hook yang catchy. Jangan lewatkan juga 'After Midnight' yang asyik buat sing along! Kesimpulannya, "Lazarus" menawarkan lebih dari sekedar hip-hop. Campuran yang beragam ada disini. Alternative, reggae, dan synthpop. I do hope you enjoy like as much as I do!
Track List:
No. Title Writer(s) Producer(s) Length
1. "Dr. Feel Good" (feat. Cee-Lo Green) Travis McCoy, Thomas Callaway, Peter Hernandez, Phillip Lawrence, Ari Levine The Smeezingtons 3:54
2. "Superbad (11:34)" Travis McCoy, Justin Franks, Wesley Borland DJ Frank E, Wes Borland 3:12
3. "Billionaire" (feat. Bruno Mars) VLJ, Travis McCoy
4. "Need You" Travis McCoy, Lucas Secon, Wayne Hector,Carsten Mortensen Lucas Secon 3:23
5. "Critical" (feat. Tim William) Travis McCoy, Andrew Correa, Timothy William Andrew "Drew" Correa 3:17
6. "Akidagain" Travis McCoy, Bei Maejor Infamous 3:42
7. "We'll Be Alright" Travis McCoy, Peter Hernandez, Phillip Lawrence, Ari Levine, Jonathan Yip, Ray Romulus, Jeremy Reeves The Smeezingtons, The Stereotypes 3:17
8. "The Manual" (feat. T-Pain & Young Cash) Travis McCoy, Faheem Najm, Joseph Williams , Hannon Lane Hannon Lane 4:10
9. "After Midnight (It'll Burn)" Travis McCoy, Josh Abraham, Oliver Goldstein Josh Abraham, Oligee 3:46
10. "Don't Pretend" (feat. Colin Munroe & Travis Barker) Travis McCoy, Colin Munroe, Chad Dexter Chad Beatz of Tastemaker Music 3:06
Related posts