Album of The Day: Various Artists – Acoustic Summer
welly, 11 years ago
9
7 min

read
720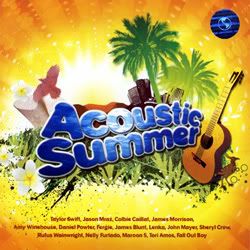 Tema akustik menjadi pilihan Universal Music Indonesia dalam merilis album kompilasi "Acoustic Summer" yang terdiri dari dua disc dan tiga puluh delapan track. Kumpulan dari lagu-lagu yang pernah populer semenjak tahun 1988 sampai saat ini, tentunya dengan instrumen yang beraransemen akustik. "Belle Of The Boulevard" milik Dashboard Confessional menjadi track pembuka album kompilasi "Acoustic Summer" versi Indonesia ini, lagu alternative ini disajikan dengan jenis akustik, selanjutnya masih dengan nuansa gitar yang akustik, Taylor Swift dengan "Teardrops On My Guitar" yang beraliran country pop memberikan variasi dalam tema akustik album ini. Tak ketinggalan, Lifehouse dengan lagu pop rock yang masih menggunakan petikan gitar pada "You And Me" ikut menambah keragaman jenis musik yang beradu dengan keakustikan album ini.
Kenny Edmonds yang lebih dikenal dengan stage name Babyface berada pada daftar album akustik ini, "Wonderful Tonight" dengan aliran R&B, ini merupakan salah satu track yang memorable dalam album ini, mungkin karena lagu yang diciptakan oleh Eric Clapton ini sudah menjadi legenda dan memang asyik sekali didengar, ini adalah salah satu track yang kudu harus musti didengar. Folk Rock tak luput dari album ini, Colbie Caillat dengan "I Never Told You" adalah salah satu track terbaik dari lagu-lagu yang berada dalam list yang ada, selain itu Jason Mraz dengan "I'm Yours" sepertinya lagu pop rock, reggae ini tak perlu dijelaskan lagi, diriis sebagai single dan pernah nongol diposisi #6 U.S. Billboard Hot 100 dan merupakan salah satu lagu terbaik yang dipersembahkan dalam "Acoustic Summer".
Rock acoustic "Try" milik Nelly Furtado turut serta muncul dalam list, tentunya dengan versi akustik yang lebih kental. James Morrison dengan single "You Make It Real" dengan aliran pop rock pernah muncul pada posisi #7 UK Singles Chart tak ketinggalan, yang kemudian disambung dengan Indie pop milik Kate Nash yang berjudul "Birds". Ingin mendengarkan jazz yang masih termasuk unsur akustik, Jamie Cullum muncul dengan "High And Dry", bahkan vokalis The Black Eyed Peas, Fergie juga muncul dengan single pop rock "Big Girls Don't Cry".
Jamie Scott And The Town melanjutkan dengan "Standing In The Rain" yan pastinya aliran acoustic indie dalam lagu ini merupakan one of the best track dari album kompilasi ini. Fall Out Boy, band Amerika yang terkenal dengan musik punk nya turut memberikan versi punk akustik mereka melalui lagu "America's Suithearts". Variasi dalam tema akustik juga diramaikan oleh "High" single folk rock dan pop rock milik James Blunt, dan salah satu single milik John Mayer yang sangat popular pada tahun 2002, "Your Body Is A Wonderland", salah satu lagu terbaik dalam album kompilasi ini tentunya. Owl City turut memberikan variasi tema akustik melalui synthpop "The Bird And The Worm". Amy Winehouse dengan musik soul jazz "Love Is A Losing Game" menjadi salah satu pilihan "Acoustic Summer" versi Indonesia untuk menambah variasi jenis musik yang masih bertema akustik, beat yany diberikan pada lagu ini sangat lambat dan sangat pas untuk bermalas-malasan karena panasnya cuaca. The All-American Rejects yang tentunya dengan versi akustik dari lagu "Sunshine" dan Maroon 5 dengan versi akustik "Won't Go Home Without You" menjadi track penutup pada disc pertama.
Track pertama pada disc kedua dibuka oleh Kings Of Convenience dengan lagu indie folk yang tentunya bertema akustik, yaitu "I Don't Know What I Can Save You From", yang merupakan salah satu lagu yang kudu harus musti wajib didengar dalam kompilasi album "Acoustic Summer", sedangkan pada track berikutnya, penyanyi asal Malaysia, Zee Avi memberikan lagu acoustic yang berjudul "Just You And Me" salah satu lagu yang sangat romantis dan membuat cuaca panas menjadi nikmat untuk dijalani. Salah satu track yang menjadi pilihan "Acoustic Summer" versi Indonesia ini adalah The Cardigans dengan "For What It's Worth" indie rock yang masih dengan tema akustik, selanjutnya Lenka dengan "The Show" memberikan suasana lebih dingin dan membuat pop relax sensation. "You Found Me" lagu dengan aliran soft rock dan lirik yang religius milik The Fray adalah salah satu track terbaik pada disc kedua album "Acoustic Summer", kemudian salah satu single lawas yang dibawakan oleh The La's dengan alternative rock genre "There She Goes" dengan tempo medium catchy ada pada track keenam disc kedua yang kemudian dilanjutkan oleh "Bad Day" milik Daniel Powter, seperti yang kita ketahui lagu dengan aliran pop rock dan pernah merajai U.S. Billboard Hot 100 merupakan signature song milik Daniel Powter, boast the mood ketika kita bete, one of the best track from "Acoustic Summer" versi Indonesia. Tak ketinggalan Gabrielle yang sangat pop R&B turut memberikan warna pada "Acoustic Summer" dengan single "Out Of Reach" yang mengisi track delapan disc dua. "Beautiful Freak" milik Eels mengisi track sembilan dengan musik alternative acoustic dan kemudian dilanjutkan oleh The Cranberries yang membawakan "You And Me" sebuah lagu dengan jenis aliran alternative rock, Feist juga muncul dengan versi akustik indie pop "Mushaboom".
Noah And The Whale tak luput dalam album kompilasi "Acoustic Summer", "5 Years Time" merupakan single yang dipilih dari band tersebut dan menjadi salah satu single anti folk yang memeriahkan album dengan tema akustik ini, musik dengan aliran britpop kemudian melanjutkan track berikutnya, yaitu dengan tempo yang lambat, yaitu "Wonderwall" milik Ryan Adams. Pulp masih memberikan musik dengan aliran britpop, yang tentunya masih bertema akustik dengan lagu mereka "Something Changed". Dua track berikutnya diisi oleh musisi wanita, yaitu pianis asal Amerika, Tori Amos dengan lagu "Maybe California" dan rocker asal Amerika, Sheryl Crow dengan lagunya "Where Has All The Love Gone" yang dibawakan masing-masing tanpa menghilangkan unsur akustik. Rufus Wainwright dan Gavin DeGraw mengisi track berikutnya, secara berturut dengan jenis musik Baroque pop dan Pop rock, "The One You Love" dan "We Belong Together".
Album kompilasi dengan tema akustik yang diberi judul "Acoustic Summer" ditutup oleh penyanyi asal Skotlandia, Amy Macdonald dengan single yang berjenis Indie rock "Run". Keseluruhan, banyak variasi dari berbagai macam jenis musik yang menggunakan unsur akustik, dan kumpulan koleksi lagu-lagu untuk versi Indonesia dari album kompilasi "Acoustic Summer" cukup layak untuk dikoleksi, cocok untuk menemani musim panas, meskipun sebenarnya di Indonesia tidak pernah kejadian yang namanya summer, yang ada dry season, yah paling tidak, album kompilasi yang dirilis di negara-negara Asia dengan versinya masing-masing cocok untuk menemani disaat cuaca yang terik dan panas, untuk mencairkan dan memberikan kesejukan dihati dan memuaskan hasrat telinga.
(Joe Ronald / CreativeDisc Contributors)
Track List:
Disc 1:
01. Dashboard Confessional – Belle Of The Boulevard
02. Taylor Swift – Teardrops On My Guitar
03. Lifehouse – You And Me
04. Babyface – Wonderful Tonight
05. Colbie Caillat – I Never Told You
06. Jason Mraz – I'm Yours
07. Nelly Furtado – Try
08. James Morrison – You Make It Real
09. Kate Nash – Birds
10. Jamie Cullum – High And Dry
11. Fergie – Big Girls Don't Cry
12. Jamie Scott And The Town – Standing In The Rain
13. Fall Out Boy – America's Sweethearts
14. James Blunt – High
15. John Mayer – Your Body Is A Wonderland
16. Owl City – The Bird And The Worm
17. Amy Winehouse – Love Is A Losing Game
18. The All-American Rejects – Sunshine
19. Maroon 5 – Won't Go Home Without You
Disc 2:
01. Kings Of Convenience – I Don't Know What I Can Save You From
02. Zee Avi – Just You And Me
03. The Cardigans – For What It's Worth
04. Lenka – The Show
05. The Fray – You Found Me
06. The La's – There She Goes
07. Daniel Powter – Bad Day
08. Gabrielle – Out Of Reach
09. Eels – Beautiful Freak
10. The Cranberries – You And Me
11. Feist – Mushaboom
12. Noah And The Whale – 5 Years Time
13. Ryan Adams – Wonderwall
14. Pulp – Something Changed
15. Tori Amos – Maybe California
16. Sheryl Crow – Where Has All The Love Gone
17. Rufus Wainwright – The One You Love
18. Gavin DeGraw – We Belong Together
19. Amy Macdonald – Run
Related posts