Music Newz Bites – 22 Sep
welly, 11 years ago
12
3 min

read
601
Ingat kesuksesan album Natal yang dikeluarkan Mariah Carey tahun 1994? Album tersebut terjual lebih dari 12juta keping di seluruh dunia. Dan tahun ini, Mimi akan merilis album koleksi lagu-lagu Christmas dengan judul "Merry Christmas II You" pada tanggal 2 Nopember mendatang dan sejauh ini, track yang sudah dipastikan akan ada di album tersebut meliputi:
1. "All I Want For Christmas Is You (New 2010 Version)"
2. "Oh Santa"
3. "The First Noel"
4. "Little Drummer Boy"
5. "O Little Town of Bethlehem"
6. "Oh Come All Ye Faithful"
Cover albumnya cantik ya? Single pertama dari album ini adalah 'Oh Santa' yang diproduseri oleh Bryan Michael Cox. Album ini juga akan dirilis dalam bentuk DVD.
Yang lain yang akan merilis album Natal juga adalah Lady Antebellum. Album holiday mereka dikasih judul "A Merry Little Christmas". Album ini akan dirilis tanggal 12 Oktober nanti oleh Capitol Nashville.
Sementara itu, E! Online mengabarkan kalau Gwyneth Paltrow diusahakan untuk tampil dalam serial Glee Nopember mendatang sebagai pacar baru Mr. Schue. Ini juga dalam rangaka promo film terbarunya "Country Song" dimana dia berperan sebagai penyanyi profesional.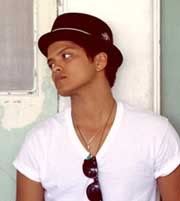 Berita enggak enak datang dari Bruno Mars. Cowok 23 tahun yang sedang ngetop-ngetopnya dengan single 'Just The Way You Are' ini hari Minggu lalu ditangkap polisi atas kepemilikan narkoba. Dirinya ditahan pada Minggu dini hari setelah pihak keamaan Hard Rock Hotel and Casino, Las Vegas menemukannya di dalam kamar mandi dengan barang haram tersebut. Belum diberitakan mengenai apa jenis narkoba yang dia punya.
Adam Lambert pun sedang berurusan dengan polisi. Pasalnya juru kamera yang berkelahi dengannya mengadu ke pihak berwajib pasca kejadian tersebut. Lambert tampil di Nick and Nina Show on Y100 menjelaskan kejadian yang terjadi, bahwa dirinya telah memberikan kesempatan kepada paparazzi untuk mengambil fotonya selama 45 menit, namun yang satu ini menolak untuk berhenti mengambil gambar, padahal Lambert cuma pengen "kick it, eat some food and have a Piña Colada."
Cinta banget sama Beyonce? Well, Queen Bee sekarang sedang sibuk di studio untuk rekaman album baru. Menurut produser Jim Jonsin adalah salah satu orang yang diajak kerjasama untuk album tersebut. Dan kepada Rap-Up.com, Jonsin ngasihtau kalau dia pengen ngasih lagu yang terpengaruh dengan sound 80'an kepada Bee, kayak lagu-lagunya Depeche Mode.
Last but not least… Multi-Grammy Award Winner, Norah Jones bakal merelease album barunya "… Featuring" tanggal 16 Nov dengan sederatan kolaborasi para legenda musik seperti Ray Charles, Willie Nelson, Dolly Parton dan juga icon musik terkini seperti OutKast, Foo Fighters, dll. "It's so exciting and flattering and fun when I get asked to sing with somebody that I admire," tuturnya. "It takes you a little bit out of your comfort zone when you're doing something with another artist. You don't know what to expect—it's kind of like being a little kid and having a playdate."
Ini dia Tracklist albumnya:
01. Love Me – The Little Willies
02. Virginia Moon – The Foo Fighters featuring Norah Jones
03. Turn Them – Sean Bones featuring Norah Jones
04. Baby It's Cold Outside – Willie Nelson featuring Norah Jones
05. Bull Rider – Norah Jones and Sasha Dobson
06. Ruler Of My Heart – Dirty Dozen Brass Band featuring Norah Jones
07. The Best Part – El Madmo
08. Take Off Your Cool – OutKast featuring Norah Jones
09. Life Is Better – Q-Tip featuring Norah Jones
10. Soon The New Day – Talib Kweli featuring Norah Jones
11. Little Lou, Prophet Jack, Ugly John – Belle & Sebastian featuring Norah Jones
12. Here We Go Again – Ray Charles featuring Norah Jones
13. Loretta – Norah Jones featuring Gillian Welch and David Rawlings
14. Dear John – Ryan Adams featuring Norah Jones
15. Creepin' In – Norah Jones featuring Dolly Parton
16. Court & Spark – Herbie Hancock featuring Norah Jones
17. More Than This – Charlie Hunter featuring Norah Jones
18. Blue Bayou – Norah Jones featuring M. Ward
Related posts