Single of The Day: McFly – Party Girl
welly, 11 years ago
4
3 min

read
406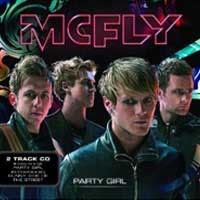 Pertama kali dengar 'Party Girl' dari McFly, aku pangling dengan sound yang ada. It's so current! Apalagi kenyataan mereka berkolaborasi dengan Dallas Austin dalam pengerjaan single ini. It's freaking awesome! Jadi, mereka punya synth yang membuat lagu ini berciri, mereka masih bermain instrumen, sehingga segala sesuatu terdengar lebih glamor. Jadi, daripada menyediakan punk rock yang biasa, McFly memberi sound yang eksperimental dan relevan dengan today's music.
Semua yang mendengarkan 'Party Girl' pasti akan berkesimpulan bahwa ini semua adalah efek Gaga yang terjadi pada McFly. Well, untuk sekarang sepertinya banyak yang melakukan percobaan dengan meramu musik bercampur electropop di dalamnya. Dalam liriknya, lagu ini mengisahkan tentang seorang cewek doyan pesta, "She said she likes to dance all by herself cos she's a party girl//She don't care for nobody else, she's in her own world", and please don't tell me it's Gaga they're describing!
Ini single akan menjadi single pertama dari album kelima band asal London ini. Katanya sih akan menjadi satu-satunya lagu dengan influens dancepop yang ada. Kalau memang begitu adanya, mereka emang jago dalam menetapkan strategi. 'Party Girl' emang menjual banget!
Lihat Music Videonya disini
Official Website McFly
(Ai Hasibuan / CreativeDisc Contributors)
Lyrics:
The clock hit 12, she entered the room
But if looks could kill then we all would be doomed
After just one kiss you're not able to move
From her venomous lips and the poison perfume yeah
She started swaying so sexy and looking at me and it got me caught in a mind control
This place is prison, i'm chained up, I give up and i'm at her mercy
She wouldn't let me go
She said she likes to dance all by herself cos she's a party girl
She don't care for nobody else, she's in her own world
I love this little party girl, I love this little party girl
She's such a little party girl
I..i gotta leave this room, it's starting to spin
But there's no escape from this mess that i'm in
She can't resist the temptation to sin
So pull your collar up before she sinks her teeth in, yeah
She started swaying so sexy and looking at me and it got me caught in a mind control
This place is prison, i'm chained up, I give up and i'm at her mercy
She wouldn't let me go
She said she likes to dance all by herself cos she's a party girl
She don't care for nobody else, she's in her own world
I love this little party girl, I love this little party girl
She's such a little party girl
I love this little party girl, yeah
She said she likes to dance all by herself cos she's a party girl
She don't care for nobody else, she's in her own world
I love this little party girl, I love this little party girl
She's such a little party girl
Related posts