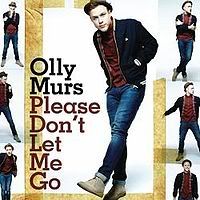 Menjadi finalis X Factor dalam grup over 24's mungkin menciptakan kesan bahwa Olly Murs akan menyajikan ciri bermusik yang tua, serius, atau less fun. Penilaian itu akan gugur kalau kita mendengarkan 'Please Don't Let Me Go', single pertama Olly Murs pasca X Factor. Single ini fun! Dengan corak musik reggae dan intro yang catchy. Ini single hasil kreasi Olly bareng hit maker Claude Kelly dan juga Steve Robson. Jadi walaupun jauh dari aroma musik dancepop/electropop/synthpop yang menjamur, single ini bisa dijadikan andalan untuk me-refresh telinga kamu dari keseragaman musik yang belakangan kamu dengar.
Untuk vokal, jangan ragukan lagi kemampuan pria berusia 26 tahun ini. He has nice vocal, mirip sama vokalnya Will Young. Di single ini, dia menunjukkan kemahirannya ber-falsetto dan scat. Very smooth. Olly juga sangat gembira dengan keberhasilannya tampil dengan single yang original, sehingga publik bisa tau dia itu artis apa dan bagaimana. So far, he's so fun!
You may find the lyrics bit cheesy, but frankly, I like it that way. Enggak jauh-jauh dari rayuan gombal. Dimana Olly mengungkapkan apa yang dia benar-benar rasakan pada si gadis, dan kemudian berusaha untuk mengetahui apakah si gadis merasakan hal yang sama? Bagian favoritku adalah "What else can I say? (Can I say)//My heart's b-b-b-beating double time, yeah". Menurutku, Olly berhasil menyajikan sesuatu yang super fun! Sama dengan betapa excitednya dia akan single ini, "I'm so excited to be releasing this track which I co-wrote with Steve and Claude. It was important to me to be releasing an original song, and you can blast this one in the car with the windows down and the sun shining". Sekalian nungguin albumnya datang, mari sama-sama kita nikmati single 'Please Don't Let Me Go'.
Official Websitenya
Lihat Music Videonya disini
Lyrics:
Where do I begin?
Should I tell you
How bad I need you now
You're underneath my skin
But I'm confused
My head is spinning all around
I waited so long
I need to know, darling
What is on your mind
Normally I try to run
And I might even want to hide
Cause I never knew what I wanted
Til I looked into your eyes
So am I in this alone?
What I'm looking for is a sign
That you feel how I feel for you
Baby please don't let me go
Baby please don't let me go
Baby please don't let me go
No, please don't let me go
Baby no, no, no, no
Badabadeebaba
What else can I say? (Can I say)
My heart is beating double time, yeah
And do you feel the same? (Do you feel the same)
Don't leave me in the dark, no
But baby don't put out this spark, no
I waited so long
I need to know, darling
What is on your mind
Normally I try to run
And I might even want to hide
Cause I never knew what I wanted
Til I looked into your eyes
So am I in this alone?
What I'm looking for is a sign
That you feel how I feel for you
Baby please don't let me go
Baby please don't let me go
Baby please don't let me go
No, please don't let me go
Baby no, no, no, no
Caught in the inquisition
Under these conditions
I need a definition
Is it love that we're sharing
Show me that you're caring
You see my fascination
Tell me I'm not mistaken
Give me the information I need
1, 2, 3
Normally I try to run
And I might even want to hide
Cause I never knew what I wanted
Til I looked into your eyes
So am I in this alone?
What I'm looking for is a sign
That you feel how I feel for you
Baby please don't let me go (Don't let me go)
Baby please don't let me go (Please don't let me go)
Baby please don't let me go (Don't let me go)
No, please don't let me go
Baby no, no, no, no
Related posts