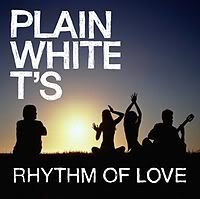 Plain White T's tahun ini kembali dengan single terbarunya 'Rhythm Of Love' yang videonya telah berulang kali tayang di MTV maupun Channel V. Meski tak menimbulkan sensasi seperti 'Hey There Delilah', lagu ini cukup menarik dengan keriangan suasana musim panas.
Masih konsisten dengan rona pop rock akustik, Plain White T's berencana meluncurkan album studio berjudul "The Wonders Of The Younger". 'Rythm Of Love' menjadi single pengantar perkenalan album tersebut. Single ini menjadi penanda dimana Tom Higgenson menjadi satu-satunya vokalis utama, yang mana sudah dirancang sebagai konsep beberapa lagu di album ini.
Lagu ini mengisahkan sehari penuh bersama sepasang kekasih memainkan irama cinta dalam musik di bawah mentari yang cerah hingga malam menjelang dan bulan menerangi.
Lihat Music Videonya disini
Official Website
(Timmy / CreativeDisc Contributors)
Lirik:
My head is stuck in the clouds
She begs me to come down
Says "Boy quit foolin' around"
I told her "I love the view from up here
The warm sun and wind in my ear
We'll watch the world from above
As it turns to the rhythm of love"
We may only have tonight
But till the morning sun you're mine all mine
Play the Music low and sway to the rhythm of love
My heart beats like a drum
A guitar string to the strum
A beautiful song to be sung
She's got blue eyes deep like the sea
That roll back when she's laughing at me
She rises up like the tide
The moment her lips meet mine
We may only have tonight
But till the morning sun you're mine all mine
Play the Music low and sway to the rhythm of love
When the moon is low
We can dance in slow motion
And all your tears will subside
All your tears will dry
And long after I've gone
You'll still be humming along
And I will keep you in my mind
The way you make love so fine
We may only have tonight
But till the morning sun you're mine all mine
Play the music low and sway to the rhythm of love
Related posts