Upcoming Concerts in Indonesia!
welly, 11 years ago
28
2 min

read
602
Rangkaian konser yang bakal mengguncang Jakarta, Surabaya dan beberapa kota di Indonesia adalah:
– Dibuka oleh Jakarta Jam! 2010, 22-23 Sep di Tennis Indoor, Senayan, Jakarta. DAY 1: 22 Sept 2010 ada FloRida, Chingy, Bondan Prakoso & Fade2black. Day 2: 23 Sept 2010 ada The Maine, Hello Goodbye, Forever The Sickest Kids.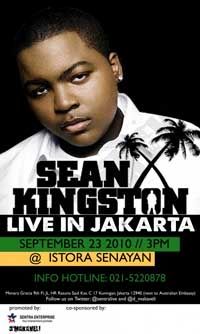 – Di hari yang sama ada juga konser Sean Kingston tanggal 23 Sept 2010 di Istora Senayan, Jakarta dan juga 25 Sept 2010 di Grand City, Surabaya! Jangan lewatkan, selain harganya mayan terjangkau dan jarang banget ada artis mancanegara yang mampir di Surabaya, apalagi musiknya R&B gini…
– Java Rockin' Land Festival 2010, 8-10 Oct 2010, Pantai Karnaval, Ancol, Jakarta. Kalo yang satu ini kayaknya event wajib datang! Lihat aja line-up nya… DI-RECT, SUPERMAN IS DEAD, DEAD SQUAD, STEREOPHONICS, THE EXPERIENCE BROTHERS, DATAROCK, STEREOCASE, SOCIAL CODE, JIKUNSPRAIN, /RIF, SLANK, AFTER COMMA, NOT CALLED JINX, GALAXY 7, KOIL, THE FLOWERS NOXA, THE BOHEMIANS, PURGATORY, ARKARNA, THE BRANDALS, LIVING THINGS, KOTAK, BIP, SPEAKER FIRST, STEVE FISTER, PAS, NETRAL, ROCKET ROCKERS, MUTEMATH, THE SMASHING PUMPKINS! Bagi yang suka Rock, ajang kayak gini pantang untuk dilewatkan!
– The Hit Man, David Foster & Friends Live In Jakarta, 27 Oct 2010, The Ritz Carlton – Pacific Place. Artis yang bakal tampil: Ruben Studdard, Natalie Cole, Peter Cetera, Charice Pempengco, dan Canadian Tenors. Yang tampil di konser ini emang eksklusif, gak heran harga tiketnya pun dibuka dengan harga termurah 1jt yang katanya sudah sold out!
– Kenny G, 26 October 2010, Central Park Ballroom Jakarta. Saxophonist asal Amerika ini akhirnya datang lagi menyambangi ibukota Indonesia!
– BASIA menggelar konser di 3 kota:
Jakarta – 07 Oktober 2010, Grand Melia Hotel Ballroom
Bali – 10 Oktober 2010, The Patra Bali Resort & Villas Ballroom
Surabaya – 12 Oktober 2010, Hotel Shangri-La Surabaya Ballroom
Java SoulNation tanggal 29-30 Okt, Istora Senayan, Jakarta. Daftar sementara yang bakal tampil adalah: LES NUBIANS, MAXWELL, N.E.R.D., BONE THUGS N HARMONY, COOLIO, ESTELLE, JODECI, LOUIS VEGA, JOJO, FAT FREDDYS DROP, FLO-RIDA, RAUL MIDON, PUBLIC ENEMY, LUPE FIASCO, RELAX, CIARA, MISSY ELLIOTT, SIMPLY RED, SEAN KINGSTON.
Vampire Weekend akan mengadakan konser mereka di Bengkel Night Park, Jakarta pada 24 Oktober 2010 mendatang. Harga tiket Rp.350.000,-
Konser mana yang bakal kamu tonton?
Related posts