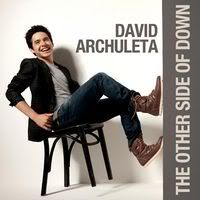 "The Other Side of Down" adalah sebuah album perjalanan personal kehidupan David Archuleta, jika dibandingakan dengan album pertamanya. Lirik dan melodi lagu di album ini yang ditulisnya sendiri memang membuktikan maturitasnya sebagai artis. Namun, suara tenornya yang bertekstur halus, plus wajah ganteng berlesung pipit, yang menjadi andalannya sebagai runner-up di American Idol Season 7, belum menjamin kualitas materi album ini yang sayangnya hanya dipenuhi dengan musik pop biasa yang cenderung monoton. Selain dari sisi lirik, tidak banyak kejutan yang ditawarkan. Tapi bila ingin membedah satu-satu lagu, mungkin masih bisa mendapatkan sisi menarik di album ini.
Lagu 'Something About Love', yang dipilih menjadi single pertama dari album ini, gagal menembus Billboard Top 40. Chorus yang kurang catchy, Auto-tune di vocal David yang rasanya tidak perlu, dan juga lirik yang kurang mengigit, bisa jadi adalah penyebabnya. Rasanya, pemilihan single pertama ini sama sekali tidak tepat mewakili sosok Archie yang manis dan bersuara crispy. Di lagu 'Elevator' , pada sisi lain, malah terdengar cukup komersial, dengan gaya bernyanyi falsetto di chorus, dengan tema lagu yang paling ringan dan fun dibandingkan lagu-lagu lain di album ini. Salah satu rekomendasi terbaik se-album.
Pada 'My Kind of Perfect', juga terdengar ciri khas Archie yang berupa pop balada dengan iringan piano. Suara Archie juga terdengar perfect di lagu ini, sebagaimana yang kita sudah saksikan di sesi babak penyisihan American Idol. If you miss those moments, you might get all the memories back just by playing this nice song. Terakhir, lagu yang menurut saya masih layak dengar adalah 'Stomping Roses' yang berirama upbeat, dengan hentakan bass dan drums yang edgy. Walaupun suara Archie sedikit di-auto-tune (beberapa artis memang pantas vokal nya di-auto Tune, seperti Britney Spears, Miley Cyrus, Justin Timberlake, dan Jesse McCartney, tapi seperti nya vocal Archie tidak perlu manipulasi seperti itu), tetap terasa twist yang modern di bunyi gitar dan synthesizer yang membuat lagu ini terasa fresh.
Lagu-lagu lainnya? Ya, menurut saya agak monoton. Fans pasti senang akan konsistensi bermusik Archie, tapi untuk menambah fans melalui "The Other Side Of Down" rasanya diragukan. Namun, Archie sebagai artis yang masih muda, tetap mempunyai bakat yang tidak bisa dianggap remeh. Tampang rupawan dan suara bagus, dia sudah punya. Tinggal manajemen nya saja yang pintar-pintar bisa memilah-milah lagu mana yang cocok untuk sosok Archie dan bisa membawanya ke puncak popularitas. I still have a lot of faith in him. This record is good, but he could be better!

Official Website David Archuleta
Join bareng dengan para fans David Archuleta disini
Review by Erwin Sagata
Track List:
1. "The Other Side of Down" David Archuleta, Joy Williams, Blair Daly, Jeremy Bose Jeremy Bose 3:13
2. "Something 'Bout Love" Archuleta, Chris DeStefano, Dave Katz, Sam Hollander S*A*M and Sluggo, DeStefano 4:22
3. "Elevator" Archuleta, Mike Krompass, Shelly Peiken[6] Mike Krompass 3:24
4. "Stomping the Roses" Archuleta, Bryce Avary Mike Krompass 3:01
5. "Who I Am" Archuleta, Krompass, Shelly Peiken Mike Krompass 3:44
6. "Falling Stars" Claude Kelly, Emanuel Kiriakou, Jess Cates [7] Emanuel Kiriakou 3:35
7. "Parachutes and Airplanes" Archuleta, Lindy Robbins, Matt Squire [8] Matt Squire 3:33
8. "Look Around" Archuleta, Victoria Horn[9] Matt Squire Matt Squire 3:26
9. "Good Place" Mitch Allan, Archuleta, Peiken Mitch Allan 3:25
10. "Complain" Kelly, Kiriakou, David Hodges Emanuel Kiriakou 3:24
11. "Things Are Gonna Get Better" Archuleta, Danielle Brisebois, Nick Lashley, A. Ander[10] Danielle Brisebois, Nick Lashley, A. Ander[11] 3:14
12. "My Kind of Perfect" Archuleta, Joy Williams, Cindy Brouwer, Jeremy Bose Jeremy Bose 3:37
Related posts