Album of The Day: Meja – AniMeja ~ Ghibli Songs
welly, 11 years ago
6
3 min

read
959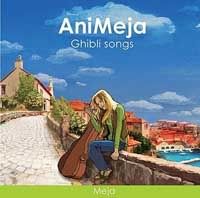 Penyanyi asal Swedia, Meja menyanyikan cover version dari lagu-lagu kartun produksi Studio Ghibli, Jepang. Bahkan di cover albumnya ini, menggambarkan lansekap dari film animasi Kiki's Delivery Service, tapi diadaptasi dengan gambaran kota Stockholm. Lagu dari produksi film Ghibli terbaru, The Borrower Arietty, juga dimasukkan dalam album "AniMeja ~ Ghibli Songs" ini dan menjadi lead single. Itulah sebuah lagu yang berjudul 'Arriety's Song', yang liriknya jelas menggambarkan tentang kisah Arriety. Studio Ghibli adalah sebuah studio film animasi Jepang. Film-film animenya mengandung unsur-unsur provokatif, imajinatif, emosional dan telah mendapatkan pujian yang luas dari seluruh dunia. Ditengah gempuran film2 animasi 3 dimensi, Studio Ghibli tetap produktif dengan animasi klasik dua dimensi ala Walt Disney, dan membuktikan bahwa karya yang bagus tidak akan kalah dengan karya lain yang didukung kemajuan tekhnologi. Ghibli juga telah memberikan pada Disney hak-hak video untuk delapan filmnya serta hak distribusi dunia antara lain Princess Mononoke (1997) dan Spirited Away (2001). Komponis Joe Hisaishi telah menyediakan soundtrack bagi beberapa film Ghibli.
Sebagai penyanyi dan komposer, Meja telah meluncurkan beberapa lagu hits seperti 'I'm Missing You', 'All 'Bout the Money', dan 'Private Emotion' (duet bersama Ricky Martin). Meja juga terkenal setelah single 'How Crazy are You?' digunakan sebagai lagu tema Xbox video game Dead or Alive Xtreme Beach Volleyball. Berbagai genere mulai dari pop, folk, jazz, dan kini merambah pula musik soundtrack anime. Lagu-lagu dalam album ini aransemennya tidak sedrastis album Clémentine "Animentine ~ Bossa du animé" yang dirilis pada waktu yang hampir bersamaan. Namun kesan "enchanting" dan "magical" a la film-film Studio Ghibli tetap terekam dengan bunyi-bunyian berbagai instrumen akustik, berpadu dengan irama pop. Dengarkan 'My Neighbor Totoro', 'The Universal Promise', dan 'Lip Stick Message'. Pada lagu Country Road, yang merupakan remake dari lagu country milik John Denver, dibawakan dalam Bahasa Jepang. Lagu ini adalah theme song dari anime "Mimi o sumaseba" ("Whisper of the Heart").
Lagu-lagu karya Joe Hisaishi yang biasanya di-remake dalam versi classical, tetap terasa nuansa magisnya dalam balutan pop a la Meja. Ini adalah contoh untuk tetap mempertahankan lagu pada nuansa aslinya, namun tetap memberikan warna baru. Interpretasi Meja yang terdekat kepada versi asli yang bernuansa classical pop adalah pada pendekatan pop balada yang diiringi piano di lagu Therru no uta (Tales from Earthsea) dan Itsumo nando de mo (Spirited Away). Secara keseluruhan, adaptasi pop folk dan full band dari Meja ini lebih ringan daripada yang dilakukan oleh Clémentine dalam album "Animentine ~ Bossa du animé", tetap indah tanpa melenceng jauh dari nuansa asli lagu-lagu Studio Ghibli. Album Meja kali ini bisa dijadikan alternatif untuk para penggemar lagu-lagu animasi Studio Ghibli yang tidak ingin terlalu "kaget" dengan hasil remake lagu-lagu favorit mereka, dan juga merangkul para penggemar lama Meja dari album bernuansa pop-folk, Seven Sisters (1998) yang sukses dengan lagu 'All 'Bout Money', 'Intimacy', dan 'Pop & Television'.
Review by Erwin Sagata
Track List:
1. MY NEIGHBOR TOTORO (from "tonari no Totoro")
2. ARRIETTY`S SONG (from "karigurashi no Arrietty" ("The Borrower Arrietty"))
3. PRINCESS MONONOKE (from "mononoke hime" ("Princess Mononoke"))
4. LIP STICK MESSAGE (from "majo no takkyu¯bin" ("Kiki's Delivery Service"))
5. TERRU`S SONG (from "Gedo senki" ("Tales from Earthsea"))
6. CARRYING YOU (from "tenku no shiro Laputa" ("Castle in the SKy"))
7. PONYO (from "gake no ue no Ponyo" ("Ponyo"))
8. NAUSICAA (from "kaze no tani no Nausicaa" ("Nausicaa of the Valley of the Wind"))
9. TAKE ME HOME.COUNTRY ROADS (from "mimi o sumaseba" ("Whisper of the Heart"))
10. ALWAYS WITH ME (from "sen to Chihiro no kamikakushi" ("Spirited Away"))
11. THE UNIVERSAL PROMISE (from "Howl no ugoku shiro" ("Howl's Moving Castle")
Related posts