Future Release CD – Jamiroquai "Rock Dust Light Star"
welly, 11 years ago
5
3 min

read
438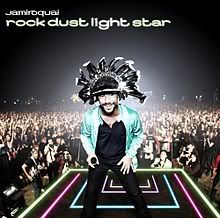 JAMIROQUAI'S NEW ALBUM "ROCK DUST LIGHT STAR"
TO BE RELEASED 1 NOVEMBER 2010 THOUGH MERCURY RECORDS / UNIVERSAL MUSIC GROUP
25 million albums sold. Over 20 hit singles. A career which has spanned an era defying 18 years. And now Jay Kay and his band are back to reclaim their crown as one of the UK's premiere musical exports with the sublime "Rock Dust Light Star", their 7th studio album, the first in five years and their debut for Mercury Records / Universal Music Group which will be released on 1 November 2010.
At a time when many acts are producing electronic, disco influenced tracks, with "Rock Dust Light Star" Jamiroquai have moved on from the sound they helped popularize and reverted to a more organic, live sound. The shift is one that has revitalized the band, and produced their most engaging, vital album in years. In singer Jay Kay's words "Everything on the record is live .It's a real band record. The last, album – fantastic – but the whole thing became a little sterile. This time we've captured the flow of our live performances". The album has been recorded mainly at Jay's home studio in Buckinghamshire, and also at legendary Hook End Manor in Oxfordshire. The album is entirely written by Kay and his Jamiroquai band mates and produced by Kay alongside first time collaborators Charlie Russell and Brad Spence.
The first taster of the album will be the rattling groove of 'White Knuckle Ride', it's a hi-octane retrospective on Jay's career experiences – a cautionary tale equally applicable to anyone's life in these pressure cooker times. This will be followed by another single 'Blue Skies' (to be serviced in November), an epic, blissful, sun-kissed Californian mid tempo song with lush string arrangements and perhaps Kay's most emotive vocal to date – pure class.
Now at the start of a new chapter, Jamiroquai are a band on fire (as witnessed by anyone who's seen their European shows this summer), led by one of the most charismatic front-men ever, with a shelf full of awards, including five MTV gongs, an Ivor Novello and a Grammy to name but a few. "I do feel rejuvenated, music – wise and business-wise" Jay says. He was physically knackered after completing his previous seven album record deal, but now "Everything has clicked and I feel privileged to still be in the game". In the game and on top of it. Jamiroquai are back.
www.jamiroquai.com – www.myspace.com/jamiroquai
www.facebook.com/pages/Jamiroquai/6220201117 – www.youtube.com/jamiroquaivideo
'White Knuckle Ride' Video watch here
Track List:
1. "Rock Dust Light Star"
2. "White Knuckle Ride"
3. "Smoke and Mirrors"
4. "All Good In The Hood"
5. "Hurtin'"
6. "Blue Skies"
7. "Lifeline"
8. "She's A Fast Persuader"
9. "Two Completely Different Things"
10. "Goodbye To My Dancer"
11. "Never Gonna Be Another"
12. "Hey Floyd"
(Universal Music)
Related posts