Music Newz Bites – 01 Oct
welly, 10 years ago
8
3 min

read
313
Bagaimana pendapat kamu kalau Joe Jonas akan berkarir solo? Ini nih yang sedang dipikir-pikir sama cowok berusia 21 tahun ini. Mungkin setelah melihat kemampuan sang adik, Nick dengan proyek sampingannya Nick Jonas & The Administration yang berhasil menempatkan album mereka di posisi 3 Billboard 200 Albums bulan Pebruari lalu, maka Joe pun hendak mencoba keberuntungannya sendirian, tanpa saudara-saudaranya. Joe akan tetap berada di label Hollywood Records. Dan Hollywood sudah bilang kalau Joe pengen sound yang lebih "dangerous" dan lebih "seksi", seperti Justin Timberlake lah. Kapan ini akan jadi kenyataan? Diperkiraan albumnya keluar tahun 2011. Oh iya, label tersebut juga bilang kalau proyek solo Joe ini bukanlah kiamat buat Jonas Brothers. Mereka juga masih tetap eksis kog sebagai sebuah band. Jadi, bagaimana pendapat kamu kalau Joe Jonas akan berkarir solo?
Pengen punya Justin Bieber pribadi? Kalo emang pengen, JB akan segera mengeluarkan produk boneka berbentuk dirinya. Boneka ini cuma boneka plastik aja, karena toy line-nya juga akan menampilkan aneka rupa boneka. Mini JB yang bisa nyanyi dan juga teddy bear. Pembuat boneka ini adalah perusahaan merchandise Bravado and Bridge Direct, yang sudah menciptakan boneka JB yang bisa memutar klip 30 detik lagu 'One Less Lonely Girl'. Kisaran harga untuk produk JB-nya dimulai dari $8 hingga $25. Dengan kurs $1 = Rp.9.000,-, harganya berkisar Rp.72.000 hingga Rp.225.000. Selain produk boneka, JB juga udah punya produk seprey dengan bed cover dan sarung bantalnya. Kalau sudah begini, Jasmine Villegas boleh cemburu dengan seluruh fans JB di berbagai penjuru dunia.
Perkenalkan, pemenang America's Got Talent, Michael Grimm. Dialah cowok berusia 30 tahun kelahiran Mississippi. Selama dalam acara AGT, Mike menampilkan lagu-lagu klasik dari Al Green hinga Randy Newman. Sebelum mengikuti ajang ini, Mike udah sempat mengeluarkan 2 album, "I Am Michael Grimm" di tahun 2009 dan "Leave Your Hat On" di tahun 2010 ini. Dan sepertinya nama Mike akan melambung dengan perilisan album dengan major label, berhubung tanggal 29 September kemarin, Mike sudah tanda tangan kontrak dengan Epic Records. Album ini akan dirilis bulan Maret tahun 2011 nanti. "I know the genre, I know the route I want to go on this album, what it looks like, and smells like, and sounds like.", kata Mike.
Mau tau apa kesibukan Jason DeRulo saat ini? Jawabannya adalah membuat album baru. 2 Maret 2010 lalu dia baru saja mengeluarkan album pertamanya, dan kini perain nominasi MTV Video Music Awards tersebut sudah kembali ke studio untuk fokus pada pengerjaan album baru tersebut. "This will be a totally different album from the first one. I've literally been around the world and back. I've experienced a lot of ups and downs. I've grown as an artist. There's a totally huge side of my artistry that people have yet to see, so I'm looking forward to the near future. Some of it is sounding dark. Some of is sounding party. Some of it is really, really emotional. There's a huge, huge leap of growth. I'm going to take on all aspects. I was through-the-roof excited about the first album, but the excitement for this far exceeds the excitement for [that].", kata Jason pada majalah Billboard. Sebagai produser, Jason masih akan bekerjasama dengan JR Rotem. Kira-kira di album baru nanti, ada berapa track ya isinya? Dan berapa pula lagu yang diawali dengan penyebutan nama "Jason DeRulo" di intronya?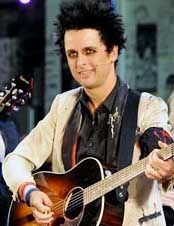 Billie Joe Amstrong, vokalis band Green Day memulai debutnya di Broadway dalam musikal American Idiot pada tanggal 28 September kemarin. Jelas saja, Billie Joe keren abis di panggung dengan St Jimmy, Know Your Enemy, dan Good Riddance (Time Of Your Life). Yang serunya, penampilan encore Good Riddance ini bisa kamu dapatkan dalam bentuk mp3 secara gratis di website-nya American Idiot Broadway. Dengan enerji dan stamina penuh, Billie Joe tidak hanya bintang di pentas menyanyi saja, tapi juga bintang di pentas musikal Broadway. Sukses buat Billie Joe!

(Ai Hasibuan / CreativeDisc Contributors)
Related posts