Music Newz Bites – 20 Oct
welly, 11 years ago
17
4 min

read
694
Perkenalkan, the new teen sensation , Willow Smith!! Willow Smith adalah putri dari pasangan selebriti papan atas Hollywood, Will Smith dan Jada Smith. Willow, yang saat ini masih berumur 9 tahun, sempat menggemparkan dunia music-web dengan lagu "Whip My Hair" pada bulan September yang lalu . Bahkan lagu ini disebut-sebut sebagai lagu tandingan dari single pertama milik Rihanna, "Only Girl (in The World)" sehingga menarik perhatian Jay-Z untuk menggaetnya ke dalam record label milknya, Roc Nation. Berita ini pun sempat diutarakan sendiri oleh kedua orang tua Willow, "After meeting with several record companies, it was clear that JAY-Z, Ty Ty, Jay Brown and the Roc Nation staff was the unquestionable choice. Their passion for Willow combined with their boundless vision and artistic integrity made Roc Nation the perfect home for our little girl." Jay-Z juga pernah memuji potensi superstar yang dimiliki oleh Willow, bahkan menyebut Willow sebagai the new young Michael Jackson, "I heard the record first before I knew that it was recorded by a nine year old and I was like, man that record's a smash. I believe in superstars. I believe in big records and in superstars and I think [Willow] has both." Video klip dari "Whip My Hair" sendiri baru saja premiere kemarin, yang pastinya menampilkan Willow yang sedang mengibas-kibaskan rambutnya (seperti judulnya sendiri) sepanjang durasi video tersebut and everything becomes so colorful!. Lihat Videonya disini
Berbahagialah kamu para pecinta Rihanna karena RiRi telah dipastikan akan tampil dalam acara American Music Award sebagai opening act! AMAs sendiri akan digelar di Nokia Theater, LA pada tanggal 21 November mendatang, tepat 5 hari setelah peluncuran album terbaru Rihanna, LOUD. Disamping Rihanna, yang juga telah dipastikan akan tampil dalam acara tersebut adalaha Usher, Pink, dan Bon Jovi. Rihanna sendiri bersaing dengan Sade dan Alicia Keys untuk memperebutkan titel "Favorite Female Artist" dalam ajang American Music Awards tersebut.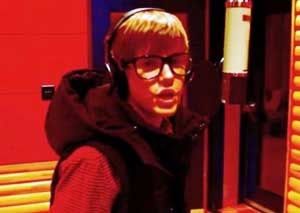 Kebayang ga gimana jadinya kalau Justin Bieber nge-rap? Yep, selain jago nyanyi dan nge-dance, ternyata Justin jago nge-rap juga lho. Justin semakin pede menunjukkan keahliannya tersebut setelah mendapat berbagai pujian dari beberapa rapper kondang, sebut saja Dr. Dre, Drake, Game, dan rekan kolaborasinya di lagu "Runaway Love (remix)", Kanye West. Baru-baru ini, Justin memposting sebuah video yang mempertunjukkan skill rap-nya melalui lagu "Speaking in Tungs" milik Cam'ron dan Vado."You guys might know me as the guy who sings 'Baby'. I'm a pop singer, I'm white," ungkap Bieber dalam video tersebut. "I just wanted to do this to prove that I got skill on the rap game." Bahkan Justin juga memperkenalkan rap alter-ego nya, Shawty Mane. Lihat Videonya disini
Jesse McCartney baru saja mengumumkan judul album terbarunya yang akan segera dirilis tahun depan, yaitu Have It All. Dalam penggarapan album terbarunya ini, Jesse bekerjasama dengan Sean Garrett, Kevin Rudolf, J. Cash, dan juga rekan kolaborasinya di lagu "I Don't Normally Do This," Tyga. "It's full of sexy, four-on-the-floor beats with big pop melodies… but yet again, some rhythmic, R&B stuff that's pushing the envelope a little bit more for me as an artist,"ungkap jesse kepada billboard.com. "I wanted to make sure that there were no boundaries. I'm 23, and I wanted to make sure there was nothing boxing me in musically or content-wise." Untuk mempromosikan album barunya ini, Jesse akan tampil di acara "Live with Regis and Kelly" pada tanggal 19 Oktober besok dan akan menyanyikan single terbarunya "Shake". Selain sedang sibuk mempersiapkan album Have It All ini, Jesse juga sedang sibuk menciptakan lagu untuk beberapa artis lainnya, "I've been writing for a lot of big artists in the last couple months, and it's everything that you dream of as an artist… to be taken seriously as a writer, not just as a singer."
Track listing:
1. "Shake"
2. "One Night"
3. "The Writer"
4. "Club Hop"
5. "I Think She Likes Me"
6. "Tonight Is Your Night"
7. "I Don't Normally Do This" feat. Tyga
8. "Undo"
9. "Have It All"
10. "Mrs. Mistake"
11. "Seasons (My Love Will Never Change)"
Yang juga akan ikut meramaikan holiday season kali ini, Keyshia Cole, telah menetapkan 14 Desember sebagai tanggal perilisan album terbarunya, "Keyshia". Di minggu tersebut, Keyshia akan bersaing dengan beberapa artis lainnya, seperti Ciara dengan Basic Instinct, Diddy-Dirty Money dengan Last Train to Paris, dan juga Young Jeezy dengan TM 103. Single pertamanya sendiri telah dirilis minggu lalu, yaitu "I Ain't Thru" featuring Nicki Minaj. Selain Nicki Minaj, album barunya ini juga akan menampilkan duetnya bersama rapper Tank dalam sebuah lagu ballad. Lagu ballad ini dikabarkan diproduseri oleh "Toxic" Donald Alford yang juga pernah memproduseri Keyshia sebelumnya dalam lagu "Trust". "It's a hot record," ungkap Donald Alford kepada RapUp. "I think it's a gem."
Kabar terakhir datang dari pemeran Rachel Berry dalam serial Glee, Lea Michelle. Lea dikabarkan akan ikut menyumbangkan suaranya untuk perayaan 45 tahun film musikal paling popular sepanjang masa, The Sound of Music! CD soundtrack untuk edisi anniversary ini salah satunya akan memuat versi baru dari lagu "My Favorite Things" yang dinyanyikan oleh Lea Michele.
Related posts