Single of The Day: Natasha Bedingfield – Strip Me
welly, 11 years ago
4
3 min

read
718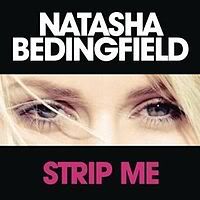 Puas mencicipi track Touch sebagai appetizer untuk album baru Natasha Bedingfield? Maka silahkan persiapkan telinga anda untuk menyimak track yang satu ini. Strip Me dipilih sebagai track andalan dari album yang berjudul sama yang akan dirilis pada tanggal 9 November 2010.
Silahkan nikmati track ini dari dua sisi. Ketika anda sedang on fire, merasa hidup ini indah dan layak untuk dinikmati, maka dari segi lirik, track ini tidak menimbulkan candu. Anda hanya akan larut dalam beat-beat manis ciptaan Ryan Tedder. Seperti mendengarkan One Republic bersuara perempuan. Lengkap dengan suara dua yang menyahuti di beberapa bagian. Tapi ketika hidup anda sedang berada di persimpangan, sedang galau seperti layaknya para ababil, maka track ini bisa seperti penyelamat jiwa. Take what you want, Steal my pride, Build me up, Or cut me down to size. Perlu pembuktian apa lagi? Ada banyak lirik yang kuat dalam track ini. Bagian paling berkesan tentu saja, I'm only one voice in a million, but you aint taking that from me.
Mungkin saja track ini bisa terdengar sangat emosional. Mulai dari awal sampai akhir. Silahkan percepat player anda ke menit 2.10. Dimana Natasha hanya bernyanyi diiringi suara piano yang terdengar dominan, emosinya sangat terasa. Itulah bagian terbaik dari lagu ini.
Track ini ditulis di sela-sela perjalanan dan tour keliling dunia yang dilakukan oleh Natasha selama 3 tahun terakhir. Tentu saja semua mengharapkan ekspektasi yang besar. Mengingat angka 3 juta copy untuk album Pocketfull of Sunshine bukan main-main. Di album tersebut Natasha bermain bersama Adam Levine dan Sean Kingston. Sedangkan di album ini, ada nama Wayne Wilkins, John Shanks, serta Danielle Brisebois, dan Steve Kipner, yang menjadi produser track These Words.
Berharap saja track ini akan bernasib baik-baik saja, beberapa radio sudah menunjukkan airplay yang cukup bagus. Silahkan berharap juga ramuan musik Ryan Tedder akan melanjutkan terus karir Natasha Beddingfield. Semoga! Cheers!
(iQko / CreativeDisc Contributors)
Lyrics:
La la la la la la
Everyday I fight for
All my future somethings
A thousand little awards
I have to choose between
I could spend a lifetime
Earning things I don't need
That's like chasing rainbows
And coming home empty
And if you strip me,
Strip it all away
If you strip me,
What would you find
If you strip me,
Strip it all away
Ill be alright
Take what you want
Steal my pride
Build me up
Or cut me down to size
Shut me out
But I'll just scream
Im only one voice in a million
But you aint taking that from me
Oh oh no you aint taking that from me x 4
I dont need a microphone
To say what I been thinking
My heart is like a loudspeaker
Thats always on eleven
And if you strip me,
Strip it all away
If you strip me,
What would you find
If you strip me,
Strip it all away
I'm still the same
Take what you want
Steal my pride
Build me up
Or cut me down to size
Shut me out
But I'll just scream
Im only one voice in a million
But you aint taking that from me
Oh oh no you aint taking that from me x 4
Cos when it all boils down
At the end of the day
Its what you do and say
That makes you who you are
Makes you think about,
Think about it
Doesn't it
Sometimes all it takes is one voice
Take what you want
Steal my pride
Build me up
Or cut me down to size
Shut me out
But I'll just scream
Im only one voice in a million
But you aint taking that from me
Oh oh no you aint taking that from me x 4
Related posts