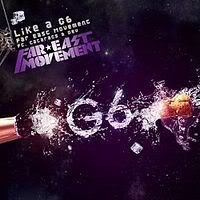 Beri sambutan kepada sebuah group yang menggabungkan musik hip hop dan dance dengan sound electro yang berbasis di Los Angeles, California ini. Far*East Movement yang terdiri dari Kev Nish, Prohgress, J-Splif, dan DJ Virman, masing-masing memiliki darah Asia (Korea, China, Jepang, dan Filipina) dan memulai kehidupan mereka dalam industri musik sejak tahun 2003 lalu. Namun, keberhasilan terbesar mereka adalah tahun ini, saat digandeng major label Cherrytree Records, anak perusahaan Interscope. Album "Free Wired" menawarkan single pertama 'Like A G6' yang meroket ke puncak tangga lagu di Amerika Serikat dan Selandia Baru. Mendapat sertifikat platinum, terjual lebih dari satu juta kopi.
'Like A G6' adalah sebuah track hasil kreasi Far*East Movement bersama The Cataracs, duo indie yang sekaligus memproduseri lagu ini. Sekaligus track ini ditampilkan atas nama Far*East Movement featuring Dev & The Cataracs. Dev adalah solois asal California yang "ditemukan" oleh The Cataracs lewat situs MySpace. Nah, lingkaran hubungan satu sama lain dari performers ini menciptakan chemistry yang sempurna.
Lagu berdurasi tiga setengah menitan ini dimulai dengan intro house music dan suara vokal cewek yang mirip sama Ke$ha, dilanjutkan dengan rap yang ringan dan masih dalam balutan house music yang lama kelamaan bertambah nilai catchy-nya. Inilah ramuan yang membuat kita terlena dalam suasana menikmati secara maksimum. Aku rasa tidak butuh waktu banyak untuk menyatakan kekaguman terhadap single juara ini.
What is a G6? Kev Nish menyatakan bahwa ini adalah sesuatu yang melebihi G4. "A G6 is not a Gatorade flavor. It's not a car, convertible, four-door. It's not a watch. But Drake, Drake talks about having G4 pilots on deck, so we said, 'What's flyer than a G4?' Of course, it would be a G6." Brilian, hasilnya memang cocok dengan apa yang disampaikan Kev pada MTV News tadi.
Radio-radio pasti senang memutar lagu ini, dan para pendengar pasti girang menyambut hal tersebut. 'Like A G6' adalah sebuah karya yang stand out dalam aliran musik sejenis, sehingga memiliki potensi untuk lebih sukses lagi dari segi penjualan dan airplay. Akhir kata, now I'm feeling so fly, like a G6!!!
Lihat Music Videonya disini
Official Website Far*East Movement
(Ai Hasibuan / CreativeDisc Contributors)
Lyrics:
Hook
Poppin bottles in the ice, like a blizzard
When we drink we do it right gettin slizzard
Sippin sizzurp in my ride, like Three 6
Now I'm feelin so fly like a G6
Like a G6, Like a G6
Now I'm feelin so fly like a G6
Verse 1
Gimme that Mo-Moet
Gimme that Cry-Crystal
Ladies love my style, at my table gettin wild
Get them bottles poppin, we get that drip and that drop
Now give me 2 more bottles cuz you know it don't stop
(808) Hell Yeaa
Drink it up, drink-drink it up,
When sober girls around me, they be actin like they drunk
They be actin like they drunk, actin-actin like they drunk
When sober girls around me actin-actin like they drunk
Hook
Poppin bottles in the ice, like a blizzard
When we drink we do it right gettin slizzard
Sippin sizzurp in my ride, like Three 6
Now I'm feelin so fly like a G6
Like a G6, Like a G6
Now I'm feelin so fly like a G6
Verse 2
Sippin on, sippin on sizz, Ima ma-make it fizz
Girl i keep it gangsta, poppin bottles at the crib
This is how we live, every single night
Take that bottle to the head, and let me see you fly
(808) Hell Yeaa
Drink it up, drink-drink it up,
When sober girls around me, they be actin like they drunk
They be actin like they drunk, actin-actin like they drunk
When sober girls around me actin-actin like they drunk
Hook
Poppin bottles in the ice, like a blizzard
When we drink we do it right gettin slizzard
Sippin sizzurp in my ride, like Three 6
Now I'm feelin so fly like a G6
Like a G6, Like a G6
Now I'm feelin so fly like a G6
Bridge
Its that 808 bump, make you put yo hands up
Make you put yo hands up, put yo, put yo hands up
(You can't Touch this)
Its that 808 bump, make you put yo hands up
Make you put yo hands up, put yo, put yo hands up
(You can't Touch this)
Hell Yeaaa, Make you put yo hands up, put yo put yo hands up
Hell Yeaaa, Make you put yo hands up, put yo put yo hands up
Hook
Poppin bottles in the ice, like a blizzard
When we drink we do it right gettin slizzard
Sippin sizzurp in my ride, like Three 6
Now I'm feelin so fly like a G6
Like a G6, Like a G6
Now I'm feelin so fly like a G6
Related posts