Album of The Day: Hannah Montana Forever Soundtrack
welly, 11 years ago
6
3 min

read
1214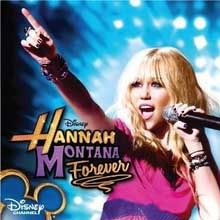 Sebagai fan Hannah Montana, akan sangat sedih terpisah dari serial TV remaja tayangan Disney tersebut. Tapi keceriaan yang ada dalam album "Hannah Montana Forever" pasti menyemarakkan berakhirnya serial yang tayang sejak 2006 lalu. Sangat sulit membahas musik Hannah Montana ini sebagai sesuatu yang terpisah dari musik Miley Cyrus. Kenyataan yang terjadi saat single 'Ordinary Girl' yang memiliki sound country pop dalam mid-tempo hadir setelah kampanye "Can't Be Tamed", dinilai sebagai suatu kemunduran. Menimbulkan pertanyaan akan konsistensi bermusik Miley. Toch, lagu ciptaan Toby Gad dan Arama Brown tadi diperkenalkan atas nama Hannah, bukan Miley.
Ingat lagu 'Hoedown Throwdown' dalam "Hannah Montana: The Movie" soundtrack? Aura itu terdengar lagi dalam 'Que Sera' di album ini. Irama country yang lincah menandai hal tersebut. Tapi yang lebih lincah plus girang bisa jadi 'Gonna Get This' yang ditampilkan bareng Iyaz. Lagu ini pernah leak dengan judul 'This Boy That Girl', ternyata judul aslinya adalah 'Gonna Get This'! Ini lagu Hannah Montana banget! Dancepop dengan perpaduan R&B yang menarik dan riang. It's just something that Hannah fits perfectly. Duet lain yang ada di album ini adalah bersama sang ayah Billy Ray Cyrus dalam sebuah lagu karya Adam Anders dan Nikki Hassman, 'Love That Lets Go', trus bersama Sheryl Crow di lagu karya Jaime Houston, 'Need A Little Love'. Aku suka keduanya. Keduanya dalam tempo rendah dan nyaman di telinga. Tidak segemerlap pop lain dalam album ini, dan yang paling penting mengeksplor vokal si Miley.
Dulu, produser album soundtrack Hannah Montana ini pernah memisahkan karya mana yang ditampilkan sebagai Hannah Montana, dan mana sebagai Miley Cyrus. Tepatnya season 2 saat album tersebut disediakan dalam format 2 disc. Nah, kalau sekarang, kayaknya sudah digabung saja kedua profil tersebut-yang memiliki kondisi musik berbeda. 'Kiss It Goodbye' dan 'Are You Ready' memamerkan glamornya musik Hannah dalam electropop, sedangkan 'I'll Always Remember You' lebih ke arah kesederhanaan Miley, pop rock yang disajikan dengan intro gitar akustik akan sangat mudah mengingatkan pada 'The Climb'. Lagu ini seperti pesan perpisahan untuk semua. Kemungkinan ini akan menjadi koleksi musik dari Hannah Montana terakhir.
Ada lagu pop yang ter-ear catchy di album ini. 'Barefoot Cinderella' judulnya. Lagu ini punya makna indahnya menikmati impian. Mendengarkan 'I'm Still Good' dari detik pertama membuatku terjerumus pada pemikiran lagu ini memiliki vibe ABBA dalam 'Super Trouper'. Dan terakhir, 'Been Here All Along' adalah lagu tentang loyalitas. Meskipun Hannah Montana akan berakhir pada musim semi tahun depan, kita bakalan tetap mendengarkan lagu-lagu darinya. Mantap kan?! Makanya, jangan sampe ga punya albumnya ya. Jaminan puas.
Official Website Hannah Montana
(Ai Hasibuan / CreativeDisc Contributors)
Track List:
1. "Gonna Get This" (featuring Iyaz) Niclas Molinder, Joacim Persson, Johan Alkenas, Drew Ryan Scott, 3:17
2. "Que Sera" Toby Gad, BC Jean, Denise Rich 3:00
3. "Ordinary Girl" Gad, Arama Brown 2:58
4. "Kiss It Goodbye" Molinder, Persson, Jakob Hazell, Charlie Masson, Christoffer Wikberg 2:45
5. "I'll Always Remember You" Mitch Allan, Jessi Alexander 3:53
6. "Need a Little Love" (featuring Sheryl Crow) Jaime Houston 3:55
7. "Are You Ready" Gad, Jean, Lyrica Anderson 3:16
8. "Love That Lets Go" (featuring Billy Ray Cyrus) Adam Anders, Nikki Hassman, 3:07
9. "I'm Still Good" Jennie Lurie, Aris Archontis, Chen Neeman 3:18
10. "Been Here All Along" Lurie, Archontis, Neeman 4:02
11. "Barefoot Cinderella" Houston, James Dean Hicks 2:57
Related posts