Album of The Day: Wilson Phillips – Christmas In Harmony
welly, 11 years ago
7
2 min

read
1026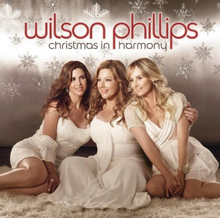 Setelah mendengarkannya berulang ulang maka jawaban saya untuk pertanyaan tadi adalah ya! Kekuatan suara dan harmoni masih tetap kuat dan masih tetap menjadi khas trio Wilson Phillips ini setelah hampir 6 tahun tidak merilis album bertiga. Album ini berisi 13 lagu Natal baik yang classic maupun yang baru dan dibuka dengan I WIsh It Could Be Christmas Everyday yang pertama kali dipopulerkan oleh glam rock band dari Inggris Wizzard tahun 1973 dan juga pernah dinyanyikan oleh Girls Aloud dalam album Chemistry Christmas Edition. Musik yang fun dan riang menjadikan lagu ini pas dijadikan sebagai opening untuk membangkitkan semangat Natal.
Yang paling menarik perhatian saya adalah tiga lagu baru antara lain yang diciptakan oleh suami Carnie Wilson, Ron Bonfoglio yang berjudul Warm Lovin Christmas time yang juga bernada ceria, up tempo dan cocok untuk diengarkan bersama dengan seseorang yang special buat kamu di hari Natal ini kemudian Christmastime yang diciptakan oleh Chynna Phillips bersama Glenn Ballard yang tetap mengedepankan nuansa ceria khas Wilson Phillips dan juga mengingatkan saya dengan Hey Santa, sebuah lagu yang pernah dirilis oleh Carnie dan Wendy Wilson di tahun 1999. Lagu ketiga adalah Our Prayer yang juga merupakan nomor penutup dalam album ini yang diciptakan dan diaransemen oleh ayah Carnie dan Wendy, Brian Wilson yang juga ex personil the Beach Boys memperlihatkan indahnya vocal Wilson Phillips dalam menyanyikan lagu acapella yang membutuhkan tingkat kekuatan harmonisasi yang tinggi.
Lagu Natal standar seperti Little Drummer Boy, When A Child Is Born, Silent Night, Silver Bells juga diaransemen baru sesuai dengan khas mereka sehingga terdengar menjadi lebih bernuansa pop dan catchy sedangkan Santa Claus Is Coming To Town dan Sleigh Ride yang dibuka dengan tune khas ring a ling a ling dong ding sedikit mengingatkan kita dengan nuansa girl group tahun 60an. Sedangkan Joy yang diciptakan oleh Wilson Phillips sendiri dengan dibantu oleh Ron Bonfiglio, Glenn Ballard, Danny Knutson, dan Scott Campbell merupakan sebuah komposisi aransemen original yang sekali lagi memperlihatkan indahnya harmonisasi yang mereka tampilkan.
Overall, sesuai dengan judul album ini, Christmas In Harmony, Wilson Phillips memang menawarkan Natal dalam keharmonisasian vocal mereka yang diharapkan akan bisa menambahkan keceriaan dan kegembiraan Natal anda di tahun ini .. so let's celebrate Christmas with them ..
Official Website Wilson Phillips
(Lendy / CreativeDisc Contributors)
Track List:
No. Title Length
1. "I Wish It Could Be Christmas Every Day" 3:09
2. "Little Drummer Boy" 3:11
3. "Warm Lovin' Christmastime" 3:25
4. "When A Child Is Born" 2:50
5. "Christmastime" 2:40
6. "Silent Night" 3:02
7. "Santa Claus is Coming to Town" 2:46
8. "Silver Bells" 3:13
9. "Sleigh Ride" 2:56
10. "Joy" 3:38
11. "Winter Wonderland" 2:56
12. "The Christmas Song" 3:22
13. "Our Prayer" 1:22
Related posts