Album of The Day: Leela James – My Soul
welly, 11 years ago
5
3 min

read
704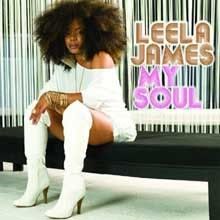 Vokal Leela yang dalam, kaya sekaligus kasar acapkali dibandingkan dengan para legendaris seperti Aretha Franklin, Tina Turner dan Chaka Khan. Dan berkat kemampuannya Leela sering diundang berkolaborasi termasuk oleh Moby dan almarhum Ray Charles. Leela, yang sering dikritisi oleh pers Amerika, justru memperoleh pengakuan sebagai salah satu vokalis terbaik yang pernah tampil di The Pigalle Club, Piccadilly, London.
Album 'My Soul' adalah pengalaman jiwaku, tentang arti semuanya itu buat diriku, dan inilah alasan aku ingin membagikannya dengan kalian. – Leela James
Tak heran jika Leela memberikan pernyataan seperti itu. Album ini lebih terasa menyegarkan dengan berbagai komposisi baru dibandingkan album sebelumnya yang lebih banyak mengangkat lagu-lagu lama. Dalam album ini, 4 dari 11 lagu ditulis seluruhnya oleh Leela. Itulah sebabnya dalam album ini kepribadian Leela lebih terasa. Ia juga menyertakan sejumlah produser yang mampu mengangkat talenta, jiwa dan kepribadian lewat album ini seperti Gerrard Baker (Toni Braxton), Andrea Martin (Melanie Fiona, Angie Stone), Gordon Williams (Lauryn Hill, Amy Winehouse) serta duo Carvin & Ivan (Musiq Soulchild, Jill Scott). Kondisi yang membuat album ini begitu konsisten dengan warna soul dari awal hingga akhir.
Album yang mengandung 11 lagu ini dibuka Leela dengan pernyataan terhadap para kritikusnya lewat tembang berjudul 'I Ain't New To This' dengan latar detak hip-hop mengiringi funky soul dan rap braggart diimbuhi sample dari tembang Millie Jackson 'Solitary Love Affair' pada bagian intro. Sang biduan kemudian mengalunkan 'So Cold' dengan emosi dan vokal serta musik yang terasa megah hingga mampu membangkitkan bulu roma karena begitu indahnya. Dilanjutkan dengan 'The Fact Is' yang terasa kupinggenic dengan melodi bernuansa retro namun memiliki chorus yang mampu meracuni pendengar dengan interpretasi emosinya. Lewat 'I Want It All' vokalis ini dengan bertenaga menyuarakan tentang impian akan kesempurnaan hidup dengan dentuman bass yang bernuansa funk 70-an. Ia kemudian mengajak kita berpesta lewat 'Party All Night' yang memiliki rasa smoky groove dengan sedikit nuansa ala Marvin Gaye. Nampaknya lagu bertempo sedang ini ditulis dengan perspektif kemampuan panggung Leela dalam menghidupkan suasana untuk bergoyang. Perjalanan musikal berlanjut dengan pengalaman bercinta yang disuarakan berduet dengan Raheem DeVaughn yang juga turut menulis lagu ' Mr. Incredible – Ms. Unforgetable'. Sebuah tembang soul memikat dengan lirik manis yang patut didengarkan saat sedang bercinta.
Dengan lirik yang memikat, musik yang santai dipadukan interpretasi vokal yang sederhana, biduan ini menyuarakan dengan emosi yang pas tentang sisi femininnya sebagai seorang wanita mengharapkan pengakuan cinta dari sang kekasih lewat 'Tell Me You Love Me'. Ia kemudian mendorong kita untuk melepaskan segala sakit dan kekecewaan lewat 'Let It Roll' yang riang dengan sentuhan brass. Kemampuannya menginterpretasikan lagu kembali ditunjukkan dengan gaya yang panas menggoda sekaligus emosional lewat 'Supa Lova' dan 'If It's Wrong'.
Album ini ditutupnya dengan sebuah tembang yang kuat membayangi tentang ultimatum akhir sebuah hubungan dalam balutan rasa hip-hop yang kontemporer. Lewat lagu ini Leela bertutur /That's why I changed the locks on my door, `cause love don't live here no more/.
(Timmy / CreativeDisc Contributors)
Track listing:
1. "I Ain't New To This" (produced by Gerrard Baker) – 2:30
2. "So Cold" (produced by Kadis & Sean) – 3:43
3. "The Fact Is" (produced by Steven "Supe" White) – 4:08
4. "I Want It All" (produced by Ray Murray) – 3:33
5. "Party All Night" (produced by Chucky Thompson) – 4:03
6. "Mr. Incredible – Ms. Unforgetable" (Featuring Raheem DeVaughn) (produced by Chucky Thompson) – 3:52
7. "Tell Me You Love Me" (produced by Gerrard Baker) – 3:30
8. "Let It Roll" (produced by Malik Albert) – 2:44
9. "Supa Luva" (produced by Butter) – 4:52
10. "If It's Wrong" (produced by Carvin & Ivan) – 3:21
11. "It's Over" (produced by Carvin & Ivan) – 3:27
Related posts