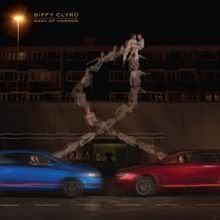 Biffy Clyro adalah trio yang diisi oleh Simon Neil, James Johnston dan Ben Johnston. Terbentuk di Skotlandia pada 15 tahun yang lalu. Mereka sudah merilis lima album dimana "Puzzle" yang dirilis di 2007 menjadi gerbang mereka menuju mainstream success. Dan album mereka yang terbaru "Only Revolutions" rilis di 2009 lalu dan diganjar dengan sertifikasi Platinum dan juga mendapatkan nominasi di Mercury Prize tahun ini. Single "Many Of Horror", merupakan single keempat yang dirilis awal Januari 2010. Single ini kembali melejit setelah jawara X Factor 2010 Matt Cardle membawa lagu ini ulang dengan titel "When We Collide" yang membantu penjualan single ini sehingga naik ke peringkat kedelapan di UK Single Chart (dimana versi Matt meraih tahta jawara) sehingga menjadi single ketiga dari album "Only Revolutions" yang meraih 10 besar di UK Singles Chart setelah "Mountains" dan "That Golden Rule".
Lagu yang mempunyai unsur rock ballad yang sangat kuat ini dibuka dengan lirihnya suara Neil dan petikan gitar. Tema lagu yang cenderung suram dan menceritakan hubungan yang gagal ini dibawakan dengan sempurna oleh mereka. Mereka mampu mengatur tensi lagu ini sehingga lagu ini mempunyai esensi yang bagus untuk sebuah lagu. Meskipun ballad, mereka masih bisa bermain dengan cukup distortif, rocking dan rapi. Ada sisipan biola di lagu ini yang membuat miris lagu dan mampu membangkitkan suasana mellow. Pada bagian bridge, permainan skill ala band alternative rock dimainkan dan sangat skillfull. Dan lagu ditutup dengan teriakan Neil yang cenderung seperti merintih dengan gesekan biola yang menguatkan elemen keputusasaan di lagu ini.
Biffy Clyro done great in this track. Lagu ini adalah sebuah lagu rock- ballad yang sangat bagus dan mampu menjembatani antara penggemar alternative rock dan khalayak ramai. "Many Of Horror" merupakan salah satu track yang bagus dari "Only Revolutions" karena memang banyak sekali track yang ciamik dari album ini. Coba dengarkan dan rasakan emosinya maka kamu mampu merasakan esensi dan makna lagu ini.
Lihat Music Videonya disini
Menurut kamu versi mana yang lebih baik? Matt Cardle atau Biffy Clyro?
(Lutfhi / CreativeDisc Contributors)
Lyrics:
You say you love me boy
I know you lie
I trust you all the same
I don't know why
'Cause when my back is turned
My bruises shine
Our broken fairytale
So hard to hide
I still believe it's you and me 'til the end of time
When we collide we come together
If we don't we'll always be apart
I'll take a bruise I know your worth it
When you hit me hit me hard
Sitting in a wishing hole
Hoping it stays dry
Feet cast in solid stone
I've got Gilligan's eyes
I still believe it's you and me 'til the end of time
When we collide we come together
If we don't we'll always be apart
I'll take a bruise I know your worth it
When you hit me hit me hard
You said love was letting us go against what
Our future is for…
Many of horror
Our future's for many of horror
I still believe it's you and me 'til the end of time
When we collide we come together
If we don't we'll always be apart
I'll take a bruise I know your worth it
When you hit me hit me hard
Related posts