Single of The Day: Crystal Bowersox – Farmer's Daughter
welly, 12 years ago
4
3 min

read
1340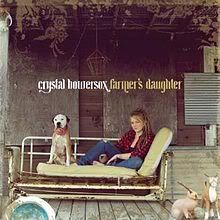 Jive bareng 19 Recordings merilis single pertama dari juara 2 American Idol tahun ini, Crystal Bowersox dari album pertamanya pada bulan Nopember lalu. Judul lagunya sama dengan judul album Crystal, 'Farmer's Daughter'. Lagu ini diciptakan sendiri oleh Crystal dan diproduseri oleh David Bendeth, produser kelahiran Inggris yang banyak kerjasama dengan musisi rock kayak Paramore, Kaiser Chiefs, juga Papa Roach. Untuk karyanya ini, Crystal bermain di genre folk-rock dan country, enggak jauh beda dari apa yang ditampilkannya sewaktu berada di American Idol.
'Farmer's Daughter' dimulai dengan petikn gitar akustik, dimana darinya terbangun kesan country, meskipun tidak kental dan mutlak. Tempo ini bertahan hingga masuk ke bagian chorus yang memperdengarkan rhythm yang lebih kompit. Lagunya terdengar ramah di telinga, tapi aku kehilangan titik komersil disini. Lagu ini 100% memerdekakan Crystal bermusik, sehingga terkesan dibiarkan. Bukannya enggak bagus, hanya seperti kurang terarah. Jika dibanding dengan rilisan Jive untuk American Idol sebelumnya, Kris Allen dan Allison Iraheta lebih beruntung dengan kompromi antara indulgence dengan label. Meskipun keduanya kemudian tidak berjodoh panjang dengan label.
Dalam durasi 4 menit lebih 9 detik, yang diceritakan adalah kehidupan yang sulit yang dijalani Crystal. Some sort of curhat, sih. Tapi sebenarnya Crystal enggak mau menjelek-jelekkan ibunya, karena dia sebenarnya ngerti banget gimana single parent membesarkan 3 orang anak dalam keadaan miskin itu berat sekali. Sehingga sang ibu sering enggak bisa mengontrol emosinya. Meskipun demikian, dirinya tidak langsung menyimpulkan kalau 'Farmer's Daughter' adalah lagu yang kelam, baginya ini adalah penyembuhan. Toh dirinya enggak nyimpan perasaan marah pada sang ibu lagi. Dia cuma pengen jujur lewat lagunya ini.
Video untuk lagu ini disutradarai oleh Meiert Avis dengan konsep "healing cycle". Dimulai dari masa kecil yang berat tadi, dan berakhir pada kondisi Crystal yang sekarang, menjadi seorang ibu. Wah, rasanya cocok banget untuk ditonton dan diresapi maknanya hari ini, sekaligus merayakan Hari Ibu!
Lihat Music Videonya disini
Official Website Crystal Bowersox
(Ai Hasibuan / CreativeDisc Contributors)
Lyrics:
Halfway to crazy, not far from sane
F*ckin' sick and tired of all your games
All I ever wanted was you to take care of me
Honor thy mother and father too
But I know there ain't no way in hell that God mentioned you
All I ever wanted was you to be there for me
All I ever needed was you to be here for me
This time is the last time you're gonna see us around
This was your last chance to prove you wouldn't let me down
So go on, get going and get away from here
All alone is how you're gonna spend the rest of your years
Cause I'm no farmer's daughter anymore, mommy dear.
I remember back in high school, my brothers and me
Willie put his head through the door to find clarity
You'd come home with bourbon breath, Jack in the air
And when you broke my bones I told the school I fell down the stairs
All I ever wanted was for you to be there for me
All I ever needed was for you to be here for me
This time is the last time you're gonna see us around
This was your last chance to prove you wouldn't let me down
So go on home, get going and get away from here
All alone is how you're gonna spend the rest of your years
Cause I'm no farmer's daughter anymore
I ain't no farmer's daughter anymore
No farmer's daughter anymore, mommy dear
Related posts