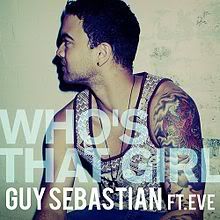 Pertama, vokal Guy Sebastian yang mellow abis ternyata enteng aja ketika dibawa untuk menyanyikan lagu upbeat 'Who's That Girl' ini. Siapa yang sangka kalau lagu yang cocok banget buat clubbing ini hasil olah vokalnya. Musiknya yang menghentak membuat kita terkesima akan penampilan pria berusia 29 tahun ini. Unpredictable yet amazing.
Kedua, dia menulis lagu ini sendiri. Dan untuk bagian rap-nya, ditulis dan dipersembahkan langsung oleh Eve. Rapper cewek asal Amerika yang pernah memenangkan Grammy Awards. Guy pun terlibat dalam kegiatan memproduseri lagunya, bareng ama Andre Harris. Ini semakin memantapkan posisi Guy di industri musik.
Ketiga, beat intro lagunya mungkin terasa seperti lagu Flo Rida yang 'Club Can't Handle Me'. Aha! Ini karena Guy sendiri yang menyatakan bahwa dia suka banget mendengarkan karya David Guetta lewat radio, sehingga dia merasa terselimuti oleh pengaruh DJ tersebut.
Keempat, percaya enggak percaya, Guy melakukan take vocal untuk lagunya di ruang makan yang kemudian diserahkannya kepada Andre Harris untuk melakukan keajaiban terhadap rekaman tersebut. Guy kemudian menyebutnya sebagai sebuah bentuk kesederhanaan yang menghasilkan sesuatu yang fun dan keren.
Kelima, untuk Eve, ini adalah langkah pemanasan yang tepat. Berhubung dirinya akan merilis album tahun depan, setelah dalam hitungan 8 tahun tidak merilis album. Orang pasti antusias. Dan faktanya, Eve pernah merilis single dengan judul 'Who's That Girl' juga tahun 2001 lalu.
Keenam, Guy sudah menyajikan musik di genre pop, R&B, ballad, soul, hingga kini electropop/dancepop. Dia dinyatakan mampu bereksperimen dalam musiknya yang membuat kita kagum akan karya-karyanya. Dan evolusi musik tersebut bisa kita nikmati dalam album kompilasinya "Twenty Ten".
Ketujuh, enggak usah banyak hitung. Mari sama-sama mendengarkan 'Who's That Girl', and let's fall in love in the club!
Lihat Music Videonya disini
Official Website Guy Sebastian
(Ai Hasibuan / CreativeDisc Contributors)
Lyrics:
I was on the mic
Doin' my thing on a Friday night
Had the floor burning up just right
Everybody was bumpin', the club was jumping
Suddenly, you walked in
That's when everybody stopped dancing
And I couldn't stop myself staring
Yeah I couldn't breathe,
No I couldn't believe my eyes
I never thought I'd fall in love in a club
But now I seen you girl I can't get enough
With you I know there's no taking it slow
So can somebody please let me know
[Chorus]
Tell me who's that girl
Just walk walk (walk) in the club
Tell me who's that girl
Just walk walk (walk) in the club
Tell me who's that girl
Just walk walk (walk) in the club
Just walk walk (walk) in the club
Just walk walk (walk), walk walk (walk), yeah
Before the night is through
Imma tell ya how I feel about you
And I know I got some work to do
To make you believe that you should be leaving with me
I never thought I'd fall in love in a club
The more I get of you, I can't get enough
I won't be letting you leave here alone
So can somebody please let me know
[Chorus]
Tell me who's that girl
Just walk walk (walk) in the club
Tell me who's that girl
Just walk walk (walk) in the club
Tell me who's that girl
Just walk walk (walk) in the club
Just walk walk (walk) in the club
Just walk walk (walk), walk walk (walk)
(I wanna know) Tell me who's that girl
Just walk walk (walk) in the club
(Who's that girl) Tell me who's that girl
Just walk walk (walk) in the club
Tell me who's that girl
Just walk walk (walk) in the club
Just walk walk (walk) in the club
Just walk walk (walk), walk walk (walk)
[Eve]
E.V.E
I walk in the club it's over
All them other chicks might as well move over
Wanna know my name then you gotta get closer
Eyes on you too wanna get to know ya
Lemme run it down for ya, I'm not easy
Some say caramel, you can call my evie
Wanna be the man in my life that please me
Gotta warn in, Once ya know me, you need me
Give you whip lash when I glide through the room
Five inch heals, watch how I move
Watch how I shake it to the beat, how I do
Know you wanna feel me, feel me shake it on you, yeah
The night could get crazy
But I gotta hold back, I'm a lady
Well who knows maybe I could be your baby
Be your baby, be your baby
[Guy]
Wo-oh
Wo-oh oh
Wo-oh
Wo-oh
[Chorus]
So, tell me who's that girl
Just walk walk (walk) in the club
Tell me who's that girl
Just walk walk (walk) in the club
Tell me who's that girl
Just walk walk (walk) in the club
Just walk walk (walk) in the club
Just walk walk (walk) in the club
Tell me who's that girl
Just walk walk (walk) in the club
Tell me who's that girl
Just walk walk (walk) in the club
Tell me who's that girl
Just walk walk (walk) in the club
Just walk walk (walk) in the club
Just walk walk (walk) in the club
Related posts