Concert Review: An Acoustic Evening with Rick Price
welly, 11 years ago
1
2 min

read
1059
An Acoustic Evening with Rick Price
7 Februari 2011, Balai Sarbini, Jakarta
Everybody Knows Rick Price From Heaven Knows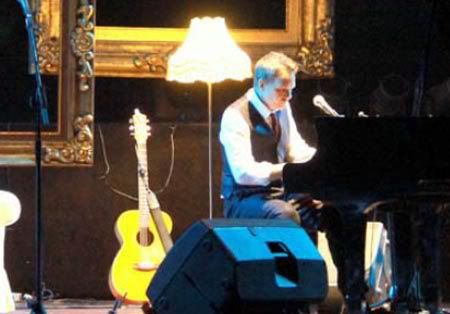 Rick Price adalah Heaven Knows. Hal ini memang sangat lumrah untuk dikatakan, karena Heaven Knows adalah hit terbesar dari Rick Price. Termasuk pada konsernya yang kedua di Indonesia ini, mayoritas penonton apabila ditanya satu persatu bisa dipastikan akan menjawab menantikan lagu Heaven Knows untuk dibawakan. Penantian para penonton pastinya terpenuhi meskipun mudah ditebak dibawakan di akhir pertunjukkan.
Acara An Acoustic Evening with Rick Price dibuka oleh penampilan romantis dari duet suami istri Endah n' Rhesa. Dengan penampilan khas mereka yang minimalis, Endah n' Rhesa mampu menampilkan pertunjukkan yang sangat menarik dan menghibur, meskipun beberapa penonton mungkin baru mendengar nama mereka serta menyaksikan mereka di acara ini. Kemudian giliran solois pria yang besar di tahun 90-an, Andre Hehanusa. Dengan suaranya yang sangat khas dan indah, Andre berhasil membawa seluruh penonton kembali mengenang masa-masa tahun 90-an. Mulai dari Untukmu, Kuta Bali, Bintang-bintang, To All the Girls I Loved Before (yang mungkin akan lebih bagus apabila dibawakan duet dengan Rick Price), KKEB dan tentunya Bidadari sukses membuat penonton bernyanyi bersama.
Setelah kedua pembuka tersebut, giliran Rick Price yang tampil. Tampil dengan memainkan sebuah gitar, Rick Price membuka konser dengan lagu And the Days Goes By. Selama beberapa lagu awal yang ia bawakan, hampir seluruhnya masih asing di telinga penonton meskipun lagu tersebut ada yang berasal dari album-album lama Rick Price.
Keunggulan dari Rick Price adalah ia mampu mengajak komunikasi dengan para penggemarnya dari atas panggung. Ia seringkali bercerita mengenai lagu yang akan ia bawakan berikutnya, yang mayoritas terinspirasi dari kehidupan serta keluarganya. Rick Price juga sempat berduet dengan Endah N' Rhesa membawakan Where Is The Love serta dengan Andre Hehanusa membawakan If You Were My Baby.
Sepanjang penampilannya, Rick Price berhasil menjaga kualitas vokalnya dengan sangat baik dan nyaris tanpa cacat. Setelah membawakan beberapa lagu barunya, ia langsung keluar panggung. Kemudian pastinya ia kembali lagi dan membawakan lagu Heaven Knows yang membuat seluruh penonton bernyanyi bersama. Rick Price yang sudah lama tidak muncul ternyata masih Rick Price dengan kualitas suara luar biasa dan memiliki fans yang cukup banyak. Terbukti setelah konser selesai, masih banyak fans yang ingin foto bersama atau sekedar meminta tanda tangannya.
By: Harry Lesmana
Artikel ini juga ditampilkan pada majalah SoundUp 'Music & Lifestyle Magazine'
Related posts