Single of The Day: Ke$ha – Blow
welly, 11 years ago
12
2 min

read
572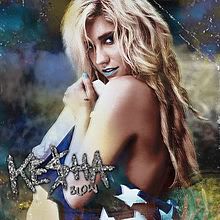 Sambut single kedua dari album "Cannibal" milik Ke$ha berikut, 'Blow', dimana di dalamnya terlibat duo hit maker; Dr. Luke dan Max Martin, tak ketinggalan Benny Blanco dan Kool Kohak juga. Dari nama-nama tersebut, ada sesuatu yang menjanjikan dalam single ini. Enggak salah memang, karena laguanya sendiri punya daya tarik yang meledak-ledak sesuai judulnya. Dari intronya aja udah seru, ketawa geli Ke$ha yang dilanjutkan dengan titahnya agar semua yang mendengarkan untuk mulai berpesta, "DANCE!!!".
Yang menarik dari 'Blow' adalah bagaimana lagu ini seperti memperjelas setiap lirik dan beat yang pernah dicantumkan dalam single Ke$ha sebelumnya, 'We R Who We R'. Setelah pernyataan diri yang gamblang, sekarang saatnya mengaplikasikannya; taking control, get what we want, do what people don't. Kekuatan Ke$ha dengan synth beat, uptempo melody, dan auto-tuned vocal masih menjadi menu utama. Tapi yang mengherankan adalah beberapa ulasan tentang lagu yang menghilangkan kepribadian dirinya; di antara beberapa yang lain mengklaim 'Blow' sebagai party anthem vibe dan absolute club banger.
Jangan terlalu niat untuk mencari makna tersembunyi dalam liriknya, niscaya kamu tidak akan menemukan apa-apa selain dance command. Lebih baik menonton video klipnya aja yang menampilkan banyak manusia berkepala kuda poni, senjata laser warna-warni, plus James Van Der Beek sebagai modelnya. Sangat menghibur. It's kinda funny video actually.
Dilarang merasa muak dengan keberadaan Ke$ha, pencitraannya sebagai mabok chic, dan musik dance-nya yang kencang. Cewek ini jelas bisa diandalkan untuk urusan bersenang-senang. Beri dosis 'Blow' dalam playlist-mu untuk diputar mengawali hari, dijamin your day is 'bout to blow!
Lihat Music Videonya disini
(Ai Hasibuan / CreativeDisc Contributors)
Rate This Single: [ratings]
Lyrics:
Ha-ha-ha-ha….
Dance…
Back door cracked, we don't need a key
We get in for free, no VIP sleaze,
Drink their Kool-Aid follow my lead,
Now you're one of us, you're coming with me
It's time to kill the lights and shut the DJ down
This place's about to
Tonight we're taking over, no one's getting out!
[x3]
This place's about to blow – oh-oh-oh!
Blow-oh-oh-oh
This place's about to blow
Now, what? We're taking control
We get what we want
We do what you don't
Dirt and glitter cover the floor
We're pretty and sick
We're young and we're bored
It's time to lose your mind and let the crazy out
This place's about to
Tonight we're taking names 'cause we don't mess around
[x3]
This place's about to blow – oh-oh-oh!
Blow-oh-oh-oh
This place's about to blow
Go, go, go, go insane, go insane
Throw some glitter, make it rain on 'em
Let me see them hands, let me, let me see them hands
Go insane, go insane
Throw some glitter, make it rain on 'em
Let me see them hands, let me, let me see them hands
[x3]
This place's about to blow – oh-oh-oh!
Blow-oh-oh-oh
This place's about to blow
Related posts