Album of The Day: Sabrina – I Love Acoustic 3
Haris, 11 years ago
11
3 min

read
2666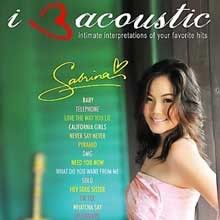 Released by: Universal Music Indonesia
Setelah sukses mendayu-dayu dalam iringan musik akustik yang adem, tidak butuh waktu lama bagi Sabrina untuk merilis bagian ketiga dari album I Love Accoustic-nya. Mungkin sudah jalan nasib bagi sicantik asal Philipina yang bernama asli Roli Alexandra "Xanxan" Orial ini untuk selalu mendaur ulang banyak lagu populer dan mempersembahkan komposisi akustika yang menarik.
Kali ini ada 16 lagu populer (plus satu lagu exclusive yang dibawakan secara duet dengan Calvin Jeremy khusus untuk bonus wilayah Indonesia) yang mendapat jatah untuk dinyanyikan kembali oleh Sabrina dengan vokal lembut dan empuk serta iringan gitar akustiknya yang merdu. Jika sudah pernah menyimak dua album sebelumnya, pastilah sudah familiar dengan treatment Sabrina terhadap lagu-lagu yang di-alih-nyanyikan-nya. Setiap lagu cenderung bertransformasi menjadi lagu yang melantun dalam tempo medium dan  sedikit melankolis juga terdengar romantis.
Ada dua lagu Justin Bieber yang dinyanyikan oleh Sabrina disini. Baby bertugas untuk membuka album dan Sabrina cukup mampu mengolahnya menjadi lagu bergaya reggae yang cukup renyah untuk diikuti. Sedang pada Never Say Never, Sabrina harus membagi vokalnya antara jatah rap-Jaden Smith dengan vokal lempeng Bieber menjadi satu corak vokal saja. 
Okelah, Sabrina cukup mampu menaklukkan lagu tersebut, namun saat harus menerjemahkan bagian Eminem dalam Love The Way You Lie, ia terasa sedikit keteter dalam mengolah vokal yang lebih padu dengan bridge yang sebelumnya diisi oleh Rihanna. Lagu malah terdengar sedikit cheesy. Sayang sekali, Love The Way You Lie II belum dirilis pada saat album ini dikerjakan. Mungkin sebaiknya Sabrina memang melakukan cover-version lagu itu saja.
Secara keseluruhan album ini terdengar repetitif dan sedikit monoton, apalagi jika dibandingkan kedua album sebelumnya. Disini Sabrina terkesan sedikit kurang eksploratif, baik dari segi vokal maupun aransemen. Beberapa lagu malah terkesan inferior dan tidak penting dibandingkan versi aslinya, seperti Pyramid milik Charice yang kini terasa melelahkan atau OMG-nya Usher yang enerjetik malah terdengar membosankan dan kurang inspiratif. Sedang pada Tik-Tok Sabrina terdengar sedikit memaksakan diri agar terkesan hip.
Meski begitu, tetap ada beberapa track yang dapat menjadi highlight album ini, seperti Hey Soul Sisters milik Train dan Need You Now-nya Lady Antebellum. Hey Soul Sisters berhasil diaransemen ulang dengan iringan musik laidback yang sedikit berayun dan tropikal. Dalam Need You Now, Sabrina berhasil mengirimkan sinyal lirih dan sendu yang diinginkan oleh lagunya. Untuk lagu Airplanes, Sabrina tidak hanya sukses mensubstitusi vokal Hailey Williams dengan baik, tapi juga cukup mulus dalam melakukan sulih ulang rap B.O.B dalam bentuk vokal melodius yang menarik.
Kuncian utama jelas terdapat dalam track terakhir, saat Sabrina melakukan duet dengan vokalis baru asal Indonesia bernama Calvin Jeremy. Perpaduan vokal mereka dalam Just The Way You Are-nya Bruno Mars berhasil sebagai sebuah duet yang "berbicara" dan romantis. Tentu saja materi aslinya memang sudah bagus, sehingga tidak heran combo Sabrina-Jeremy pun terbantu dengan cukup maksimal. Beruntung mereka juga adalah jenis penyanyi dengan karakter vokal yang mempunyai kapasitas cukup mumpuni.
Dengan jumlah lagu yang cukup banyak akan tetapi tidak diiringin dengan aransemen yang variatif, I Love Acoustic 3 mungkin bukan sebuah album akustik yang terlalu istimewa, akan tetapi jika diperlukan sebagai teman santai, ia masih mampu kok untuk melaksanakan tugasnya. Ditambah lagi semua seri album I Love Acoustic milik Sabrina ini mendapatkan predikat multi-platinum di Indonesia! Selamat!
(Haris / CreativeDisc Contributor)
Rate This Album: [ratings]
Track List:
01. Baby (Justin Bieber)
02. Telephone (Lady Gaga feat. Beyonce)
03. Love The Way You Lie
04. California Gurls (Katy Perry feat. Snoop Dog)
05. Never Say Never (Justin Bieber feat. Jaden Smith)
06. Pyramid (Charice feat. Iyaz)
07. OMG (Usher)
08. Need You Now (Lady Antebellum)
09. What Do You Want From Me (Adam Lambert)
10. Solo (Iyaz)
11. Hey Soul Sister (Train)
12. Tik Tok (ke$ha)
13. Whatcha Say (Jason Derullo)
14. Billionaire (Travis McCoy feat Bruno Mars)
15. Gotten (Slash feat Hailey Williams)
16 Airplanes (B.O.B. feat Hailey Williams)
17. Just The Way You Are (Bruno Mars) (feat. Calvin Jeremy) – Indonesia Bonus Track
Related posts