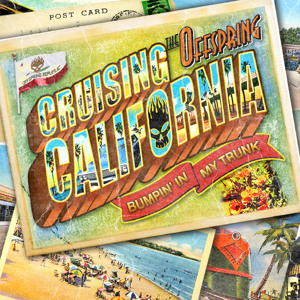 Released by: Sony Music Indonesia
"Summer time, living's easy, Cruising, bumping, my huntington beach, Cause the sun will shine, We have a good time, They all line up for a bump and grind"
Potongan lirik rap pada bagian awal Cruising California ini menggambarkan keseluruhan lagu yang menceritakan tentang suasana musim panas. Cruising California milik The Offspring ini berhasil membangkitkan suasana musim panas, baik dari lirik maupun irama. Ketika mendengarkan Cruising California, pendengar serasa terbawa pada suasana musim panas dan pesta dipinggir pantai yang ceria. Namun, video musik Cruising California menurut saya kurang menggambarkan isi dari lagu ini sendiri yang menunjukkan keceriaan musim panas. Video terlalu fokus dan banyak menampilkan adegan tiga perempuan yang menari di atas bus yang menurut saya tidak menggambarkan summer. Saya tidak mendapatkan gambaran suasana musim panas dari adegan tiga perempuan yang berjoget ria diatas bus. Suasana musim panas dalam video mulai tampak tergambar ketika adegan bus yang berjalan dibawah cerahnya sinar matahari dan dimulainya pesta di pinggir pantai di California. Sedikit disayangkan bahwa video dan lagu Cruising California tidak sesuai harapan karena kurang mendukung satu sama lain untuk menerjemahkan isi lagu yang sebenarnya.
Rap dan tabuhan drum adalah 2 hal yang dominan dalam Cruising California. Tanpa bagian rap, Cruising California tak akan lengkap karna sebagian besar lagu ini memang diisi rap oleh sang vokalis. Tabuhan drum yang keras dan bertempo agak cepat  membangkitkan semangat pendengar yang serasa ingin ikut berloncat menikmati irama lagu. Di samping bagian rap, menurut saya Cruising California kekurangan lirik yang bervariasi. Meskipun banyak pengulangan lirik dalam Cruising California, summer anthem ini cenderung tidak membosankan kareng didukung dengan musik yang asyik.
Overall, Cruising California adalah single yang bagus untuk mengisi liburan musim panas dan membawa keceriaan musim panas.
Official Website

Rate this single: [ratings]
(Sheyla Ashari)
LYRIC
Hey ho, let's go
(Go Go Go!) Turn up the beat, yeah
(Oh Oh Oh!) I wanna feel it
(California) Don't you wish that you could come
Cause we're never going home till the summer's all gone
Summer time, living's easy
Cruising, bumping, my Huntington Beach
Cause the sun will shine
We have a good time
They all line up for a bump and grind
And the girl that you want is directly out in front
And she's waving her caboose at you
You sneeze achoo
She calls you out and boom!
I know you heard that bass bumpin' in my trunk
Bum-bumpin' in my trunk, bum-bumpin' in my trunk (Oh yeah)
I know you heard that bass bumpin' in my trunk (uh huh)
Bum-bumpin' in my trunk (uh huh), bum-bumpin' in my trunk (let's go)
(Go Go Go!) Turn up the beat, yeah
(Oh Oh Oh!) I wanna feel it
(California) Don't you wish that you could come
Cause we're never going home till the summer's all gone
The sun goes down, the friepit's leep
It's another summer night here in the OC
Well I know a baller but I do have an Impala
And I might say 'Hey' but I'll never say 'Holla'
The girl with the glass and a g-string just like a floss
Well she's waving her caboose at you
I bet you do
She calls you out (uh huh)
I know you heard that bass bumpin' in my trunk (uh huh)
Bum-bumpin' in my trunk (uh huh), bum-bumpin' in my trunk (bump that truck)
I know you heard that bass bumpin' in my trunk (uh huh)
Bum-bumpin' in my trunk (uh huh) bum-bumpin' in my trunk (let's go)
(Go Go Go!) Turn up the beat, yeah
(Oh Oh Oh!) I wanna feel it
(California) Don't you wish that you could come
With the radio on, plays it all summer long
(Go Go Go!) You're all I'm breakin'
(Oh Oh Oh!) My friends are drinkin'
(California) Don't you wish that you could come
Cause we're never going home till the summer's all gone
(California)
(California)
I know you heard that bass bumpin' in my trunk (uh huh)
Bum-bumpin' in my trunk (uh huh) , bum-bumpin' in my trunk (hey ho, let's go)
(Go Go Go!) Turn up the beat, yeah
(Oh Oh Oh!) I wanna feel it
(California) Don't you wish that you could come
With the radio on, plays it all summer long
(Go Go Go!) You're all I'm breakin'
(Oh Oh Oh!) My friends are drinkin'
(California) Don't you wish that you could come
Cause we're never going home till the summer's all gone
(California) Don't you wish that you could come
Cause we're never going home till the summer's all gone
Related posts