The X Factor US 2 Top 16: Made In America
welly, 10 years ago
16
11 min

read
1049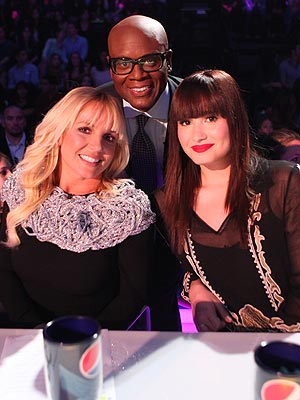 Akhirnya The X Factor US 2 dimulai, dan mereka tampil LIVE untuk pertamakalinya dengan 16 Finalis. Juri baru, panggung baru yang sangat WOW! Dan juga 2 host baru, Mario Lopez dan Khloe Kardashian. Malam ini bertepatan dengan Halloween Night di US, dimana Simon Cowell tampil dengan gigi taring ala Vampire. Demi Lovato kembali mengecat rambutnya menjadi brunette dan Britney Spears tampil dengan busana yang sopan. Tema minggu ini adalah Made in America dan pemenang X Factor tahun ini akan tampil jadi Pepsi Artist dan debut iklan di Grammy 2013. Tanpa basa-basi lagi, ini dia penampilan ke 16 Finalis:

1. Paige Thomas – Young Adults – Demi Lovato – "What Is Love" by Haddaway.
Demi memotong rambut Paige Thomas, dan sepertinya dia nampak jadi Rihanna wannabe.
LA: "It feels like stardom, but I'm not so sure about that song choice."
BS: "You're outrageous. I think you are a true star."
SC: "You've just come out here tonight and nailed it. It was so annoying watching this one's smug little face." DL: "I'm so unbelievable proud of you. I'm shaking. What a great way to open up the show."

2. Arin Ray – Teens – Britney Spears – "Keep Me Hanging On" by the Supremes
LA: "You nailed. That was a really creative and original song choice. Your vocal didn't"
DL: "I couldn't really hear your vocal, the girls were screaming so loud. You need to be less stiff."
SC: "Maybe you put too much around him. You have that kind of swag, You have self-confidence. I was actually overall impressed."
BS: "I'm so proud of you. You were a little genius up there."

3. David Correy – The Over 25s – LA Reid – "My Love is Your Love" by Whitney Houston
BS: "I felt you a lot."
DL: "You really got the crowd going."
SC: "Interesting song choice. I thought your performance was desperate. You were begging the audience to like you. I'm not sure you created an artistic direction with that song choice."
LS: "You sounded really good. It felt right."

4. Sister C – Groups – Simon Cowell – "Hell on Heels" by Pistol Annies
LA: "They did that song in their first audition. It was good."
BS: "You really delivered."
DL: "You're really beautiful girls. It kind of let me down, I was expecting a better performance. You were really stiff."
SC: "They are singers, not a dancer. That was a fantastic performance. Vocals were on the money. I thought the song sounded fantastic. I'm very very very proud of you."

5. Janell Garcia – Young Adults – Demi Lovato – "Home Sweet Home" by Motley Crue
LA: "That was a 10. That was a great song choice. You just convinced me that you could win."
BS: "You completely rocked it out."
SC: "You just defined the theme, made in America. Absolutely love you. I think Demi has tried to make you a clone of her. I liked you with curlier hair."
DL: "I'm so unbelievably proud of you. You killed it. I had a vision…I swee you going so far. You're such a rock star."

6. Diamond White – Teens – Britney Spears – Hey Soul Sister by Train
LA: "I thought that was really strong. It felt a little mechanical to me. I wanted to feel like it was yours."
DL: "I thought the song choice was really great. You're really adorable. It was a little reserved."
SC: "The talent so far tonight has blown me away. I think you've done a really good job with this girl. You came over as a relevant pop star. There were a few tuning issues. Massive improvements."
BS: "I'm so incredibly proud of you. You're amazing."

7. Vino Allan – Over 25 – LA Reid – "Gotta Be" by Nickleback
BS: "I was a little bored."
DL: "The beginning was a little shaky. I have a hard time seeing you as a pop star."
SC: "I think you have an incredible voice. The arrangement was completely wrong for you. You seemed like a horrible cover single."
LA: "You know you've had criticism most of your life. It's not going to stop you know."

8. Lyric 145 – Groups – Simon Cowell – Boom Shake The Room / Gangnam Style (Mashed Up)
LA: "I love you guys. The bad news it sounded like somebody dumped you in a washer and a bunch of bleach. It took all the soul out of you. That's not hip hop. You know that's not it."
BS: "I was genuinely entertained."
D: "I'm a little worried about this group. They are so good."
SC: "It has to be entertaining, it has to be commercial. You guys were sensational."

9. CeCe Frey – Young Adults – Demi Lovato – "Because the Night" by Patti Smith
LA: "You left a little to be desired vocally, but overall strong."
BS: "Your vocals were a little weak sometimes."
SC: "You are fearless. It wasn't the best vocal I heard, but that doesn't really matter to me actually."
DL: "I think you can do much better vocally, but you are a pop star." CeCe thanks the judges for their critique. Already working on that likability thang.

10. Tate Stevens – Over 25s – LA Reid – "I Thought I Was Tough" by Craig Morgan
BS: "You wow me every time you perform."
DL: "I was a little bit bored, but you don't need dancers. You gave me chills. I think you are such a star."
SC: "I know exactly what kind of artist you should be. You are a good honest man. The show could give you a huge break. You are better when you don't push your vocals too hard."
LA: "I thought it was really good. We both know that Simon is not a country music expert. We are going to see you around."

11. Beatrice Miller – Teen – Britney Spears – "I Won't Give Up" by Jason Mraz
LA: "I believe you and I love you."
DL: "I'm really impressed. There was so much feeling behind your eyes."
SC: "I think the style of music picked for you was good. When you tried to push it there was some tuning issues. It might be nerves. I really really like you."
BS: "You're amazing, you're a true star."

12. Jason Brock – Over 25s – LA Reid – "Dance Again" by Jlo
BS: 'You could have picked a better song."
DL: "I think it wasn't the right song choice. I think you should have gone with something with a little more sass."
SC: "that was utterly horrendous. For me, it doesn't get worse than that. LA woke up one morning and tossed this song at you."
LA: "I enjoyed you, we had fun. He's a hater, don't worry about it."

13. 1432 – Groups – Simon Cowell – "We Are Never Ever Getting Back Together" by Taylor Swift
LYLAS harus mengganti namanya karena THE LYLAS sudah dipakai sebagai nama group Bruno Mars sister, dan mereka memilih nama 1432 (artinya I Love You Too). IMHO, it's not a good name.
LA: "The song choice, very talent show, very karaoke. Horrible production. Your mentor really failed you, but there is hope."
BS: "I was pleasantly surprised"
DL: "Tonight there was only one person that shined. It didn't click."
SC: "You are fantastic. There is work to do. Hopefully if you survive you will prove what a great group you are."

14. Willie Jones – Young Adults – Demi Lovato – "I'm Here for the Party" by Gretchen Wilson
– LA says, "That was very entertaining. It was an adequate performance, but there is more there." Britney says, "You are a star. You are amazing." Simon says, "I didn't get that. You didn't take it seriously. The dancers were in appropritate. It felt cheap and silly. I don't think your mentor did any justice with that." Demi says, "I'm 20 years old and I know what young people like. It may not have worked 100 years ago." Simon says he would have picked a different song and ditched the dancers.

15. Carly Rose – Teens – Britney Spears – Good Feeling by Flo Rida
LA: "You have a really beautiful voice. It didn't feel like you were having fun. But you are amazing."
DL: "You have one of the best voices in this competition. Seeing you up there with other kids is unbelievable. It's not your time right now."
SC: "I don't agree with that. My issue was that you felt uncomfortable with the song. You could have done a much better song. It would be criminal if you left the competition tonight."
BS: "I thought your vocals were amazing. You did a great job."

16. Emblem 3 – Groups – Simon Cowell – One Day by Matisyahu
LA: "This is difficult. YOU GOT IT RIGHT THIS TIME. We are witnessing America's next pop sensation."
BS : "You are absolutely adorable. Amazing."
DL : "You boys make me swoon. I can't look you in the eye when you sing to me. I love you boys."
SC: "The difference in you after the last 3 or 4 weeks. Remember this night. You are seeing a future superstar here."
Besok, 8 finalis akan Sing-Off dan 4 akan dieliminasi langsung oleh para mentor. Tidak ada vote untuk minggu ini.
RESULT SHOW:
Group Young Adult dengan mentor Demi Lovato adalah yang pertama. Demi memilih Jennel Garcia dan Paige Thomas. Sedangkan Willie Jones dan CeCe Frey harus sing-off untuk bisa maju ke babak Final Top 12.
CeCe Frey menyanyikan "On My Own",
LA: "You just saved yourself. I thought that was really good."
BS: "Tonight you really pulled through."
SC: "I don't understand why you didn't do something like this last night. It was just a good song. Very well sang."
Willie Jones menyanyikan "You Don't Know Me" by Ray Charles.
LA: "I think you are really unique. That was good. You're making it tough."
BS: "You definitely stand out, but I'm not sure where you fit in."
SC: "If we could capture what you brought to that first audition…I wish I was mentoring you."
Dan Demi Lovato memilih untuk mengeliminasi Willie Jones. Good Choice!
Selanjutnya Over 25s dengan mentor LA Reid. Dia memilih Vino Alan dan Tate Stevens.
David Correy "Since U Been Gone" by Kelly Clarkson
BS: 'Very good."
DL: "I didn't really like the rendition of that song. It sounded like you were screaming."
SC: "It was a bit too melodramatic. But I can see what this means to you."
Jason Brock "One Moment in Time" by Whitney Houston
BS: "Today you turned me into a real fan."
DL: "There's something really genuine about you. You're just so likeable when you come out here."
SC: "You're asking me to judge to horses that are coming last in the race. I can't believe either of these guys can win. Compared to what you did yesterday, it was a million times better.
LA. Reid memilih untuk mengeliminasi David Correy. Sangat disayangkan emang, karena secara kualitas David Correy jauh lebih baik dari Jason Brock, tapi performance Since U Been Gone barusan emang tidak begitu bagus, dan dia lebih memilih Jason sebagai pewarna di X Factor ini.
Selanjuitnya Britney Spears dengan Teens. Dia memilih Beatrice Miller dan Carly Rose, yang sepertinya dua finalis ini emang terkuat dari tim Britney.
Arin Ray "I Look To You" by Whitney Houston
LA: "I don't understand why you should have to sing to stay. It will be a shame if you were to go home."
DL: "I think the girls in this audience are screaming for you. It really drew me in."
SC: "That was a different league to last night. It shows your potential. For you to leave the competition would be a huge mistake."
Diamond White "Sorry Seems to Be the Hardest Word" by Elton John
LA: "You have a real future in this business."
DL: "I saw the soul and fire behind your eyes. It really impressed me."
SC: "The last 20 seconds of that song, I thought YOU'VE got to go through. I don't think it's right that one of you should go."
Britney Spears memilih untuk mengeliminasi Diamond White. Padahal Simon ingin menyelamatkan keduanya.
Yang terakhir, Groups dari Simon Cowell. Yang pertama dipilih adalah Emblem 3 (tentu saja, karena jadi salah satu kontestan terkuat di XF tahun ini). kemudian memilih Lyric 145.
Sister C "When I Look at You" by Miley Cyrus
LA: "Overall we've struggled with song choices. But that time you got it right. Middle C you got a lot of soul. I'd like to see you guys stick around."
BS: "I was pleasantly surprised. It was refreshing."
DL: "I think you guys are really talented."
1432 "Skyscraper" by Demi Lovato
LA : "You did it. And I'm proud."
BS: "You guys made me a believer tonight."
DL: "I don't know who that song is by, regardless you did better than the original song."
Simon Cowell memilih mengeliminasi Sister C, pilihan yang tepat! Tapi dia tidak suka dengan nama 1432, dan mereka harus mengganti nama mereka. Simon Cowell mengadakan kontes di website The X Factor US agar para pengunjung bisa memberi masukkan nama baru untuk mereka.
Saksikan X Factor US di @BChannelTV setiap hari Kamis & Jumat jam 9 malam WIB. Dan re-run hari Sabtu 20.00 dan Minggu 18.00


Related posts