Music Newz Bites – 25 Apr
Ai Hasibuan, 9 years ago
2
5 min

read
931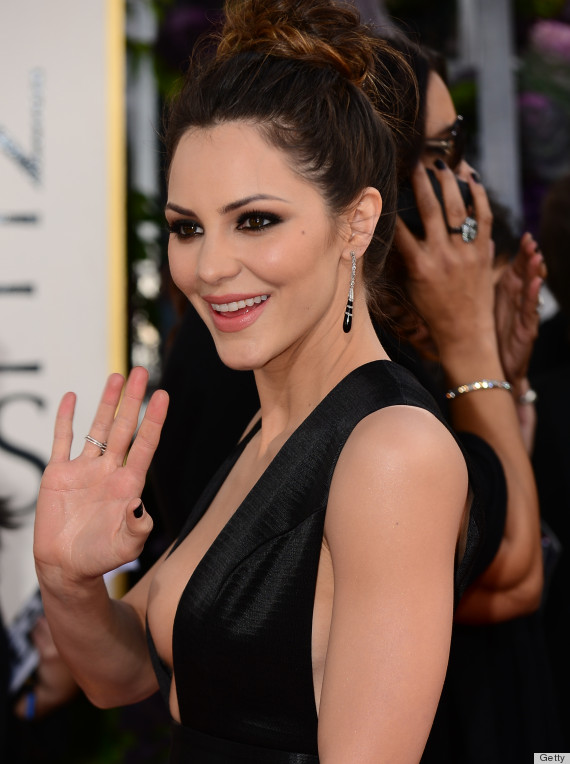 Gather round, McPhans! Karena Katharine McPhee akan merilis album studio ketiganya tahun ini! Ia telah memulai proses rekaman untuk album ini bersama label barunya, Columbia Records. Dengan demikian, tiga album studio Kat dirilis dengan tiga label yang berbeda. Debut album di tahun 2007 bersama RCA Records, album kedua "Unbroken" di tahun 2010 bersama Verve Forecast, dan album ketiga yang belum berjudul ini bersama Columbia. Di album ini, Kat akan berkolaborasi dengan Linda Perry, Salaam Remi, Ryan Tedder, dan juga Sia.
Another Columbia upcoming star is here, Darren criss. Si Blaine dari serial Glee ini akan mengunjungi 16 kota di Amerika Serikat mulai akhir Mei nanti dalam gelaran tur LISTEN UP. "I couldn't think of a better way to spend the summer than being on the road and doing live shows. I wanted to do something bigger than what I've done before — more cities and new music. It's a real opportunity for me to connect with all the people who've supported me through the years, as well as a chance to get new folks excited. It's gonna be a party for everyone!" ungkapnya dalam pernyataan resmi. Sebagai opening act untuk Darren adalah Theo Katzman. Dalam tur konsernya nanti, Darren akan mem-preview beberapa lagu untuk album studionya yang akan dirilis oleh Columbia. So, are you ready for Darren?
Perpisahan Sharon dan ozzy Osbourne cuma gosip! Ini sama sekali tidak benar. Kepada acara bincang-bincang di stasiun TV CBS pada Selasa lalu, Sharon mengungkapkan fakta bahwa dirinya dan sang suami tidak bercerai. "Everything that was printed in the tabloids has been…distorted," ungkap Sharon. Ia juga menambahkan pembenaran mengenai perjuangan Ozzy selama hidupnya, tapi itu sama sekali tidak membuatnya berfikir untuk mengakhiri pernikahan mereka. "It's our business. We're dealing with it. We're not getting divorced," tegasnya.
DJ Arty asal Rusia muncul ke permukaan setelah mengungkapkan bahwa will.i.am mencuri salah satu karyanya. Lagu yang ia buat berjudul 'Rebound' diakui memiliki kesamaan dengan lagu terbaru will yang berjudul 'Let's Go' menampilkan Chris Brown. Kedua lagu ini sangat mirip, bisa didengarkan disini. Lewat wawancara dengan KIIS FM Selasa lalu, will mengakui bahwa dirinya tak sengaja mencuri lagu tersebut. "Arty is a dope producer so I wrote this song to 'Rebound' this last year. I got in touch with Arty and showed it to him, did a different version to it 'cause I asked him [to] make it newer 'cause I don't just wanna take your song and rap over it," ujar will. Namun setelah berselang satu tahun, terjadi gejolak dalam kerjasama ini, dan will berharap mereka dapat menyelesaikannya secara baik-baik. Di lain pihak, DJ Arty mengklain bahwa baik will maupun timnya tidak ada yang melakukan perjanjian dengan labelnya, Anjunabeats. 'Let's Go' adalah track kelima dari album terbaru will, "#willpower".
Ooh Lala, Rihanna! Ia menulis ulang rekor untuk dirinya sendiri dalam chart Pop di Billboard. Kini, ia mengungguli Katy Perry dan meraih gelar No.1 terbanyak di chart Pop Songs setelah 'Stay' berhasil duduk di kursi juara pekan ini. Mau tau koleksi lagu Pop no.1 Rih? Ini dia:
2006, "SOS" (one week at No. 1)
2008, "Take a Bow" (three)
2008, "Disturbia" (three)
2008, "Live Your Life" (T.I. feat. Rihanna) (two)
2010, "Rude Boy" (two)
2010, "Love the Way You Lie" (Eminem feat. Rihanna) (two)
2010, "Only Girl (In the World)" (three)
2011, "S&M" (one)
2011, "We Found Love" (Rihanna feat. Calvin Harris) (eight)
2013, "Stay" (Rihanna feat. Mikky Ekko) (one to date)
Dari ajang penghargaan musik Juno Awards di Kanada, Carly Rae Jepsen menjadi bintang terpanas dengan memenangkan banyak penghargaan disana. The 42nd Annual Juno Awards berlangsung pada Minggu malam waktu setempat, disiarkan langsung oleh stasiun televisi CTV dari Brandt Centre di Regina dalam durasi dua jam. Acara ini dipandu oleh Michael Buble. Carly memenangkan kategori Song Of The Year untuk 'Call Me Maybe', Album of the Year dan Pop Album of the Year untuk "Kiss". Berikut daftar penemang Juno Awards 2013:
Artist of the Year: Leonard Cohen
Group of the Year: Marianas Trench
Breakthrough Artist of the Year: The Weekend
Breakthrough Group of the Year: Monster Truck
Fan Choice Award: Justin Bieber
Album of the Year: "Kiss" – Carly Rae Jepsen
International Album of the Year: "Babel" – Mumford & Sons
Pop Album of the Year: "Kiss" – Carly Rae Jepsen
Single of the Year: 'Call Me Maybe' – Carly Rae Jepsen
Video of the Year: 'HYFR' – Drake, Director: Director X
Untuk daftar lengkap pemenang Juno Awards, silahkan kunjungi websitenya
Hell yeah! Fall Out Boy menjadi penguasa Billboard 200 pekan ini. Mereka berhasil menjual album "Save Rock and Roll" sebanyak 154.000 kopi dan meneruskan dominasi rock di chart ini setelah Paramore yang duduk di kursi juara dengan album "Paramore" pekan lalu. Ini adalah penjualan terbesar ketiga FOB setelah album "Infinity On High" di tahun 2007 dan "From Under The Cork Tree" di tahun 2005. Saingan FOB pekan ini adalah album "Indicud" oleh Kid Cudi yang harus mengalah untuk duduk di tempat kedua dengan angka penjualan 136.000 kopi. Berikut daftar 10 besar Billboard 200:
1. Save Rock And Roll oleh Fall Out Boy 154.000
2. Indicud oleg Kid Cudi 136.000
3. The 20/20 Experience oleh Justin Timberlake 76.000
4. Based On A True Story oleh Blake Shelton 42.000
5. Mosquito oleh Yeah Yeah Yeahs 38.000
6. Pioneer oleh The Band Perry 37.000
7. Wheelhouse oleh Brad Paisley 34.000
8. I Am Not A Human Being II oleh Lil Wayne 31.000
9. The Heist oleh Macklemore & Ryan Lewis 30.000
10. The Truth About Love oleh Pink 28.000
(Ai Hasibuan / CreativeDisc Contributors)
Related posts