Music Newz Bites – 17 May
welly, 8 years ago
1
5 min

read
697
Google telah meluncurkan layanan baru mereka: streaming musik. Layanan ini mulai tersedia sejak Rabu, 15 Mei. Para penggunanya dikenakan biaya sebesar USD 9,99 per bulan, dengan masa percobaan 30 hari gratis. Pelanggan yang mendaftar sebelum 30 Juni mendapatkan harga istimes USD 7,99 per bulan. Para eksekutif musik menyambut baik langkah Google ini. Scott Ambrose Reilly, Kepala X5 Music Group berkomentar: "Anytime a mainstream company decides to invest in digital music that is good for the entire industry. But seeing a mainstream advertising company like Google launch a paid only service does raise some eyebrows. Hope springs eternal and let's all hope this product lives up to the Google reputation for worldwide mass market appeal. If not at launch then hopefully in the very near future."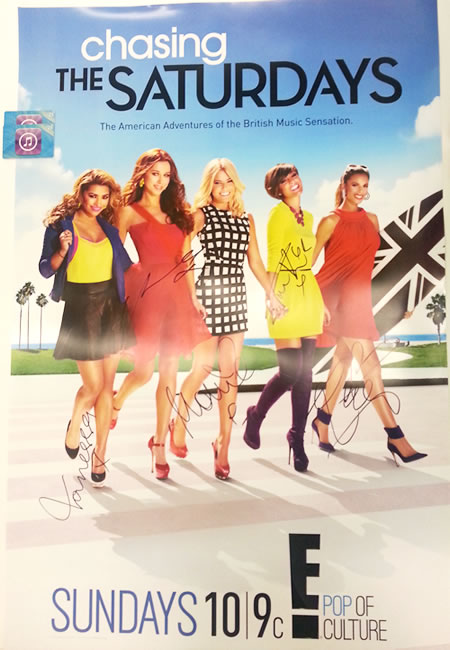 Kabar tak sedap datang dari grup The Saturdays. Serial dokumenter mereka, Chasing The Saturdays yang ditayangkan oleh stasiun TV E! kurang mendapat respon yang baik oleh penonton di Amerika Serikat, sehingga show ini tidak diperpanjang untuk season kedua. Runyamnya nasib tayangan ini kabarnya dikarenakan oleh intrik yang kurang sengit. Penggemar di Amerika mengharapkan drama dan konflik, tapi mereka terlalu manis satu sama lain. Meskipun demikian, pihak E! menanggapi berita ini dengan pernyataan bahwa Chasing The Saturdays memang direncanakan untuk satu season saja. Dan mereka tengah merencanakan sebuah Christmas Special.
Baca kabar heboh dari Diddy berikut:
"MY BIG NEWS: So happy to announce that Im a series regular on DOWNTON ABBEY-my favorite show+i'll be debuting a sneak peek tonight 12am PST!"
Rapper, produser, dan pengusaha tenar tersebut nge-tweet hal ini pada Rabu, 15 Mei lalu. Sayangnya, hal ini tidak dibenarkan oleh produser serial drama tersebut. Mereka menyatakan bahwa Diddy tidak bergabung dalam cast Downtown Abbey. Jadi bagaimana dengan tweet di atas? Apakah ini ulah pembajak akun, iseng-isengnya Diddy, atau dia memang sedang merencanakan sebuah video musik bertemakan Downtown Abbey?
Pemain bass dalam band Nine Inch Nails, Eric Avery membuat keputusan untuk mundur dari formasi band-nya. Lewat layanan catatan di Facebook ia bercerita mengenai keputusannya itu. "It's [sic] with very mixed emotions I tell you all that I'm pulling out of NIN. I know. It's been a tough call and I don't know if it's the right one. But I really want to focus on my musical life here in L.A., on film work in particular. As the tour dates kept growing… I just got overwhelmed. I just got home from a year of heavy travel with Garbage, the idea of leaving town for another year and a half, and with all the intensity that nails demands… fortunately my friend Trent understands all this and appreciated my pulling the plug now instead of deep into 2013 and 14. Go get 'em gentlemen." Nine Inch Nails pada bulan Februari lalu mengumumkan kembalinya mereka ke kancah musik dengan formasi Trent Reznor, Eric Avery, Adrian Belew, Josh Eustis, Alessandro Cortini, dan Ilan Rubin. Tampaknya kini mereka harus segera mencari pengganti Eric untuk penampilan 26 Juli mendatag di Naeba, Jepang.
Rita Ora siap-siap mencuri perhatian lewat dunia mode. Kabarnya, penyanyi asal UK ini telah dikontrak oleh Madonna untuk menjadi wajah baru rumah modenya, Material Girl. Mengapa harus Rita? Usut punya usut, putri Madonna yang berusia 16 tahun, Lourdes Leon yang meminta ibunya untuk melakukan hal ini, karena ia nge-fans sama Rita. Berapa bayaran Rita untuk menjadi wajah baru Material Girl? £500,000 atau sekitar 7,5 milyar rupiah.
Susan Boyle boleh jadi second best-nya label dalam hal perilisan album, tapi tidak untuk ini. Ia mendapatkan tawaran untuk menjadi host acara di Vegas. Jika kesepakatan ini terjadi, Susan akan menambah daftar artis yang menjadi tuan rumah untuk show mereka di Vegas. Celine Dion, Elton John, juga Shania Twain. Susan bukanlah orang asing untuk panggung Vegas. Tahun lalu, ia tampil di Hotel Flamingo bersama idolanya, Donny Osmond.
Bukan hal yang baru perang antar-penggemar terjadi. Mereka juga sering mengambil langkah lebih lanjut dengan mengancam artis lain. Seperti yang dialami oleh Miley Cyrus. Ia mendapat ancaman pembunuhan dari fans-nya Taylor Swift dan Selena Gomez. Lewat Twitter, Miley membeberkan cyber-bully yang terjadi padanya. "Everyday someone with a Swift or Gomez in there name wishes terrible things upon me (death is popular) Please Smilers don't ever" tulisnya. Yup, Miley mengajak para penggemarnya untuk tidak berlaku serupa, karena ancaman pembunuhan itu kelewat batas. So, be a smart and fun fan, ya!
Lady Antebellum perkasa! Minggu ini mereka berhasil mendapatkan album No.1 ketiga di Amerika. "Golden" berhasil terjual sebanyak 167.000 kopi dan langsung dinobatkan sebagai album terlaris di Amerika Serikat pekan ini. Pesaing terbesar Lady Antebellum, album soundtrack "The Great Gatsby" harus rela duduk di posisi 2 karena hanya berhasil terjual sebanyak 137.000 kopi. Masih ada debutan lain di Top pekan ini, yaitu album kompilasi "Now 46" serta album terbaru dari grup Pistol Annies dan Rod Stewart. Berikut Top 10 Billboard 200 Albums:
1. Golden oleh Lady Antebellum 167.000
2. The Great Gatsby Soundtrack oleh Various Artists 137.000
3. Now 46 oleh Various Artists 91.000
4. To Be Loved oleh Michael Buble 84.000
5. Annie Up oleh Pistol Annies 83.000
6. The 20/20 Experience oleh Justin Timberlake 66.000
7. Time oleh Rod Stewart 52.000
8. Life on a Rock oleh Kenny Chesney 48.000
9. Base on a True Story oleh Blake Shelton 38.000
10. Unorthodox Jukebox oleh Bruno Mars 32.000
(Ai Hasibuan / CreativeDisc Contributors)
Related posts