Music Newz Bites – 01 Jul
Ai Hasibuan, 9 years ago
0
5 min

read
778
Selamat kepada pasangan Jessica Simpson dan Eric Johnson. Jessica telah melahirkan anak kedua mereka pada hari Minggu kemarin di sebuah rumah sakit di area Los Angeles lewat operasi caesar. Bayi laki-laki yang Jess lahirkan adalah anak kedua mereka, setelah Maxwell yang kini telah berusia 14 bulan. "Ace Knute (baca: Ka-nute) Johnson has arrived! Mom and baby are doing great. Jessica, Eric and Maxwell are thrilled to welcome the new addition to their family," ujar juru bicara. Nama tengah yang unik dari bayi ini diambil dari kakek sang ayah yang berasal dari Swedia. Jessica dan Eric berencana untuk menikah akhir tahun ini.
Yang sudah mendahului pasangan Jessica dan Eric adalah Avril Lavigne dan Chad Kroeger. Rumornya, mereka telah menikah pada akhir pekan lalu di Perancis. Mike Heller, CEO perusahaan Talent Resources membocorkan berita ini lewat Twitter. 'I'm in south of France about to see my little Rok star #avril get married I am so happy to be part of this special celebration" tulisnya disana. Well, selamat buat pasangan Avril dan Chad!!!
Tanggal 29 Juli nanti, Kylie Minogue akan memperoleh JC Williamson Award, penghargaan industri hiburan Australia. Award ini akan diserahkan kepadanya dalam pagelaran The Helpmann Awards yang diselenggarakan di Sydney Opera House. "A moment like this makes me so proud to represent the Australian entertainment industry. As a country we have, and we nurture, extraordinary talent. Long may this continue," ungkap Kylie bahagia. Ia akan menerima penghargaan tahun ini bersama David Blenkinsop, seorang dermawan seni. Penerima penghargaan JC Williamson di tahun-tahun yang lalu termasuk penyanyi veteran John Farnham dan pemimpin Mushroom Group, Michael Gudinski.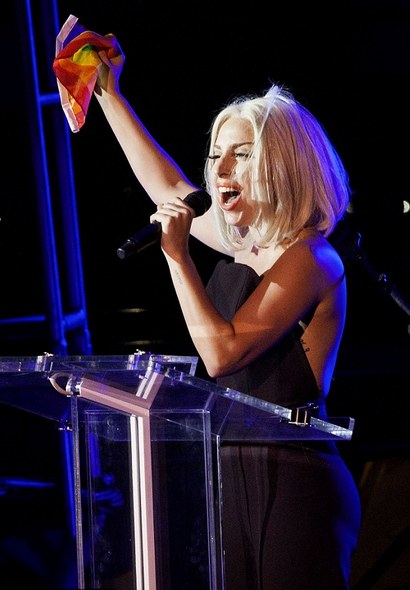 Long time no see nih sama Lady Gaga. Dan akhirnya ia muncul di depan publik untuk Gay Pride kota New York pada Jumat lalu. Di Pier 26, ia menampakkan diri untuk memberikan pidato dan juga menyanyikan lagu kebangsaan Amerika Serikat, lihat disini "We are not a niche. We are part, a big giant part of humanity. It's time for us to be mainstream. I demand the rights! To safe streets!" she said, the audience shouting back at her, "Enough is enough, enough is enough," ucapnya dalam kesempatan tersebut.
Akhirnya Lauryn Hill bersuara mengenai kondisinya saat ini. Ia curhat dalam sebuah surat terbuka yang diunggah ke Tumblr pada Jumat lalu. Dalam suratnya, ia mengalamatkan rasisme terkait kasus perpajakannya dengan IRS. Lauryn menghadapi hukuman tiga bulan penjara setelah gagal membayar pajak penghasilan dari USD1,8 pendapatan yang ia hasilkan.
Banting stir dari rock ke country. Frontman band 3 Doors Down, Brad Arnold berencana untuk membuat sebuah album country sebagai album solo perdananya. Diharapkan album ini akan rilis pada tahun 2014 mendatang. "I know it sounds crazy, but I grew up in south Mississippi loving country music. It's always been something I've wanted to do, 'cause that's what I grew up on, about as much on country as on rock 'n' roll. Everybody's cool with me doing it, so I want to just go back and have fun with it for a minute and see what happens and then come back and make another 3 Doors Down record," ceritanya. Brad melakukan kerjasama dengan Marti Frederiksen dan Zac Malloy dalam mengerjakan album ini.
Bantingan stir yang lebih menyimpang dilakukan oleh Alex James, pentolan band Blur. Ia menjadi salah seorang pembawa acara kuliner terbaru di Australia, "Recipes That Rock". Bersama Matt Stone, tayangan ini menampilkan perjalanan seorang rock-star bersama juru masak rock-star. Acara yang telah direkam sejak November lalu ini akan mulai ditayangkan pada 14 Juli mendatang.
Perlakuan Max George terhadap anggota The Wanted lainnya dirasakan seperti seorang ayah. Jay, Nathan, Siva, dan Tom kompak menobatkan Max sebagai ayahnya grup ini. "I most situations Max is [the dad of the group], but when we get into a business meeting, Tom is really good – even though he sounds like a binman. He looks out for us," ungkap Jay kepada sebuah media di Inggris. It's good having someone with such parenting skills around us, isn't it?!
Di penghargaan BET Awards Minggu kemarin, diselenggarakan tribute kepada Charlie Wilson yang sekaligus mendapat Lifetime Achievement Award. "Charlie Wilson is soul music. His impact colors the work of many artists, which is basically my nice way of saying I and a lot of other artists have stolen from him," ujar Justin Timberlake saat mempersembahkan penghargaan tersebut kepadanya. Tribute to Charlie Wilson dimeriahkan dengan penampilan Stevie Wonder, Jamie Foxx, Pharrell, Snoop Dogg, dan india.arie. Untuk penghargaannya sendiri, Nicki Minaj mempertahankan gelar Best Hip-Hop Female Artist untuk keempat kalinya. Berikut daftar pemenang BET Awards 2013:
Video of the Year: Started from the Bottom – Drake
Video Director of the Year: Benny Boom
Best Male R&B Artist: Miguel
Best Female R&B Artist: Rihanna
Best Female Hip-Hop Artist: Nicki Minaj
Best Male Hip-Hop Artist: Kendrick Lamar
Best Collaboration: Problems – A$AP Rocky feat. Drake, 2 Chainz & Kendrick Lamar
Best New Artist: Kendrick Lamar
Best Group: Macklemore & Ryan Lewis
Coca-Cola Viewer's Choice: Started from the Bottom – Drake
YoungStars Award: Gabrielle Douglas
Centric Award: Tamar Braxton
Best Actress: Kerry Washington
Best Actor: Jamie Foxx
Best Movie: Think Like a Man
Best Gospel Artist: Mary Mary
Subway Sportswoman of the Year: Gabrielle Douglas
Subway Sportsman of the Year: Lebron James
Best International Act: Africa: Ice Prince (Nigeria)
Best International Act: United Kingdom: Emeli Sandé
BET Lifetime Achievement Award: Charlie Wilson
BET Humanitarian Award: Dwyane Wade
(Ai Hasibuan / CreativeDisc Contributors)
Related posts