2013 MTV Video Music Awards Winner List
welly, 9 years ago
12
5 min

read
958
MTV Video Music Awards tahun ini untuk pertama kalinya diadakan di Brooklyn, New York. Dan seperti yang sudah diberitahukan sebelumnya Lady Gaga tampil membuka acara ini, dengan single terbarunya "Applause". Dengan memakai kostum putih dan carboard di kepalanya, Lady Gaga berjalan menuju panggung dan disambut dengan para dancer. Penampilannya ini juga ditandai dengan pergantian kostum, memakai wig, mengecat wajahnya, hingga terakhir Lady Gaga hanya memakai bikini kerang seperti yang ada di Video Music Applause.
One Direction didapuk menjadi presenter award yang pertama, dimana ketika mereka tampil, kamera diarahkan ke arah Taylor Swift dan Selena Gomez yang duduk bersebelahan. Dan sepertinya Taylor Swift mengatakan sesuatu buat 1D (google sendiri yah). Award pertama yang dibagikan malam itu adalah Best Pop Video Award yang dimenangkan tak lain oleh Selena Gomez "Come & Get It".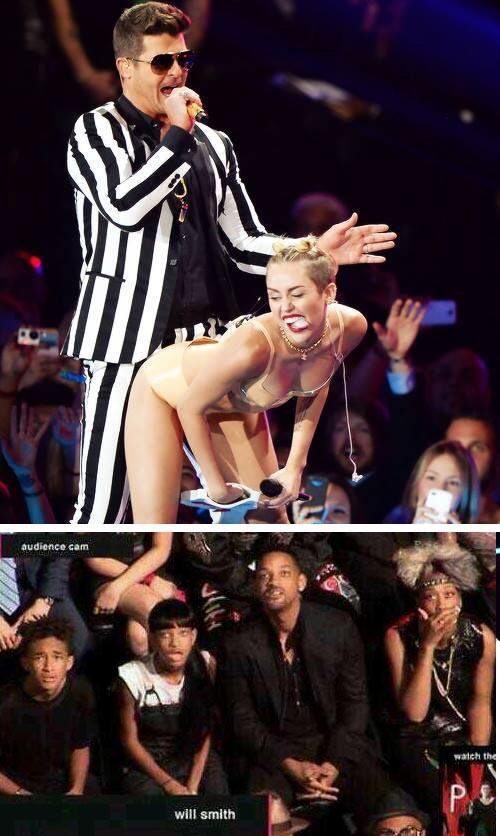 Penampilan kedua malam itu dari salah satu jebolan Disney, Miley Cyrus yang akan merilis album barunya, "Bangerz". Miley keluar dari robot Teddy bear yang mirip di Videonya, kemudian Miley membawakan "We Can't Stop", sayang vokalnya agak shaky ketika membawakan lagu ini. Setelah itu Robin Thicke bergabung dengannya, dan mereka berkolaborasi bersama di lagu "Blurred Lines", tak hanya itu, Miley yang berganti kostum dengan memakai bikini berwarna kulit ini pun twerking dihadapan Robin Thicke, yang alhasil sukses bikin penonton seperti Will Smith dan kedua anaknya terperangah. Robin Thicke masih lanjut dengan Kendrick Lamar & 2 Chainz tampil dengan lagu barunya "Give It 2 U".
Presenter kedua malam itu, Iggy Azalea dan Lil Kim memberikan Best Hip Hop Video Awards untuk duo R&B terpanas tahun ini, yang tak lain adalah Macklemore and Ryan Lewis featuring Ray Dalton "Can't Hold Us". Selanjutnya, komedian Kevin Hart (yang bukan host malam ini) memberikan joke-joke segarnya dengan mengejek beberapa artis yang sudah tampil, seperti Lady Gaga, Miley Cyrus..
Up next, frontman 30 Seconds To Mars, Jared Leto memanggil Kanye West untuk tampil dengan lagu "Blood On The Leaves", dimana terjadi banyak 'sensor' akibat lirik yang tidak senonoh. Award selanjutnya yang dibagikan malam itu adalah Best Female Video Awards yang diberikan oleh Pharrell Williams, Daft Punk, Nile Rodgers. Dan pemenangnya adalah.. Taylor Swift "I Knew You Were Trouble".
Ed Sheeran membawakan award selanjutnya untuk kategori Best Video with a Social Message yang jatuh ke tangan Macklemore & Ryan Lewis feat Mary Lambert "Same Love". "Gay rights are human rights. There is no separation," begitu ucapan dari Macklemore sambil berterima kasih buat awardnya tersebut.
Kali ini Jimmy Fallon memperkenalkan Justin Timberlake sebagai The President of Pop yang tampil spektakular malam ini! Penampilan Justin dengan lagu "Take Back The Night" dimana dia berjalan dari lobby, naik eskalator, hingga ke panggung dan membawakan medley hits lamanya, termasuk "Sexy Back," "My Love," "Cry Me a River," "Senorita," hingga "Rock Your Body". Dan benar adanya dia gabung kembali dengan *NSYNC membawakan hits mereka "Bye Bye Bye", yang mungkin hanya berlangsung 1 menit. Justin melanjutkan aksinya dengan "Suit & Tie", dan ditutup dengan lagu "Mirrors". Dengan total hampir 20 menit ini, penampilan Justin Timberlake yang mendapatkan Michael Jackson Vanguard Award ini patut diberi highlight tersendiri. "I don't deserve this award, but I'm not giving it back," Justin berkata sambil menerima Awardnya, "Half of the moonmen I've ever won, is with those 4 guys over there. I'm going to share my award with them. This is such an honor."
Band Vampire Weekend jadi presenter selanjutnya membawakan Best Song of the Summer yang kemarin di vote via social media, dan seperti yang kita tahu pemenangnya adalah One Direction "Best Song Ever". Pemain basket Jason Collins dan A$ap Rocky jadi presenter selanjutnya untuk penampilan Macklemore & Ryan Lewis dengan Mary Lambert "Same Love", dan surprise! Jennifer Hudson ikut bergabung mereka dan berduet dengan Mary Lambert.
Emeli Sande & Adam Lambert mempersembahkan award selanjutnya yaitu Artist to Watch yang dimenangkan oleh Austin Mahone "What About Love", dan Austin pun mengucapkan terima kasih buat para fans, Mahomies dan juga ibunya seorang single mother.
TLC yang reuni kembali datang dengan 2 personil aslinya T Boz dan Chili yang memperkenalkan Drake untuk tampil selanjutnya dengan medley "Hold On We're Going Home" dan "Started from the Bottom."
Taylor Swift oun jadi presenter untuk Best Male Video yang dimenangkan oleh Bruno Mars "Locked Out of Heaven." dan merupakan Moonman pertamanya! Dilanjutkan oleh Selena Gomez yang present Bruno Mars tampil dengan single terbarunya "Gorilla".
Award yang paling ditunggu malam ini adalah Video of the Year yang di present oleh aktor Joseph Gordon-Levitt dan dimenangkan oleh Justin Timberlake "Mirrors". Menurut Justin Video ini sangat spesial karena sebagai sebuah tribute untuk kakek dan neneknya.
Finale, Allison Williams dari serial "Girls" memperkenalkan Katy Perry yang tampil bukan di studio, melainkan di ring tinju, dibawah Brooklyn Bridge dengan single terbarunya "Roar". Dengan memakai kostum seorang petinju, Katy Perry sempat menunjukkan aksi lompat talinya!
Ini dia daftar pemenang sementara MTV VMAs:
BEST COLLABORATION Pink, feat. Nate Ruess, "Just Give Me A Reason"
BEST ROCK VIDEO 30 Seconds to Mars, "Up in the Air"
BEST POP VIDEO Selena Gomez, "Come and Get It"
BEST ART DIRECTION Janelle Monae feat. Erykah Badu, "Q.U.E.E.N"
BEST DIRECTION Justin Timberlake, "Suit and Tie"
BEST CHOREOGRAPHY Bruno Mars, "Treasure"
BEST VISUAL EFFECTS Capital Cities, "Safe and Sound"
BEST CINEMATOGRAPHY Macklemore & Ryan Lewis feat. Ray Dalton, "Can't Hold Us"
BEST EDITING Justin Timberlake, "Mirrors"
BEST HIP-HOP VIDEO Macklemore and Ryan Lewis, feat. Ray Dalton, "Can't Hold Us"
BEST FEMALE VIDEO Taylor Swift, "I Knew You Were Trouble"
BEST VIDEO WITH A SOCIAL MESSAGE Macklemore and Ryan Lewis, feat. Mary Lambert, "Same Love"
SPECIAL AWARD: MICHAEL JACKSON VANGUARD VIDEO: Justin Timberlake
BEST SONG OF THE SUMMER: BEST SONG EVER
ARTIST TO WATCH: Austin Mahone "What About Love"
BEST MALE VIDEO: Bruno Mars "Locked Out of Heaven"
VIDEO OF THE YEAR: Justin Timberlake, "Mirrors"
Related posts