Fan Gathering and Screening Event "Good Times With Jay Effect"
welly, 9 years ago
0
2 min

read
719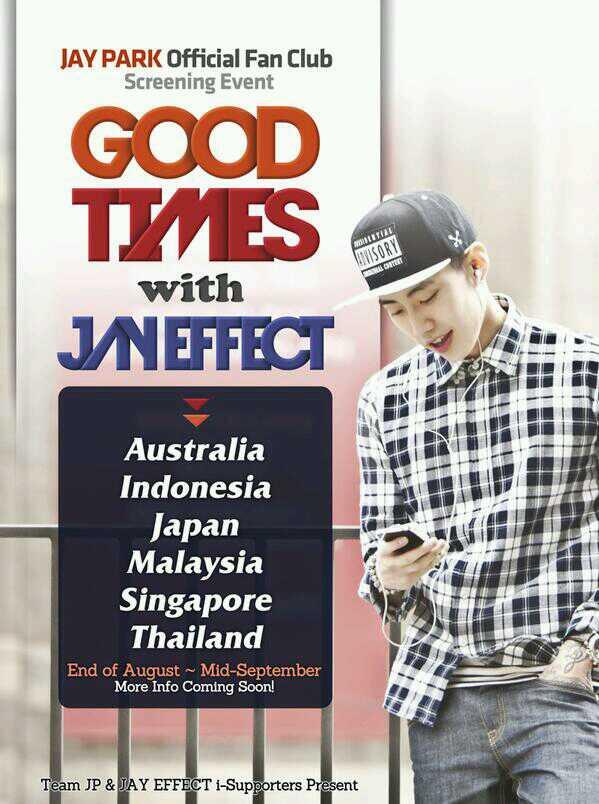 [EVENT] FAN GATHERING AND SCREENING EVENT "GOOD TIMES with JAY EFFECT"
Kabar gembira untuk Jwalkerz Indonesia, JayEffect Indonesia akan mengadakan Fan Gathering dan Screening Event bejudul "GOOD TIMES with JAY EFFECT" yang bekerja sama dengan pengurus Official Fan Club JAY EFFECT dari Korea yaitu TeamJP. Acara ini merupakan ide dari TeamJP yang ingin memperluas keanggotaan dan tentu mempererat hubungan antar anggota fan club di luar Korea.
Keuntungan yang selama ini hanya bisa dirasakan anggota Jay Effect dari Korea seperti official merchandise, kontak langsung dengan Jay Park, menonton video-video yang hanya bisa diakses anggota resmi, bahkan fan meeting gratis, kini akan memungkinkan bagi anggota di luar Korea untuk bisa mendapatkan keistimewaan tersebut, yang tentu saja harus bergabung menjadi anggota Official Fan Club dari TeamJP ini. Pendaftaran keanggotaan sudah berlangsung dan ditutup pada 18 Agustus 2013.
Dan untuk informasi lebih lanjut tentang tujuan dari acara ini, berikut adalah maksud dan tujuan "GOOD TIMES with JAY EFFECT" :
1. Mempererat hubungan antara sesama Jwalkerz khususnya di Korea Selatan dan Indonesia.
2. Memenuhi salah satu kelebihan sebagai anggota resmi JAYEFFECT, yaitu dengan pemutaran terbatas video Jay Park yang belum pernah diputar sebelumnya.
3. Membuka kesempatan bagi para penggemar Jay Park yang ingin bergabung dalam keluarga besar JAYEFFECT secara resmi.
4. Mensosialisasikan privileges yang didapatkan dalam keanggotaan periode ke-3.
5. Tahap awal dari rencana diadakannya Fanmeeting khusus untuk para anggota resmi periode ke-3 secara gratis.
6. Membangun kemungkinan untuk membawa Jay Park kembali ke Indonesia.
7. Mempererat hubungan antara Fanbase dengan media terkait.
Berikut keterangan lebih lanjut waktu dan pelaksanaan:
1. Acara Diskusi Terbatas TeamJP dengan Anggota Periode ke-2
Hari : Sabtu
Tanggal : 7 September 2013
Pukul : 11.00 – 13.00 WIB
Tempat : TBC
Target : 20 orang termasuk TeamJP
2. Pemutaran Terbatas Video Jay Park dan Gathering Keanggotaan Anggota Resmi JAYEFFECT Periode ke-2 dan ke-3
Hari : Sabtu
Tanggal : 7 September 2013
Pukul : 14.00 – 16.30 WIB
Tempat : TBC
Target : 150 anggota periode ke-3
Acara ini akan sangat menarik, apalagi ini merupakan kerjasama fanbase Indonesia dengan Official Fan Club langsung dari Korea, ini tentu akan menambah keseruan dengan saling sharing sebagai sesama pendukung Jay Park, dan bisa bekerja sama demi mendukung Jay Park di masa yang akan datang.
Untuk informasi lebih lanjut :
twitter @JayEffect_Indo
Facebook JayEffect Indonesia
(Dita)
Related posts