Alicia Keys Kembali Hangatkan Jakarta
welly, 8 years ago
0
2 min

read
649
"In New Yorkkkkkk" ketika sebait lirik lagu ini dibawakan, mata penonton Skenoo Hall langsung tertuju ke tengah panggung. Alicia Keys yang tampil simple dengan blouse biru-metalik dan pants hitam pun memulai aksi "Set The World on Fire" tour nya dengan lagu Karma.
Artis peraih 14 Grammy Awards ini tampil memukau ribuan fans dengan suara khas nya. Lagu-lagu hits seperti "Try Sleeping with a Broken Heart, Fallin', Tears Always Win, You Don't Know My Name, Unbreakable, New Day, Brand New Me, dan Like You'll Never See Me Again pun sukses dibawakannya sembari memainkan piano.
Beberapa lagu terasa lebih menyentuh ketika Alicia berkolaborasi dengan penonton. Di lagu If I Ain't Got You misalnya, ia lebih banyak bermain piano dan membiarkan penonton bernyanyi bersama. Begitu juga di lagu A Woman's Worth, teriakan penonton wanita semakin histeris ketika Alicia memanggil "ladiessss!"
Tidak hanya skill bernyanyi dan main piano yang diperlihatkan istri dari Swizz Beatz ini, sesekali pun ia ikut menari bersama 4 orang dancer yang mengiringinya sepanjang konser. Bahkan ia tampak gemulai menggerakkan tubuhnya bersama dengan seorang penari yang berakting dengan lagu Un-Thinkable (I'm Ready)
Yang paling spesial dari konser malam itu adalah dinyanyikannya Not Even the King yang ia persembahkan untuk keluarga kecil nya. Suasana semakin haru dengan kehadiran anak pertamanya Egypt diatas panggung. Hal yang menggemaskan adalah ketika Egy menjawab pertanyaan Ibu nya. Kurang lebih dialog nya seperti ini:
"What's your name? : Egypt Daoud Dean"
"What time is it now? : It's show timeeeee!"
Sontak penontok semakin bergemuruh dan bertepuk tangan mendengar jawaban bocah 3 tahun itu. Tak lama lagu No One pun dinyanyikan. Choir penonton semakin bersemangat melihat Alicia bernyanyi sambil sesekali menggendong dan mencium buah hatinya. What a family!
Kurang lebih 20 lagu dibawakan dan alunan suara penonton menyanyikan lagu Girl on Fire menjadi penutup malam itu. Tapi rupanya seruan "we want more" berulang-ulang berhasil membawa Alicia Keys kembali ke atas panggung. Saat memasuki encore ia tampil sangat anggun menggunakan dress berwarna ungu. Empire State of Mind, Part II: Broken Down rupanya benar-benar menjadi lagu pamungkas penampilannya di Jakarta.
Thank you for a superb night, AK. You're such a great inspiration, xo
Teks by @_Roseylicious_
Photo by Budi Susanto
Setlist: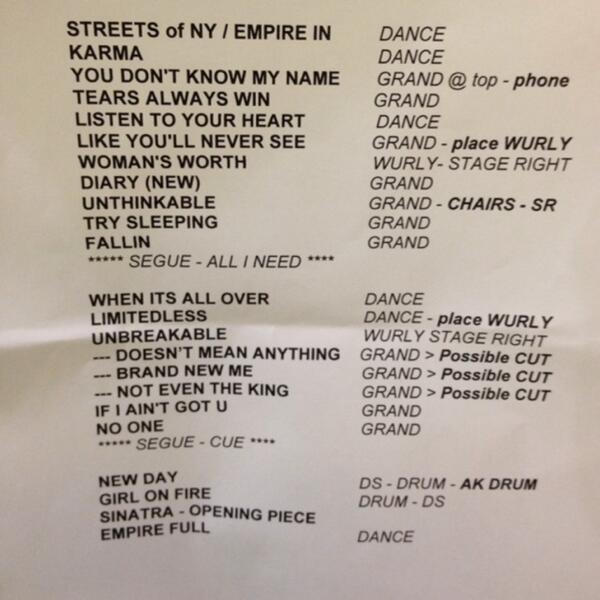 Related posts