Music Newz Bites – 20 Dec
Ai Hasibuan, 9 years ago
2
4 min

read
1049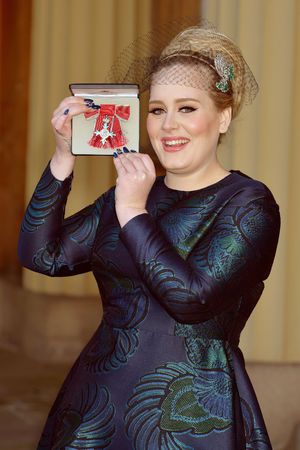 Selamat buat Adele! Kini dia mendapat gelaran MBE (Member of the Order of the British Empire) atas jasanya di industri musik yang mengharumkan nama Inggris. Gelar ini diberikan langsung oleh Prince Charles kemarin, dan kini nama lengkap Adele adalah Miss Adele Atkins MBE.
Mendekati tahap penyisiran unggulan untuk Academy Awards 2014, lagu 'Young And Beautiful' milik Lana Del Rey terganjal skandal yang mengancam posisinya di kategori Original Song. Rumornya, panel juri menerima catatan mengenai lagu ini yang membuat mereka memutuskan untuk mendiskualifikasi lagu tersebut. Di tahun 2004 pernah terjadi kejadian serupa, dimana korbannya adalah lagu 'In The Deep' dari film "Crash" yang ternyata rumor tentangnya terbukti tak benar.
Dan tidak berhasil masuk menjadi unggulan di Grammy bukan masalah bagi Emeli Sande. Ia mendapatkan penghargaan bergengsi lainnya. Majalah Essence untuk kelima kalinya memberikan gelar Black Women in Music, dan tahun ini giliran Emeli yang menerimanya. "Emeli Sandé's soaring confidence as a songwriter and fearless self-expression as a singer is in the tradition of many iconic female trailblazers such as Nina Simone," ungkap pimpinan redaksi majalah, Vanessa K. Bush dalam pernyataannya. Penerima penghargaan sebelumnya adalah Mary J Blige, Kelly Rowland, Janelle Monae, Sylvia Rhone, Solange, dan Lianne La Havas.
Kalau majalah Elle, mereka punya gelar Rookie of the Year yang diberikan kepada Lorde. "Google 'whoa, where'd she come from?' and you'll probably get a picture of Lorde, the teen pop countess (born Ella Yellich-O'Connor) whose hit song Royals floated up from New Zealand and basically broke the Internet. Now Ms. O'Connor has the biggest alternative female solo single ever… Not bad for a high school senior," tulis editor dalam artikel mengenai Lorde.
Brian Kelley, satu dari dua personel grup Florida Georgia Line telah menikah dengan kekasih hatinya, Brittney Marie Cole pada sebuah pesta pribadi dan intim di Nashville akhir pekan kemarin. Kehumasan grup FGL mengeluarkan pernyataan bahwa hanya ada 40 orang tamu yang diundang ke upacara pernikahan ini.
Selamat kepada Adam Levine yang berhasil membawa artisnya, Tessanne Chin menjadi juara The Voice Season 5. Acara final season ini diselenggarakan pada Selasa, 17 Desember kemarin, menampilkan bintang tamu mulai dari One Republic, Celine Dion, Lady Gaga, juga Paramore. Season keenam dari The Voice akan tayang perdana pada 24 Februari dengan Usher dan Shakira menggantikan CeeLo Green dan Christina Aguilera.
Selain menggantikan Christina di The Voice Season 6 mendatang, Shakira juga punya kejutan manis bagi para penggemar. Januari 2014 nanti, ia akan merilis album studio terbaru, berdasarkan rilisan pers yang dikeluarkan oleh label rekaman Shakira, Sony Music Entertainment. Rumornya, di album terbarunya nanti, Shakira punya kolaborasi bareng Rihanna. Video musik untuk single pertama album ini telah selesai pengambilan gambarnya. Sutradara video tersebut adalah Joseph Kahn, yang belum lama ini menjadi sutradara untuk video musik 'Beautiful' dari Mariah Carey dan Miguel.
Badai K-Pop masih membanjiri. Billboard di akhir tahun ini mencatat 10 lagu K-Pop paling laris selama tahun 2013 ini. Dan yak, artis dengan 2 lagu di posisi teratas adalah PSY!
1. "Gangnam Style" PSY
2. "Gentleman" PSY
3. "Fantastic Baby" BIGBANG
4. "I Got a Boy" Girls' Generation
5. "Growl" EXO
6. "I Am the Best" 2NE1
7. "The Baddest Female" CL
8. "Right Now" PSY
9. "Wolf" EXO
10. "Falling in Love" 2NE1
Sebuah label rekaman yang berbasis di Charlotte, North Carolina, Amerika Serikat yang bernama SMH Records telah mengajukan penawaran kepada Lindsay Lohan untuk mengikat kontrak rekaman. Pendiri label, Jonathan Hay mengatakan bahwa mereka ingin mengantarkan sukses pada comeback Lindsay ke dunia musik. "Lindsay is a tremendous talent and our distribution through Capital/ Universal Music Group means we have the resources to help Lindsay make her comeback." Rumor yang beredar adalah Lindsay memang ingin kembali ke musik. Ada kabar berita yang menghubungkannya dengan musisi Jamie, suami dari supermodel Kate Moss, di studio.
Last, but not least, the magic of Beyonce. Ia berhasil memberi kejutan tak hanya kepada Amerika, tapi seluruh dunia. Album kelimanya, "Beyonce" berhasil menjadi album terjual paling cepat dalam sejarah iTunes. Nah, selama sepekan, angka penjualan album B di Amerika Serikat adalah 617.000 kopi, dan menjadi no.1 di Billboard 200 pekan ini. Dan berdasarkan laporan Nielsen Soundscan, B adalah artis wanita pertama yang berhasil menjadikan 5 album pertamanya menjadi no.1 di AS.
1. Beyonce oleh Beyonce 617.000
2. Blame It All On My Roots: Five Decades of Influences oleh Garth Brooks 172.000
3. Wrapped In Red oleh Kelly Clarkson 136.000
4. Black Panties oleh R. Kelly 133.000
5. Midnight Memories oleh One Direction 123.000
6. Duck the Halls: A Robertson Family Christmas oleh The Robertsons 108.000
7. Because The Internet oleh Childish Gambino 96.000
8. The Marshall Mathers LP 2 oleh Eminem 83.000
9. PRISM oleh Katy Perry 59.000
10. OST Frozen oleh Various Artists 56.000
Related posts