Quiz #MissGranny: Berhadiah Signed CD B1A4 Who Am I?
welly, 7 years ago
0
3 min

read
391
Kalian sudah nonton film "Miss Granny" di Blitz Megaplex ? Kalau belum, buruan nonton filmnya sekarang juga, dan jangan lupa untuk menyimpan potongan karcis masuknya, karena kamu yang beruntung bisa mendapatkan CD B1A4 lengkap dengan poster dan tanda tangan asli dari personil B1A4 !
Sebelumnya simak dulu sinopsis Film Miss Granny:
Sutradara: HWANG Dong-hyeuk (SILENCED, MY FATHER)
Genre: Comedy, family
Mulai diputar: 12 Maret 2014
Para Pemain:
• SHIM Eun-kyung (Masquerade, Romantic Heaven, Sunny )
• NA Moon-hee ( Twilight Gangster, Mission Possible : Kidnapping Granny K, You Are My Sunshine )
• PARK In-hwan ( The Executioner, One Fine Spring Day, The Spy )
• SUNG Dong-il ( Mr. Go, Return of The Mafia, The Grand Heist )
• LEE Jin-wook ( In Need Romance 2, Nine : Nine Times Time Travel )
• Jin Yong (leader of Kpop Band, B1A4 )
Sinopsis: Miss Granny adalah film komedi terlaris di Korea Selatan untuk tahun 2014 ini, baru dirilis 3 pekan saja tapi penontonnya sudah mencapai lebih dari 6 juta orang. Film ini menceritakan seorang janda berusia 74 tahun, Oh Mal -Soon (Nah Moon- hee) yang merasa dia menjadi beban bagi keluarganya, dan ketika suatu saat dia datang ke sebuah studio foto dan kemudian dia bikin potret diri yang awalnya untuk foto pemakamannya. Setelah itu, secara ajaib dia berubah menjadi seorang gadis muda berusia 20 tahun. Dia pun merubah namanya menjadi Oh Doo-Ri (Sim Eun kyeong) dan berusaha merubah alur hidup masa mudanya.
Film Miss Granny adalah sebuah film yang unik dan lucu sekaligus bisa membawa penonton tertawa dan menangis melihat akting para aktor-aktris. Film ini sendiri juga tidak pandang usia, mulai dari remaja dan para manula, dan cocok untuk semua anggota keluarga untuk menonton film ini bersama-sama.
Jumlah penonton Film Miss Granny ini diperkirakan akan mencapai 8juta penonton, hampir menyamai rekor box office tertinggi Speed Scandal (2008) dengan jumlah penonton 8.245.523 orang.
Nah, buat kamu yang belum nonton, buruan aja nonton mulai dari tanggal 12-18 Maret 2014. Dan dapatkan kesempatan untuk memenangkan hadiah dari @JiveMovies ini berupa 5 CD B1A4 (lengkap dengan tanda tangan personilnya) dan juga poster Who Am I?
Caranya berikut ini:
1. Wajib follow @creativedisc dan @jivemovies
2. Kirim twitpic foto kamu beserta potongan tiket nonton Miss Granny dengan format: "Nama, kota, @creativedisc @jivemovies #MissGrannyCDQuiz" cukup kirim 1x saja.
3. Bagi kamu yang tidak punya twitter bisa kirim email ke [email protected] dengan format: "subject: #MissGrannyCDQuiz, beserta nama, alamat, nomer hp, dan tentunya attach foto kamu beserta tiketnya".
4. Periode Quiz berlangsung dari tanggal 12-18 Maret 2014.
5. Pengumuman pemenang tgl 24 Maret 2014. Untuk pengambilan hadiah, nanti akan kita hubungi.
Special thanks to Blitz Megaplex dan Jive Movies!
Selamat! Ini dia para pemenangnya:
1. Rivki Morais, Jakarta @Rivki_Mogi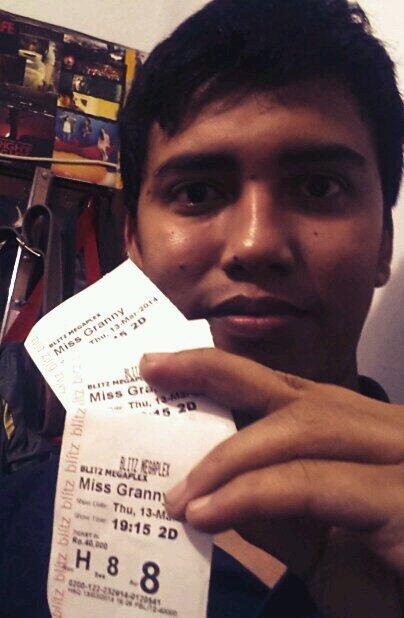 2. Fioria Amelia, Bogor @fioriamelia


3. Maria Natalia, Bandung @Queenbee_Mary


4. Balqis Afaf Fauziah, Bandung ([email protected])
5. Samantha Christy, Bekasi ([email protected])
Related posts