Swifties Menyerbu Toko Electronic City di Bintaro dan Alam Sutera
welly, 8 years ago
0
2 min

read
750
Hari ini, 20 Maret 2014, PT Electronic City Indonesia, Tbk yang juga selaku eksklusif partner dari konser "Taylor Swift the Red Tour" presented by Cornetto mulai menjual tiket perdana konser Taylor Swift untuk kelas Silver. Tiket ini dijual mulai pukul 16.00 hanya di 2 toko saja yaitu, Electronic City Bintaro, tepatnya CBD Bintaro Jaya Kav B7-D01 dan Electronic City Alam Sutera, Jl. Boulevard Alam Sutera No.30, Alam Sutera, Tangerang.
"Electronic City pada hari ini memberikan kesempatan istimewa bagi para pecinta Taylor Swift untuk bisa membeli tiket konsernya sebelum penjualan regular dilakukan. Electronic City pada hari ini secara khusus membuka ticket box penjualan tiket tipe Silver dengan harga Rp 1.250.000,- mulai pukul 16.00 wib sampai selesai di dua toko Electronic City; Bintaro dan Alam Sutera", ungkap Fery Wiraatmadja, Commercial and Investor Relations Director PT Electronic City. "Sebanyak 500 tiket sudah disiapkan bagi para pelanggan Electronic City yang sekaligus penggemar dari penyanyi cantik ber-genre country, Taylor Swift.", tambah Fery.
Sementara itu, Wiradi Wahyudin, GM Electronic City Entertainment selaku promotor dari konser ini mengatakan pihaknya bekerjasama dengan Electronic City dalam penjualan tiket konser Taylor Swift.
"Electronic City sebagai eksklusif partner membuka peluang bagi para penggemar setia Taylor Swift untuk bisa mendapatkan tiket lebih dulu sebelum penjualan regular dilakukan. Informasi mengenai penjualan regular berikutnya dapat dilihat di akun @electronic_city, @ECEntertainment atau situs www.electronic-city.com", ujar Wiradi.
Dan Sore tadi, CreativeDisc coba membuka situs tersebut diatas dan ternyata tidak bisa dibuka, sepertinya kuota presale tiket Silver Taylor Swift sudah habis terjual hari ini. So, better luck next time, Swifties!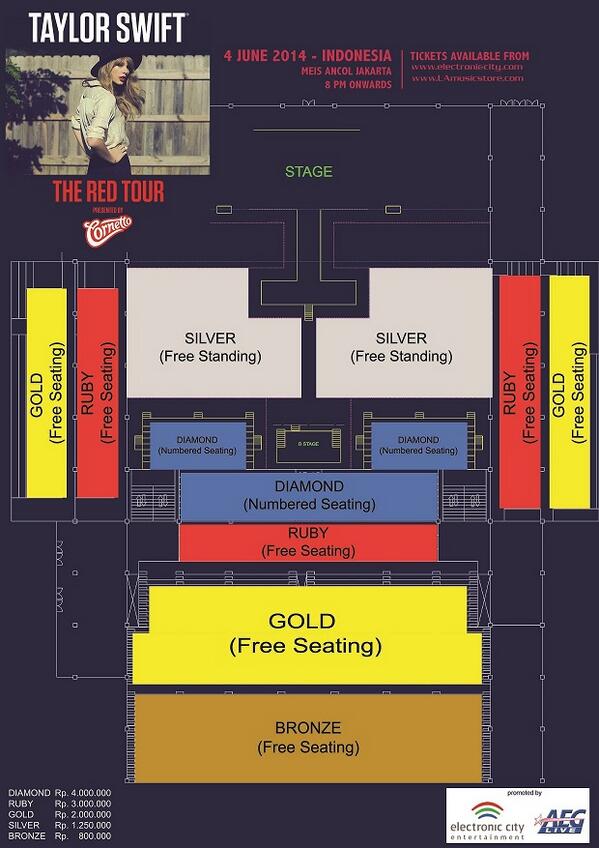 Harga tiket:
Festival 800.000,
Silver 1.250.000,
Gold 2.000.000,
Ruby 3.000.000,
Diamond 4.000.000.
Penjualan tiket The Red Tour bisa dibeli di 7-Eleven Area:
1. Asia Afrika
2. Bintaro
3. Saharjo
4. Teluk Betung
5. Bulungan
6. Menteng
7. Cipete
8. Pasar Festival
9. Meruya
10. Panglima Polim
untuk pembelian tiket online bisa dibeli di www.lamusicstore.co.id dan www.blibli.com.
Related posts