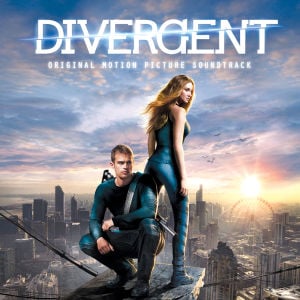 Released by: Universal Music Indonesia
Divergent merupakan film franchise terbaru yang diangkat dari novel remaja. Dan sebagaimana umumnya film-film sejenis, ia juga menghadirkan album soundtrack yang berisi banyak lagu pilihan yang mungkin akan memanjakan pendengaran dengan barisan lagu seru dari jajaran musisi yang variatif pula. Lantas apa saja yang disajikan oleh Divergent (Original Motion Picture Soundtrack)?
Dibandingkan album soundtrack film remaja lain, Divergent justru menawarkan banyak nama yang cenderung lebih populer dan awam di pendengaran. Bahkan dari segi pemilihan musik pun berada di ranah yang cukup mainstream.
Album dibuka dengan salah satu artis EDM yang tengah menanjak namanya, Zedd. Setelah Spectrum, Zedd kembali mengajak Matthew Koma bekerjasama. Kali ini ada Miriam Bryant yang meramaikan juga. Kolaborasi mereka terdapat dalam, Find You. Masih mengandalkan progressive house yang dipadukan dengan dubstep, jadi pastinya bisa diandalkan di lantai dansa.
Setelahnya berlanjut dengan penyanyi asal Inggris yang akhir-akhir ini banyak sekali mengisi album soudtrack, Ellie Goulding. Tidak tanggung-tanggung, Ellie menyumbang empat lagu sekaligus, termasuk Beating Heart. Elektro-pop eklektik masih menjadi andalan Ellie. Indie-pop dan folk dipadu-padankan sehingga Beating Heart terdengar cantik, dan didukung oleh nyanyian Ellie yang khas, sementara elektronika ringan yang membalur lagunya bekerja dengan efektif.
Selain itu ada juga Hanging On yang sebelumnya sudah terdapat dalam album Halcyon, dan kini hadir dalam versi I See MONSTAS remix. Dua lagu lain, juga adalah lagu baru yaitu Dead in the Water dan My Blood. seperti biasa, nuansa electro-pop mendominasi lagu-lagu milik Ellie Goulding.
Secara umum, electro-pop memang memenuhi album ini. Pia Mia hadir dengan Fight For You yang juga menghadirkan Chance the Rapper. Bahkan band rock asal Inggris, Snow Patrol menghadirkan lagu anthemik tapi romantis seperti I Won't Let You Go dengan sentuhan electro-pop tadi. Dan jika ada tadi Ellie Goulding, maka mantan kekasihnya, Skrillex, juga hadir mempersembahkan sebuah nomor, tentu saja, dubstep, Stranger, yang dibawakannya secara barengan bersama KillaGraham dan Sam Dew.
Album soundtrack Divergent juga diisi oleh banyak populer, seperti Tame Impala yang mengajak rapper Kendrick Lamar untuk membantu mereka. Karena ini Tame Impala yang kita bicarakan, maka tentunya harapkan sebuah nomor Hip-hop yang eklektis. Dan hey, mereka bahkan mengajak M83 untuk mengisi album ini. Maka band asal Perancis ini menghadirkan sebuah nomor romantis yang mendayu berjudul I Need You.
Secara keseluruhan, album soundtrack Divergent dipenuhi oleh banyak lagu-lagu romantis, yang mungkin memang disesuaikan dengan esensi filmnya, meski di beberapa bagian juga menghadirkan dentuman semangat yang tebal. Patut dipuji pemilihan komposisi musisi yang terlibat dan juga pilihan lagunya, karena pada akhirnya album soundtrack Divergent terdengar seperti sebuah album kompilasi yang cukup cantik dan kaya.
Jangan lewatkan juga lagu-lagu bonus di edisi deluxe karena selain Ellie Goulding, ada juga Woodkind dengan I Love You yang bernuansa gospel rock dan Waiting Game dari Banks yang sedikit bergaya Trip Hop dan sedikit terdengar mirip Ellie Goulding, dan mereka membuat album ini terdengar segar dan penuh warna.
Rate the album:
[ratings]
(Haris / CreativeDisc Contributor)
TRACKLIST
1. "Find You" Zedd featuring Matthew Koma and Miriam Bryant 3:23
2. "Beating Heart" Ellie Goulding 3:31
3. "Fight for You" Pia Mia featuring Chance The Rapper 4:35
4. "Hanging On" (I See MONSTAS remix) Ellie Goulding 4:04
5. "I Won't Let You Go" Snow Patrol 4:07
6. "Run Boy Run" Woodkid 3:32
7. "Backwards" Tame Impala featuring Kendrick Lamar 3:54
8. "I Need You" M83 3:01
9. "In Distress" A$AP Rocky featuring Gesaffelstein 3:09
10. "Lost and Found" (ODESZA remix) Pretty Lights 4:36
11. "Stranger" Skrillex and KillaGraham featuring Sam Dew 4:50
12. "Dream Machines" Big Deal 2:59
13. "Dead in the Water" Ellie Goulding 4:44
Deluxe Edition Bonus Tracks
14. "I Love You" Woodkid 3:49
15. "Waiting Game" Banks 3:26
16. "My Blood" Ellie Goulding 3:54
Related posts