Exclusive Interview With Kaiser Chiefs
welly, 7 years ago
0
2 min

read
614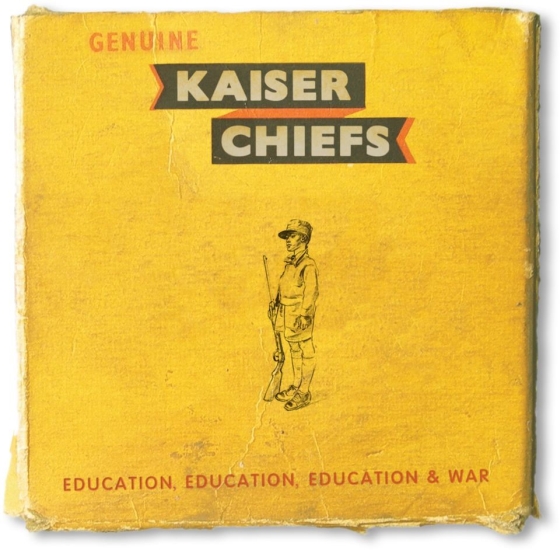 Band asal Leeds, West Yorkshire, Inggris ini berangotakan Ricky Wilson, Andrew 'Whitey' White, Simon Rix, Nick 'Peanut' Baines, dan juga drummer baru Vijay Mistry, yang menggantikan Nick Hodgson. Kaiser Chiefs sendiri juga baru saja merilis album ke-5 mereka "Education, Education, Education & War" yang sukses dan berhasil debut #1 di UK Official Album Chart. Kali ini kita diberi kesempatan oleh Sony Music Indonesia untuk interview via telpon langsung dengan sang keyboardist, Nick "Peanut" Baines. Simak interview kita berikut ini:
Dengerin interview kita dengan Nick "Peanut" Baines disini:

1. Bagimana perasaan kalian setelah merilis album terbaru Kaiser Chiefs "Education, Education, Education & War" beberapa waktu lalu?
Nick: Rasanya seneng banget, dan kita sudah bertanya ke beberapa orang tentang Album kami dan responnya cukup baik dan mereka menyukainya. Kami sendiri juga sudah lama menanti kesempatan ini.
2. Apa yang bikin album baru ini layak untuk disukai penggemar kalian?
Seperti kalian ketahui,kami mengalami banyak sekali perubahan, terutama dari formasi pemain lepas Nick Hodgson keluar dari Kaiser Chiefs. Drummer baru kami terus beradaptasi dengan musik kami,terutama untuk proses pembuatan album ini. Bisa dibilang proses pembuatannya pun cukup rumit karena kami menginginkan hasil yang sempurna untuk album ini. Dan kami sangat bersemangat untuk ini semua.
3. Jadi menurut kalian apakah album ini akan terdengar "lebih gelap" dari album- album sebelumnya seperti di album " The Future is Medieval" atau di album " Off with Their Heads"?
Haha, ya benar sekali album-album kami yang sebelumnya memang terdengar gelap. Tetapi untuk album baru ini kami merasa lebih "move on" dan
memilih musik yang lebih enerjik dan membentuk image Kaiser Chiefs yang baru.
4. Untuk penggemar kalian yang masih baru – baru saja mendengarkan karya Kaiser Chiefs, apa sih yang beda dari prinsip kreatifitas berkarya kalian yang dulu dan sekarang?
Sebenarnya kemarin-kemarin kami sempat merasa "tersesat" dan sedih berlebihan di album sebelumnya. Namun seiring berjalannya waktu kami merasa menemukan kembali jalan kami dan merasa terlahir lagi dan berada di track awal. Jadi senang saja rasanya bisa menemukan jiwa kami seperti semula.
5. Lagu mana sih yang paling sulit dalam proses pembuatannya?
Hmm.. sepertinya single " my life", gitaris kami menemukan banyak sekali kesulitan saat proses pengambilan track ini. Dengan penambahan beberapa instrumen pun rasanya masih belum pas. Syukurlah produser kami turut campur dan memberikan beberapa ide untuk menyempurnakan single ini. Dan hasilnya cukup layak untuk kalian dengarkan.
6. Ada rencana secepatnya untuk Tour Asia atau Indonesia terutama?
Wah, kami sangat mau sekali jika kesempatan itu ada. Semoga secepatnya kami bisa merealisasikannya. Kami juga gak sabar ketemu dengan penggemar Kaiser Chiefs disana.
VO & Teks by @Leauretha Sudjono
Mixing by @Cung2
Special Thanks to Sony Music Indonesia
Related posts