Festival of music and Indonesia Art Communities @JKTMoveIn Roadshow 26 Apr
welly, 8 years ago
0
2 min

read
491
Festival of music and Indonesia Art Communities at @JKTMOVEIN 's Roadshow, 26/4/14 at Piazza, Gandaria City, 3-10.30pm, with L'alphalpha and Adhitia Sofyan as the guest star, see you all!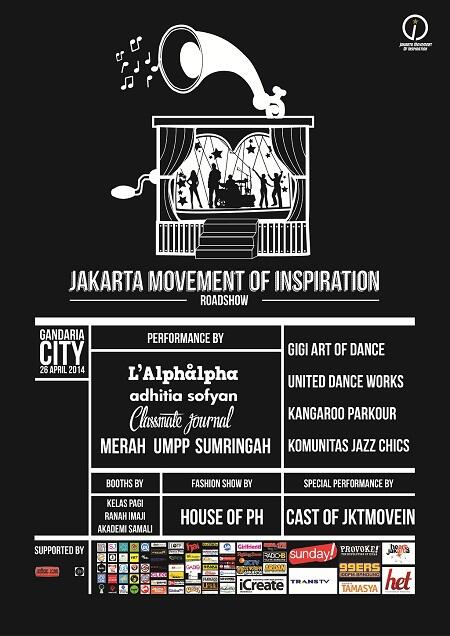 Jakarta Movement of Inspiration presents festival of music and Indonesia Art Communities at their very own Roadshow. The roadshow itself is part of Jakarta Movement of Inspiration events, with the aim to introduce JKTMovein to public and also increase public knowledge of the arts that developed in Indonesia.
Taking place at Piazza Gandaria City, on 26th April 2014,starting from 3pm until nearly midnight, JKTMoveIn roadshow will introduce you to some of Indonesian Arts Communities, such as Akademi Samali (Comic Community, Gigi (Dance Community), Ranah Imaji (Visual Art Community), Kelas Pagi (Photography Community), Jazz Chics (Jazz Community), Kongaroo (Parkour Community). Some of the community will perform ond the stage, while others will have fun activities at their booth. You will be able to gain more information about their activities, as well as how to join them. There will also be workshops from some of the community. Beside booths, at JKTMoveIn roadshow, you'll also be able to enjoy music performances from winners of the band audition. They are Merah, Sumringah, and UMPP. When you think the fun is nearly over, you might be wrong, because there will be a special performance by L'alphalpha, Classmate Journal, and Adithia Sofyan in the end of the show to make you stay the night!
By joining this event, you will get lots of benefits! You will have lots of fun for sure, gain more knowledge about various form of arts, and gain more skill in arts!!! All of those benefits for free!!! So come and join the crowd at Jakarta Movement of Inspiration Roadshow, 26th April 2014, Piazza Gandaria City!!! For more information, check on JKTMoveIn website : www.jktmovein.com, and follow their twitter @JKTMoveIn
Related posts