Music Newz Bites – 14 Apr
welly, 8 years ago
0
4 min

read
493
Coachella Valley Festival of Music and Art baru saja usai dihelat di California pada tanggal 12 April lalu, Festival musik yang sedianya akan dihelat dua kali ini teramat memanjakan fans dari tiap musisi. Dalam helatan kemarin, Pharell William yang tampil hampir satu jam penuh tampaknya benar – benar memukau penonton. Tidak seorang diri, Pharell berbagi panggung dengan Snoop Dog, Nelly, P Diddy, Gwen Stefani dan Busta Rhymes selama penampilannya. "Hot In Herre" dibawakan Pharell bersama Nelly. Busta Rhymes dan P Daddy diajak untuk membawakan "Pass The Courvoiser Pt.II", sementara itu "Drop It Likes It's Hot" dibawakannya bersama Snoop Dog dan "Hollaback Girl" dibawakan Pharell bersama Gwen Stefani. Selain membawakan singel dari masing – masing tamunya, Pharell juga membawakan singel – singel terbaiknya "Get Lucky", "Blurred Line" dan singel sakti miliknya "Happy". Namun penampilan megah Pharell terganggu akibat kondisi yang tidak bersahabat "dust and this stupid f*cking wind" ujar Pharell, debu yang ditiupkan angin selama show berlangsung mengakibatkan suara Pharell terganggu bahkan nyaris hilang diakhir penampilannya.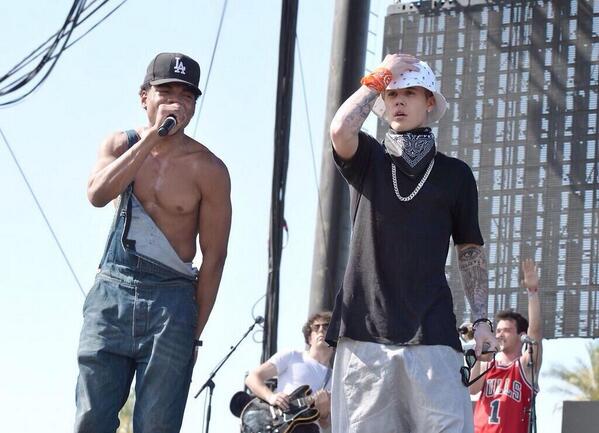 Masih dari gelaran Coachella Valley Festival of Music and Arts, banyak kejutan yang membuat penonton terpukau. Mulai dari Beyonce yang naik ke panggung bersama Solange's, yang notabene adalah adik kandungnya. P Diddy yang telah tampil bersama Pharell juga muncul menjadi cameo bersama Jay Z di panggung Nas'. Justin Bieber juga tidak mau ketinggalan ambil bagian dari deretan kejutan di festival ini, ia muncul di panggung milik Chance The Rapper. Tidak hanya penonton yang sangat antusias, seorang Lorde pun tak kalah antusias untuk menjadi penampil 'This is actually the first big thing I ever booked. I said . holy f**k, we booked Coachella. I was screaming on the phone. We are so lucky to be here. This is mental." Ujarnya di hadapan ribuan fansnya. Helatan Coachella Festival kali ini ditutup oleh Muse dengan membagi – bagikan uang, tentu saja uang palsu berstempel logo Muse sendiri. Dalam penampilan kali ini Muse membawakan salah satu singel terbaik dari Nirvana, "Lithium". "This next song is from a great singer who died 20 years ago." Ujar Matt Bellamy.
Setelah bergabung menjadi juri di ajang pencarian bakat yang disiarkan BBC1 The Voice UK bersama Tom Jones, Will.i.am dan Ricky Wilson tahun lalu, Kylie Minogue secara resmi menyatakan bahwa ia tidak lagi akan menjadi juri di ajang pencarian bakat The Voice UK tahun depan. Serangkaian jadwal tour tahun ini dan album baru "Kiss Me Once" membuat kehadirannya sebagai juri di The Voice UK semakin tidak mungkin. "Due to timing of my tour I won't be back next season for The Voice UK. Thanks to all who supported!" tulisnya di Twitter. "I absolutely loved my time on the show, and I'll miss all of the incredible people who were a part of my experience," tambahnya. Berdasarkan jadwal tournya, Kylie Minogue akan tampil di UK dan Irlandia pada September dan Oktober tahun ini.
Britney Spears berencana untuk melangsungkan pernikahan di Hawaii. Penyanyi 32 tahun ini telah menjalin hubungan dengan David Lucado hampir satu tahun, walaupun pertunangan mereka tidak pernah diumumkan secara resmi mereka tetap berencana menikah dalam waktu dekat. Pilihan untuk melangsungkan pernikahan di Hawai bermula dari keinginan Britney sendiri, "Hawaii is her favourite vacation destination. Britney, David and her two sons took their spring break trip to the island of Oahu and stayed at the Aulani Disney Resort – which Brit thinks would be ideal for her big day," ujar sumber dari British Magazine Heat.
Spotify baru saja merilis sebuah hasil penelitian yang menarik, yaitu tentang bagaimana musik di tempat kerja dapat mempengaruhi kebahagiaan karyawan, meningkatkan moral dan kreatifitas. Bekerjasama dengan Dr. Anneli Haake, berdasarkan riset yang telah dilakukannya di ratusan kantor menunjukkan bahwa musik dapat meningkatkan konsentrasi dan mengurangi stres. Didukung oleh data Spotify yang menunjukkan bahwa karyawan mendengarkan musik untuk membantu mereka melewati hari kerja dan mengurangi gangguan kebosanan dalam bekerja. Berikut top office playlist yang sesuai dengan mood anda berdasarkan rekomendasi Spotify dan Dr. Anneli Haake :
• To block out background noise from chatty colleagues:
'Do I Wanna Know?' Arctic Monkeys
Dr. Haake said: 'Select music that uses several different instruments and has a steady sound and tempo to increase concentration and block out office distractions.'
• For motivation:
'We Can't Stop' Miley Cyrus
Dr. Haake said: 'If you want to use music for motivation or to stop daydreaming, select something that you like and that makes you happy 'something rhythmic, pumping or upbeat.'
• For concentration:
'Drunk in Love' Beyonce
Dr. Haake said: 'For the easily distracted, listen to a track you know well for a lesser level of distraction.'
• When you need a pick me up:
'Get Lucky' Daft Punk ft. Pharrell
Dr. Haake said: 'Reward yourself with your favourite tune for three minutes after working hard. Get out of your chair and do a little dance to get the blood flowing to increase the flow of endorphins which are vital to reducing stress.'
(Sarca Putera AB)
Related posts