Music Newz Bites – 16 Apr
welly, 8 years ago
0
6 min

read
599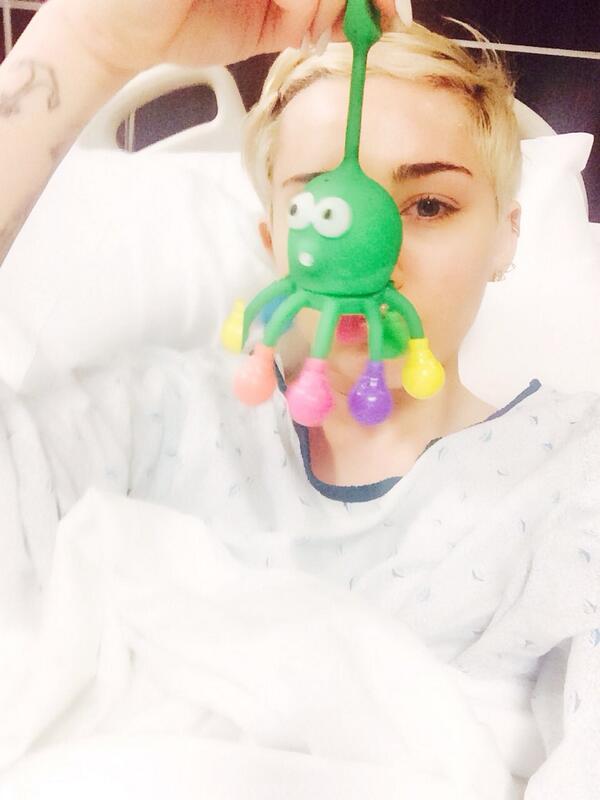 Menjalani rangkaian tur tak selamanya berlangsung mulus, begitu yang dialami oleh Miley Cyrus. Setelah sempat ditinggal anjing peliharaannya, Floyd yang kabarnya dimakan oleh seekor coyote, Miley sempat dirundung sedih untuk berhari-hari. Setelah itu tgl 7 April lalu, karena Flu, Miley terpaksa membatalkan konser Bangerz turnya di Charlotte, N.C. Kini Miley sedang menderita alergi karena obat antibiotik yang mengharuskan dia untuk istirahat dan membatalkan lagi konsernya tgl 15 April di Sprint Center, Kansas City. Get Well Soon, Miley!
Setelah pekan lalu tampil di Coachella Valley Festival of Music and Art, Muse kembali dengan kabar album baru. Setelah album terakhir berjudul "The 2nd Law" yang berhasil merajai top chart UK dan menempati posisi dua di Amerika, pada bulan Mei ini mereka akan segera kembali ke studio untuk mengerjakan album terbaru yang rencananya akan dirilis pada tahun depan. Perihal kabar album baru ini, Matt Bellamy dengan antusias berkomentar "I've written some good tracks, actually. We haven't had a chance to rehearse them out yet… I have this strong feeling that the next album should be something that really does strip away the additional things that we've experimented with on the last two albums, which is electronics, symphonics and orchestral work and all that kind of stuff."
Sebuah rumor beredar seputar bubarnya salah satu band metal terbaik dunia, AC/DC. Kabar miring ini berhembus dari sebuah stasiun radio di Australia, 6PR. Berawal dari masalah kesehatan yang dialami oleh Malcolm Young, gitaris AC/DC seseorang yang menggunakan nama samaran "Thunderstruck" mengatakan pada radio 6 PR bahwa "I have extremely good contacts in Europe that are very close to AC/DC. I have it on very good authority that one of the band members is quite ill and has returned to Australia with his family. AC/DC members have previously made a pact that no band members will be replaced should someone need to leave the band. No more is currently being said, however the particularly ill member of AC/DC's son has stated that AC/DC may well be over." Rumor ini bertolak belakang dengan laporan dari surat kabar The Australian yang mengatakan bahwa AC/DC telah dijadwalkan kembali ke studio pada 1 Mei mendatang di Vancuver, Canada. Si penyebar rumor juga menolak untuk dimintai komentar perihal kabar yang ia sebarkan tersebut kepada NME.
Setelah tampil memukau hampir satu jam penuh di Coachella Valley Festival of Music and Art pekan lalu, penuh keriaan dengan lagu penutup "Happy" yang membuat Lorde pun turut bergoyang. Kali ini singel "Happy" berhasil membuat seorang Pharell Williams menitikkan air mata. Ya, Pharell menangis dalam sebuah sesi wawancara dengan Oprah Winfrey. Kejadian ini bermula ketika Oprah membahas singel "Happy" yang mendunia ditambah dengan konsep 24-hour music video dan menampilkan video kiriman dari fans di seluruh penjuru dunia yang bergoyang mengikuti setiap beat dari lagu tersebut. Setelah video tersebut diputar, Pharell terlihat tak mampu menahan air mata dan berkata "Why am I crying on Oprah?, It's overwhelming because it's like, I love what I do and I just appreciate the fact that people have believed in me for so long that I could make it to this point to feel that,"
Pada 14 April lalu Chris Brown akhirnya merilis teaser musik video dari singel kolaborasinya bersama Ariana Grande yang berjudul "Don't Be Gone Too Long". Dalam teaser ini Chris Brown menampilkan dancenya yang impresif seorang diri. Singel "Don't Be Gone Too Long" yang semula hendak dirilis pada bulan Maret lalu harus tertunda karena kasus yang menimpanya, "Ok so…. my loves… so obviously some things have changed recently… so we have to delay the DBGTL countdown… some things are out of our control," tulis Ariana Grande melalui akun twitternya. Singel ini merupakan bagian dari album terbaru Chris Brown yang berjudul X yang akan mulai dipasarkan pada tanggal 5 Mei depan.
Rolling Stone, bukan band yang digawangi oleh Mick Jagger. Tetapi sebuah majalah dan portal berita musik baru – baru ini merilis "Everything Index", sebuah catatan mingguan tentang segala kejadian yang mengejutkan dari budaya pop. Mulai dari musik hingga meme, melalui sebuah proses ilmiah Rolling Stone membuat daftar 20 peristiwa paling berpengaruh dalam sepekan, yang disebut "The Everything Index For a Reason". Berikut daftarnya :
1. Poison: Obviously, rank much lower if you still haven't seen Sunday's "Game of Thrones."
2. The Outkast reunion backlash: This is why we can't have nice things.
3. Bubba Watson: Like Shooter McGavin's Southern, frat-boy cousin, the two-time Masters champ is the swaggering villain golf has been waiting for. Also, he owns a hovercraft.
4. Nas's Illmatic XX: Twenty years later, it's still the rap debut against which all others are measured. The deluxe anniversary reissue includes a second disc of rare remixes, demos and freestyles, plus a flash drive to hold your feelings of age-induced sadness.
5. Dancing Leonardo DiCaprio at Coachella: May or may not actually be Leo, still more entertaining than all six hours of The Wolf of Wall Street.
6. The "Blood Moon" Apocalypse: If the lunar eclipse really does bring about the end of the world, it will definitely be ranked higher next week.
7. Manny Pacquiao's Mom: Her ultra-enthusiastic praying carried Pac-Man to the WBO welterweight title. Imagine what she could do for your immoral soul.
8. Orphan Black: The best show you're not watching. Unless you are. Though, come to think of it, maybe that's one of your clones?
9. Denitia and Sene's "Divided:" Coital, iceberg-cold R&B from a Brooklyn duo smart enough to know that even though it's spring in New York, you should always bring a jacket.
10. Canter's Deli: If it's good enough for California Don Draper, it's good enough for us.
11. Jimmy Fallon, Celebrity Bartender: Tonight Show host hops behind the bar, assuages rowdy NYC drinkers with free shots for everyone. Meanwhile, Conan O'Brien weeps into a bucket of golden popcorn.
12. Kids Today: Befuddled by a Sony Walkman. As if the concept of a portable cassette player is somehow more ridiculous than being named "Krischelle."
13. Fish with Sex Toys in Their Stomachs: Dude in Norway catches a cod that had swallowed a dildo. We're just glad it wasn't a Swedish Fish.
14. Kristen on The Real Housewives of New York City: A beacon of reason amidst a sea of unhinged burlesque performances, insane "image consultants" and artificial limbs.
15. Hamilton Leithauser's Black Hours: The perfect soundtrack to those nights when you're alone with the ghosts of your mistakes and a bottle of Scotch. Recommended if you like shame, regret, waking up on the bathroom floor.
16. "The Art of Leadership:" New exhibit showcases George W. Bush's portraits of world leaders. As a painter, W. makes a really good president.
17. Only Lovers Left Alive: Jim Jarmusch's best film starring the undead since Broken Flowers.
18. Fargo: Sublime expansion of the Coen Brothers' canon begins Tuesday night at 10 p.m. Your nightmares involving Billy Bob Thornton begin at 11.
19. Iron Reagan's Spoiled Identity EP: Thirteen furious songs in less than five minutes. As if you've got anything better to do with yout time.
20. Poison: Obviously, rank much higher if you're seeing Bret Michaels perform at the Hard Rock Cafe's "Sing for Your Supper" tax day event. Free entrées!
(Sarca Putera AB)
Related posts