Music Newz Bites – 21 Apr
welly, 7 years ago
1
4 min

read
435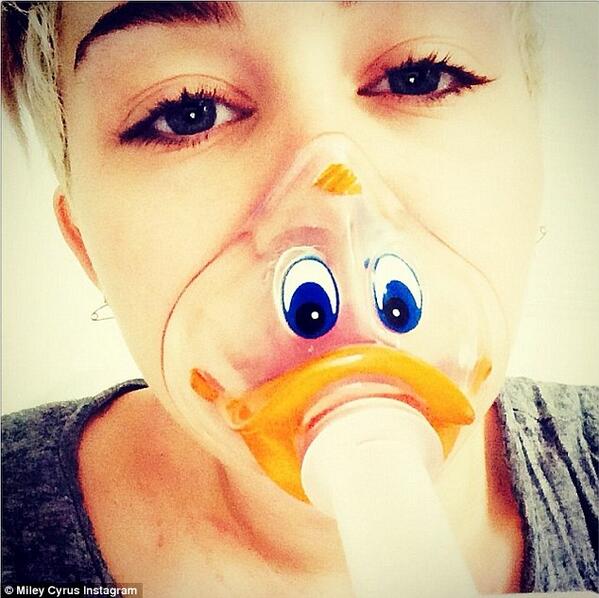 Tampaknya masalah kesehatan yang menimpa Miley Cyrus semakin serius, setelah sempat membatalkan beberapa jadwal konsernya, kali ini Miley harus beristirahat penuh. Hal ini berdampak pada Bangerz Tour-nya yang sedang berjalan, sehingga semua jadwal tur dibatalkan dan akan dimulai lagi pada tanggal 1 Agustus di Uniondale, New York. Setelah pada 15 April lalu sempat mendapat perawatan dokter karena didiagnosa menderita flu, kali ini Miley didiagnosa menderita sinus infection, berikut keterangan resminya : "Miley was suffering from a sinus infection during her tour. She was prescribed the antibiotic Cephalexin which she's now suffered an allergic reaction to. This type of extreme reaction can last from five to 27 days in these types of cases. She will remain hospitalized and is under a doctor's care until we see some improvement in her condition and is asking for your compassion and privacy at this time. Miley is devastated about missing shows and possibly disappointing her fans."
Gwen Stefani secara resmi akan bergabung dengan tim juri pada ajang pencarian bakat, The Voices US. Gwen akan mengisi posisi juri yang ditinggalkan oleh Christina Aquilera yang pada February lalu mengumumkan bahwa ia sedang mengandung anak kedua nya. Season baru The Voice US akan mulai syuting pada bulan Juni mendatang, pada season ini Pharell Williams juga dikabarkan akan turut ambil bagian. Kali ini Pharell akan hadir menggantikan Cee Lo Green sebagai mentor bagi peserta seperti halnya Adam Levine dan Blake Shelton. Sebelumnya Pharell sudah pernah menjadi mentor pada tahun 2013 lalu di The Voice US dan ini bukan pertemuan pertamanya dengan Gwen Stefani dalam satu project. Pada 2004 lalu, mereka berkolaborasi menghasilkan hit solo milik Gwen yang berjudul "Hollaback Girl." Akhir pekan lalu, Pharell juga mengundang Gwen Stefani untuk berbagi panggung dengannya di Choacella Music Festival.
Artic Monkeys berhasil merajai penjualan terbesar Vinyl Album mereka sejauh ini. The Official Charts Company telah mengkompilasi chart yang berisikan Top 20 strongest selling album on vinyl pada 4 bulan pertama tahun ini. Penjualan album Artic Monkey yang meroket, salah satunya adalah dampak dari raihan penghargaan sebagai The Band Of The Year dan Album Of The Year dari BRIT Award pada February lalu. Berikut list "The Top Selling Albums in the UK's Independet record store since last year's Record Store Day" :
1 AM – Arctic Monkeys
2 Random Access Memories – Daft Punk
3 Swings Both Ways – Robbie Williams
4 If You Wait – London Grammar
5 Like Clockwork – Queens of The Stone Age
6 Since I Saw You Last – Gary Barlow
7 Time – Rod Stewart
8 Trouble Will Find Me – The National
9 Midnight Memories – One Direction
10 Halcyone – Ellie Goulding
Dr Dre baru saja mengalahkan Jay Z sebagai rapper terkaya kedua berdasarkan data yang dikeluarkan oleh di Forbes. Jay Z memiliki total kekayaan sebesar $520 juta, naik $125 juta dibanding tahun lalu. Lonjakan kekayaan Jay Z juga dibantu oleh kerjasamanya dengan Live Nation, Budweiser Made In America Tour dan agensi olahraga miliknya, Roc Nation. Total kekayaan tersebut tidak berhasil membuat Jay Z mempertahankan posisinya, kali ini Dr Dre berhasil mengalahkan Jay Z dengan total kekayaannya sebesar $550 juta, sebagian besar berasal dari Dre Company dengan total pendapatan $1.2 miliar pada tahun lalu. Sebagai posisi puncak, rapper terkaya di dunia masih berada ditangan Puff Daddy, dengan estimasi total kekayaan sebesar $700 juta. Posisi ke empat diisi oleh Cash Money Record dengan jumlah kekayaan $160 juta, diikuti 50 Cent di posisi kelima dengan estimasi kekayaan $140 juta.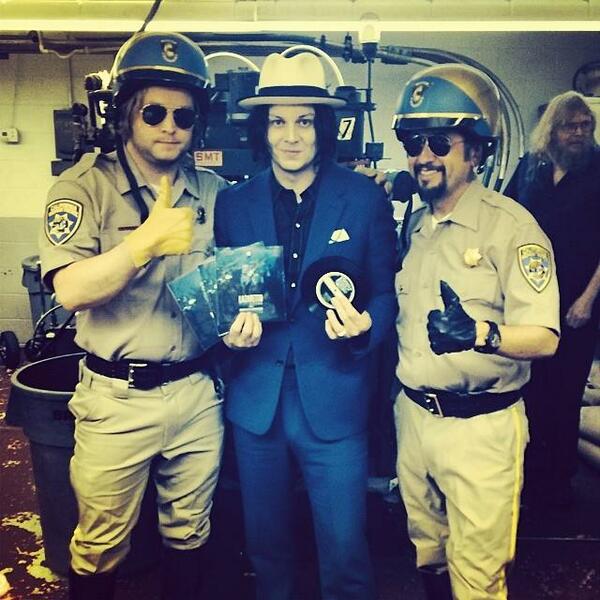 Jack White baru saja memecahkan rekor dunia untuk studio-to-store tercepat, tidak lebih dari 4 jam. Label yang menaungi White, Third Man Record mengumumkan bahwa White akan membuat sejarah bertepatan dengan peringatan Record Store Day (19 Apr). White memulai rekaman secara langsung pada pukul 10 pagi diatas panggung Blue Room di Nashville. Pada rekaman secara langsung ini White, didukung oleh Fats Kaplin dan Daru Jones dan merekam dua track yaitu 'Lazaretti' dan mengcover lagu Elvis Presley yang berjudul 'Power Of my life'. Sebuah tekanan yang besar bagi Jack White, karena packing dan pengiriman ke store membuat album ini selesai dalam waktu 3.55. setelah semua selesai, Third Man Record memposting rekor tersebut di akun twitternya ''TIME!!! One small 7″ for man, one great record for mankind! #worldsfastestrecord #RSD14 #thirdmanrecords #jackwhite.''
(Sarca Putera AB / CreativeDisc Contributors)
Related posts