Music Newz Bites – 23 Apr
welly, 7 years ago
0
6 min

read
582
Setelah beberapa hari lalu masalah kesehatan "menumbangkan" Miley Cyrus dan jadwal Bangerz Tour-nya, kali ini giliran Lorde. Delapan jadwal tour Australianya yang akan digelar dalam waktu dekat terpaksa harus ditunda. "A nasty chest infection and general ill health adalah asalan utama penyebab Lorde harus beristirahat. "i am so gutted to have to do this, but my parents and my team stepped in telling me I needed a break after being non-stop since the Grammys in January, I just need time to get back to full Gollum girl fitness before i go out playing shows again. I'm truly sorry if I let you down or if you feel inconvenienced by this and I hope you can understand." Tulisnya di akun twitter. Namun Lorde berjanji akan menata ulang jadwal tournya, yang rencananya akan digelar pada November. Setelah memenangkan Grammy dengan singel Royal sebagai Song of The Year dan Best Pop Solo Perfromance, Lorde langsung disibukkan dengan Tour U.S pada bulan Maret lalu. Lalu menjadi bintang tamu dalam penganugrahan Rock and Roll Hall of Fame untuk Nirvana dan minggu lalu tampil di Coachella Music Festival. Jadwal yang padat memaksa Lorde untuk "mengambil nafas" sejenak kali ini.
EDM festival Electric Zoo akan kembali digelar di New York City's Randall's Island musim panas ini. Kali ini akan pengawasan dan prasyarat kesehatan akan menjadi fokus penting setelah tahun lalu festival ini menelan dua korban jiwa yang diindikasi karna mengkonsumsi obat – obatan terlarang. "The opportunity to again host Electric Zoo on Randall's Island is a responsibility we take seriously, and we look forward to expanding our safety and security measures in order to further improve the concert experience for our fans," ujar Mike Bindra dan Laura De Palma selaku Creator Electric Zoo. Sebagai salah salu tindakan preventif yang diambil oleh penyelengara adalah melakukan background checks terhadap vendor, panitia dan survey secara administratif pada penonton. Tetapi sederet hal diatas bukan asalan untuk absen pada festival ini, karena Electric Zoo masuk dalam list 40 must-see summer festivals yang dirilis oleh Rolling Stones. Festival ini akan digelar pada 29 sampai 31 Agustus 2014.
Setelah mengeluarkan pernyataan yang cukup kontroversial beberapa hari lalu, Damon Albarn akhirnya secara resmi mengklarifikasi pernyataannya seputar heroin. Setelah sebelumnya ia menyebutkan bahwa ia menggunakan heroin selama pengerjaan album solo pertamanya Everyday Robots, "part of me growing up" ujarnya dan menurutnya heroin membuatnya menjadi lebih kreatif. Dalam sebuah sesi wawancara dengan Time Out Magazine, Albarn memberikan klarifikasi dan mencoba meluruskan pertanyaannya tersebut "I don't totally see it as a mistake. That's the point. It was part of me growing up. Look, I didn't go out and look for it. I turned up at my house and there it was, made on the table. What should I have done? Leave my life and reject it or stay in my own house with my girlfriend and somehow assimilate it into my life?." Tetapi apapun itu, tidak pernah ada alasan tepat untuk menggunakan oabat – obatan terlarang. Siapapun kamu dan apapun kamu keep stay away from drugs guys!.
Singel Blurred Lines milik Robin Thicke menjadi The UK's most-downloaded track of all time. Singel yang diproduseri oelh Pharrell William ini berhasil menduduki puncak All-time Official Download Chart Top 100 yang dikompilasi dan dirilis oleh Official Chart Company. Singel ini telah terjual sebanyak 1.54 juta copy sejak dirilis pada bulan Mei 2013 lalu. "I'm so honoured, the success of 'Blurred Lines' is a dream come true." ujar Robin Thicke. Sementara itu Martin Talbot selaku Chief Official Charts Company menyatakan bahwa "Blurred Lines' is surely one of the catchiest pop hits of all time, so its success is no great surprise. But to become one of only two tracks to have been downloaded 1.5m times and climb to the top of the poll as the biggest download of all time is an incredible achievement." Diposisi kedua ada hit "Someone Like You" milik Adele yang dirilis 2011 lalu dengan total penjualan 1.53 juta copy. Maroon 5 dan Christina Aquilera harus berbagi tempat diposisi ketiga, diikuti oleh Gotye dan Black Eyed Peas. Berikut list top 10 dari All-time Official Download Chart top 100 :
1) 'Blurred Lines' – Robin Thicke/T.I./Pharrell Williams
2) 'Someone Like You' – Adele
3) 'Moves Like Jagger' – Maroon 5 ft Christina Aguilera
4) 'Somebody That I Used To Know' – Gotye ft Kimbra
5) 'I Gotta Feeling' – Black Eyed Peas
6) 'Get Lucky' – Daft Punk ft Pharrell Williams
7) 'We Found Love' – Rihanna ft Calvin Harris
8) 'Wake Me Up' – Avicii
9) 'Happy' – Pharrell Williams
10) 'Sex On Fire' – Kings Of Leon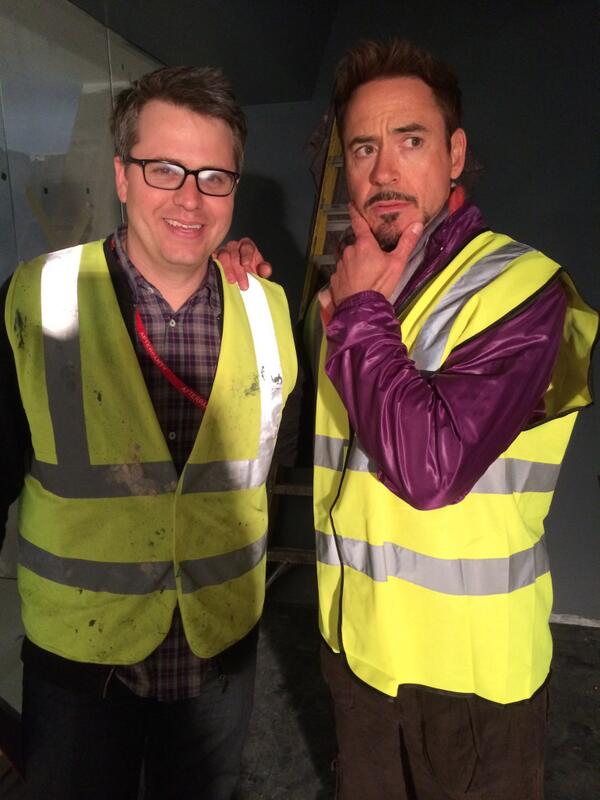 Robert Downey Jr yang baru – baru ini menghebohkan jagad twitter karna secara resmi telah membuat akun pribadinya. Kali ini kembali mengemparkan twitter dengan kicauan pertamanya disertai dengan sebuah foto. Bukan sebagai Robert Downey Jr, tapi kali ini ia muncul sebagi Tony Stark tokoh yang ia perankan dalam film Avenger: Age of Ultron. Ya, Robert memposting fotonya bersama sang Executive Producer film tersebut di sebuat set untuk seri terbaru Avanger. Sayangnya ia tidak mengenakan kostum Iron Man, tapi tak apalah masih belajar ngetweet. Sementara itu, Selena Gomez menggemparkan penghuni Instgram, bukan karena postingan pertama tentunya. Selena meng-unfollow semua teman artisnya dari akun instgram miliknya @RobertDowneyJR .
Kendall dan Kylie Jenner yang menghabiskan weekend bersama Selena di The Coachella Festival tidak luput dari unfollow massal Selena, bahkan BF dan BFF-nya Justin Beiber dan Taylor Swift juga menjadi korban. Entah apa gerangan yang membuat Selena mengambil keputusan ini, tetapi keputusan meng-unfollow ini diikuti oleh kegemarannya memposting lirik sebuah singel Mary J. Blige "Growing Pains". 'I got every material thing I could ever need/I got the love from my fans that adore me/and I'm grateful/But my love for myself is lacking a little bit/I can admit that I'm working on me." Itulah penggalan lirik yang diposting Selena di akun Instagramnya. Rasanya Selena sedang melewati masa – masa gelap dalam hidupnya, setelah hubungan yang "hidup-mati" dengan Justin serta baru saja memecat ibu dan ayahnya sebagai maneger pribadi.
Sebuah video yang baru saja dirilis oleh PBS Blank on Blank rasanya cocok untuk pasangan yang sedang jatuh cinta bahkan untuk penggemar The Beatles. Video ini berjudul John Lennon adn Yoko Ono on Love, sebuah animasi berdurasi 5.46 detik karya Patrick Smith ini dibuat berdasarkan interview yang dilakukan oleh Howard Smith pada tahun 1969 dan 1972. Dalam video ini Lennon berkisah seputar cinta dan hubungannya dengan Yoko Ono dan The Beatles. Animasi yang apik dipadu dengan suara Lennon yang khas membuat kamu bakal meleleh. Ini bukan video pertama yang diproduksi oleh PBS Blank on Blank, sebelumnya mereka telah membuat video dengan konsep serupa tentang kehidupan musisi seperti Tupac Shakur discussed life and death, Jerry Garcia tripped out on acid, Kurt Cobain condemned sexism, Johnny Cash talked haircuts dan Jim Morrison explained why "fat is beautiful" serta Jimi Hendrix final interview.
(Sarca Putera AB)
Related posts