Music Newz Bites – 07 May
welly, 8 years ago
0
3 min

read
432
Miley Cyrus akhirnya kembali ke atas panggung. Setelah kurang lebih satu bulan harus beristirahat akibat infeksi yang dideritanya, Miley kembali melanjutkan #BANGERZTOUR yang sempat tertunda. Selasa, 6 Mei kemarin, Miley sukses menggelar Comeback Concert-nya di O2 Arena, London. Tak hanya disitu saja, Miley juga dipastikan akan tampil di Billboard Music Awards tgl 18 Mei mendatang, begitu juga Ricky Martin, Jennifer Lopez yang baru saja diumumkan kemarin. Selain itu, ada Florida Georgia Line, Jason Derulo, Imagine Dragons, Luke Bryan, John Legend, OneRepublic dan 5 Seconds of Summer.
Justin Timberlake yang baru saja 'berduet' di lagu "Love Never Felt So Good" untuk album terbaru Michael Jackson "Xscape" ini mengaku bahwa dirinya menulis lagu "Gone" itu awalnya untuk Michael, tapi akhirnya dibawakan sendiri oleh groupnya, N'Sync. Dan dia masih mengingat ketika tampil bersama dengan Michael di MTV Video Music Awards di Madison Square Garden, New York, adalah King of Pop itu sendiri yang menyarankan dirinya untuk bersolo karir dan mencapai sukses hingga sekarang.
Setelah membuat sedih sahabatnya dengan kabar tentang duetnya dengan John Mayer, Rihanna juga dikabarkan meninggalkan labelnya Def Jam dan bergabung dengan manajemen milik Jay Z yakni Roc Nation. Kendati demikian album mendatang milik Rihanna masih akan tetap didistribusikan melalui Def Jam. Well, Welcome to the new club, Riri!
Linkin Park merilis single kedua dari album terbaru mereka, The Hunting Party, album yang direncanakan rilis 17 Juni nanti. Single tersebut adalah "Until Its Gone". Berikut adalah official video lyric dari "Until Its Gone"
Coldplay akan merilis album Ghost Stories tanggal 19 Mei, tepat pada hari itu akan disiarkan konser mereka yang bertajuk Coldplay: Ghost Stories melalui channel Sky Art 1 (Inggris) . Selain memainkan lagu-lagu dari album terbaru mereka, tak ketinggalan hits-hits terdahulu seperti "Clocks", "Viva La Vida" dan "Paradise". Pada program tv spesial ini juga menghadirkan exclusive interview yang berjudul, Coldplay: Making Ghost Stories.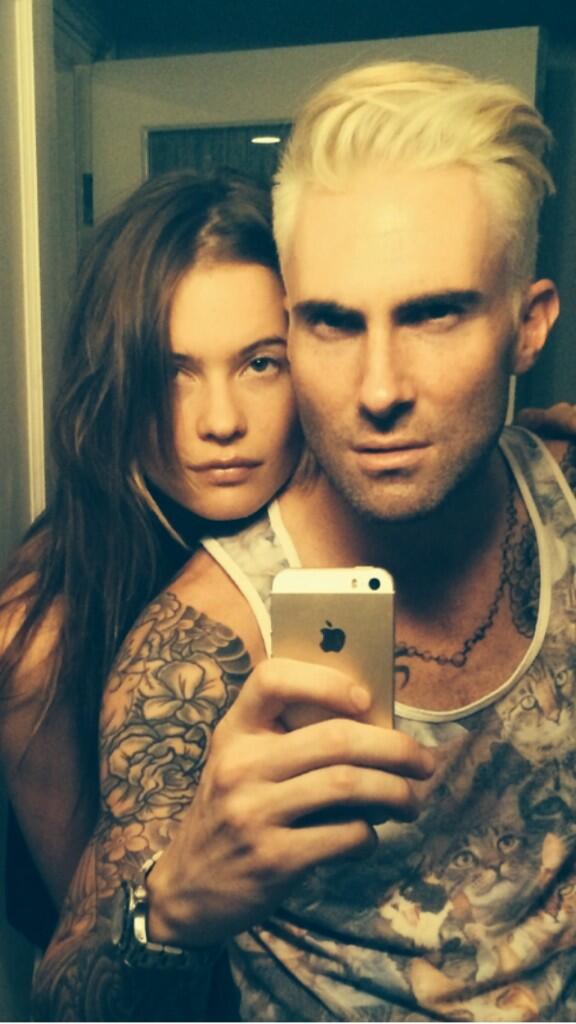 Setelah mengejutkan fansnya, Adam Levine yang tampil dengan rambut barunya yang berwarna blonde ini mengungkapkan dirinya ingin mencoba sesatu yang baru dan gila. "There are so many things to talk about. There are are so many important things going on in the world." Ungkap Adam Levine, "I didn't know anybody would be so fixated on this. I wanted to do something crazy. I don't know why I did it. I really couldn't tell you logically there was a reason. I just wanted to do it and honestly, it's so much of a headache now I might want to shave my head or something." Respon positif dan negatif pun diterimanya tentang rambut barunya itu. Bicara soal bandnya, Maroon 5 yang sudah posting di twitter mereka @maroon5 bahwa mereka sudah mulai rekaman untuk album barunya, dan ada kemungkinan Adam Levine akan absen di The Voice season depan karena ingin fokus dengan Maroon 5.
Pixies dan David Bowie memuncaki daftar penjualan tertinggi pada peringatan Record Store Day tahun ini di Inggris. Pixies sebagai album terlaris sedangkan David Bowie dengan single terlaris. Berikut adalah daftar lengkapnya:
The best-selling albums of Record Store Day 2014:
Indie Cindy – Pixies
Ghostbusters – Ray Parker Jr
Live Versions – Tame Impala
Dirk Wears White Sox – Adam & The Ants
Live With Joe Strummer – Pogues
Meltdown With The Ramones – Ramones
Demolicious – Green Day
Never Mind The Bollocks – Alternative – Sex Pistols
Nothing New – Gil Scott-Heron
Tanx – T-Rex
The best-selling singles of Record Store Day 2014 :
'Rock 'n' Roll Suicide' – David Bowie
'Supersonic' – Oasis
'Pennyroyal Tea' – Nirvana
'American Beauty' – Bruce Springsteen
'Midnight Memories' – One Direction
'An Ideal for Living' – Joy Division
'There's a Beast and We All Feed It' – Jake Bugg
'Peaches' – Stranglers
'Sock It To Em JB' – Specials
'Hollow Ponds' – Damon Albarn
(Noverdy Putra)
Related posts