Film Dokumenter dan Eskperimental di Festival Arkipel 11-21 Sept 2014
welly, 7 years ago
0
2 min

read
384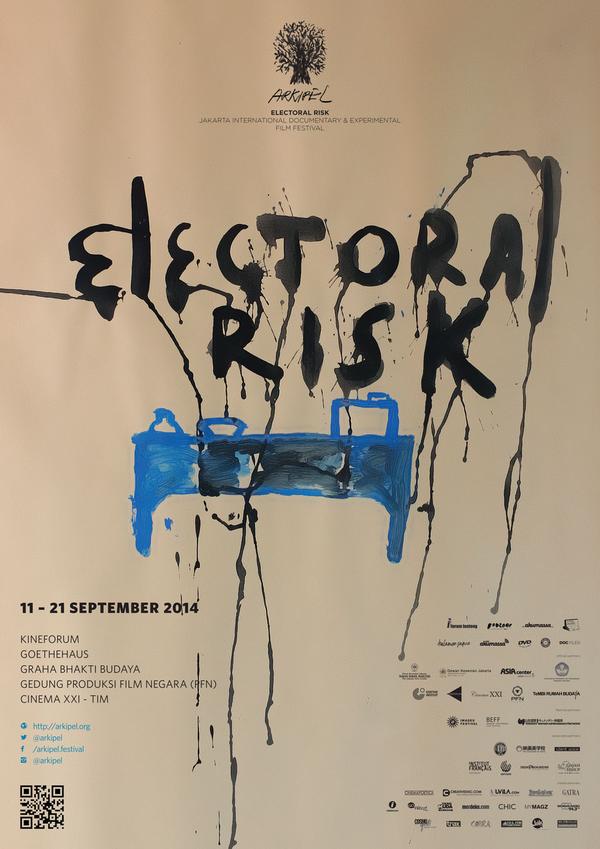 Dewan Kesenian Jakarta mendukung Forum Lenteng dalam menggelar ARKIPEL Festival yang menggagas dan menjadi ruang diskusi untuk membicarakan sinema dan media secara umum. Festival ini menghadirkan film-film dokumenter dan eksperimental dari seluruh dunia.
ARKIPEL Festival akan mengusung program-program International Competition, International Special Screening, Curatorial Program, Simposium, Workshop dan Pameran Sejarah Film.
Dua puluh sembilan film (dari 320 film) telah terpilih untuk sesi Kompetisi Internasional, termasuk empat dari Indonesia yaitu Genre Sub Genre (Yosep Anggi Noen), Lembusura (Wregas Bhanuteja), Gundah Gundala (Wimar Herdanto), Today's Walk – Concrete Aluminum (Paul Agusta). Juga turut mengundang insitusi-institusi festival film dan seni media bertaraf internasional dari Kanada, Jepang, Jerman, dan Thailand. Bekerjasama dengan pusat kebudayaan asing Goethe Institut (Jerman), Japan Foundation (Jepang), dan Pusat Kebudayaan Prancis (IFI). Special Screening ditayangkan di Kineforum-Taman Ismail Marzuki, Goethe Haus, dan gedung Produksi Film Negara.
Tiga kurator asal Indonesia yaitu Ronny Agustinus (Amerika Latin), dan kolaborasi kurator muda Afrian Purnama dan Bunga Siagian (Asia Selatan) akan turut hadir di acara ini, dimana juga bekerjasama dengan Goethe Institut, Kedutaan Besar India, Institut Français Indonesie, dan beberapa pusat kebudayaan asing serta kedutaan besar asing di Indonesia.
Selain itu ada juga simposium sejarah dan estetika film, Contemporaneity: History and Aesthetic of Indonesian and Asian Cinema masih menjadi tema besar diskusi ARKIPEL dalam lima tahun mendatang. Tema simposium sinema kali ini adalah Media dan Aktivisme.
Selain showcase diatas, di ARKIPEL ini juga ada workshop yang bekerjasama dengan Lab Laba Laba untuk menyelenggarakan workshop produksi dan processing film 16 mm, diselenggarakan pada 13 September 2014 di laboratorium processing film Produksi Film Negara, terbuka untuk umum namun tempat terbatas dengan uang pendaftaran sebesar Rp 100.000,-/peserta. Dan juga ada pameran sejarah film dengan menghadirkan film-film produksi perusahaan kamera dan proyektor Lumiere Bersaudara, berlangsung 14-21 September 2014 di gedung laboratorium processing film Produksi Film Negara dan dikuratori oleh Mahardika Yudha.
Festival ARKIPEL
Tanggal: 11-21 September 2014
Graha Bhakti Budaya – TIM
Kineforum – DKJ
Studio XXI – TIM
Goethehaus Jakarta
Gedung Produksi Film Negara
More info klik:
www.forumlenteng.org
www.akumassa.org
www.arkipel.org
www.jurnalfootage.net
www.visualjalanan.org
Related posts