Full Line Up & Schedule Java Soundsfair 24-26 Okt 2014
welly, 7 years ago
0
2 min

read
955
UPDATE TERBARU LINE UP & SCHEDULE JAVA SOUNDSFAIR 2014!!
Deretan musisi yang telah diumumkan Java Soundsfair beberapa waktu lalu ternyata masih belum final. Menjawab euforia musik di Indonesia yang saat ini sedang digandrungi lagu "Rude" yang jadi #1 Billboard Hot 100 itu, Java Soundsfair akan menggebrak Jakarta dengan penampilan spesial dari band asal Kanada, Magic!. Selain itu, dikabarkan musisi Jepang berpenampilan seperti robot layaknya Daft Punk, yaitu CTS, juga akan hadir di hari yang sama dengan Magic!.
Kedua musisi tersebut menambah warna dari musik-musik yang akan disuguhkan selama 3 hari berturut-turut di Soundsfair 2014.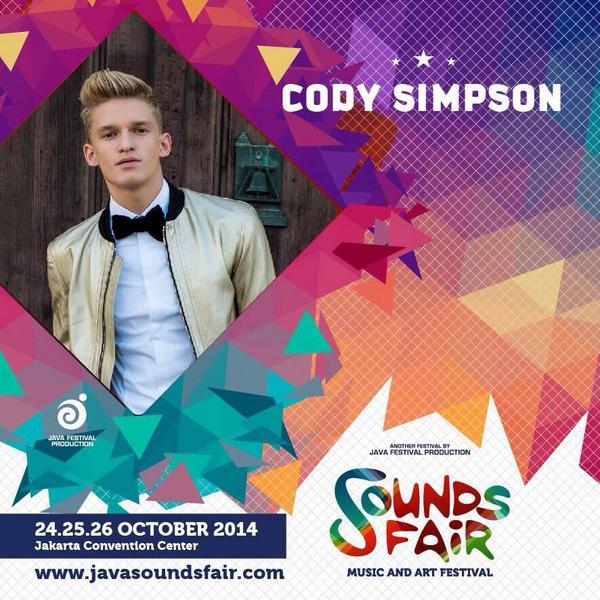 New Update!
Cody Simpson, penyanyi asal Australia telah dikonfirmasi akan hadir di Java Soundsfair tgl 25 Okt 2014!
https://pbs.twimg.com/media/BzBlRlaCEAAguhW.jpg
Berikut jadwal lengkapnya:
JUMAT, 24 OKTOBER 2014
MAGIC!
SOPHIE ELLIS-BEXTOR
TOKYO SKA PARADISE ORCHESTRA
KRAAK & SMAAK
ASIAN DUB FOUNDATION
KELEVRA
MY SKIN AGAINST YOUR SKIN
CTS
RAN
BARASUARA
SORE
NEONOMORA
ROCK & ROLL MAFIA
ELEPHANT KIND
BOTTLESMOKER
DARKBARK LIVE
HOMOGENIC
LIGHTCRAFT
JAKARTA TECHNO MILITIA
SABTU, 25 OKTOBER 2014
POOLSIDE
WEISH
.GIF
KRAAK & SMAAK
CIBO MATTO
LIE GRAMOPHONE
LOS DANIELS
TULUS
GILBERT POHAN
IPANG
MONKEY TO MILLIONAIRE
BRNDLS
BASEMENT HOUSE
DUCTAPE
LEONARDO & HIS IMPECABLE SIX
THE ALASTAIR
MINGGU, 26 OKTOBER 2014
THE JACKSONS
KRAAK & SMAAK LIVE!
YUNA
POOLSIDE
ROOSEVELT
CASHEW CHEMIST
RED
ARI LASSO
YOUNG DE BROCK
MOCCA
NEUROTIC
THE S.I.G.I.T
ABOUT WAX
HOUSE CARTEL
DHIRABONGS
MERAH
G PLUCK
Tiket Java Soundsfair 2014 dibanderol Rp.200.000 untuk daily pass. Sedangkan bila ingin datang di ketiga harinya, harga tiket hanya Rp. 420.000. Jangan lupa bahwa tiket tersebut hanya untuk festival, untuk menyaksikan penampilan special dari The Jacksons & Magic! akan ada tambahan tiket lagi masing-masing Rp.75.000 untuk kelas Festival, dan Rp.50.000 untuk Tribune.
So, bila membandingkan deretan musisi yang akan tampil dengan harga tiket se-friendly itu, sepertinya kamu wajib datang ke Soundsfair 2014!!
Beli tiketnya disini
(Jeni / CreativeDisc Contributors)
Related posts